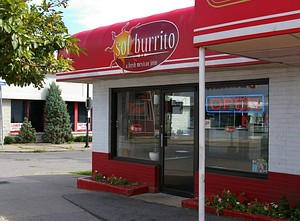 Sol Burrito exterior 8-2008
Former Location
521 Monroe Ave, Rochester NY, 14607
Status (as of December 2022)
Closed
Comments:
Note: You must be logged in to add comments
---
2007-03-11 18:43:07 The burrito has landed! —AndrewHallidie

---
2007-03-12 09:59:47 I had a huge buritto there! The food was fresh and made fast! I will definately be back....the burrito definately has landed! —MicheleCollins
---
2007-04-17 00:26:02 If you're a fan of the Taco Bell rice bowls, you should know that Sol Burrito has extremely fresh and much tastier versions. The Baja Bowl has sliced avocado and mashed gauc! This place has large portions, they're super friendly, and the location is fantastic. Monroe Ave finally has a wonderful, easily accessible tex-mex place! They even have a parking lot, next to the chicken place. Highly recommended.
---
2007-04-27 23:04:11 Tried the grilled chicken burrito with black beans. This was the largest burrito I have ever eaten. The ingredients were fresh and the service was fast. The burrito had a nice level of heat. I think the chicken could have had more flavor. I would like to try the carnitas burrito next. —ScottHendler
---
2007-05-28 22:54:10 I tried the carnitas burrito. I will stick with the grilled chicken that I tried previously, it had more flavor and heat. Still, it was good and big enough that I was able to split it and eat it for lunch over two days. —ScottHendler
---
2007-06-02 21:09:56 Went there and had the grilled chicken burrito. While it was very, very good, I do prefer Moe's Southwest Grill. —BadFish
---
2007-06-13 22:21:54 I just tried one of those "Monroe" burritos and can say that it was the biggest and best (and neatest) hold in your hand classic beast bomber burrito I've eaten since Taco Joint left Batavia years ago! It could have been hotter and some sour cream would be a welcome addition but other than that this burrito stuffed my belly in a very tasty way. Monroe Ave has been missing a place like this (remember the Broken Shell?) for a loooooooooong time! Don't ever go away! :-D —MarkPompeii

---
2007-07-25 02:05:42 I ate there a few months ago, and they would have kept my business had I not found a large chunk of plastic in my taco (around 1" long 1/2" wide).
They'll never get my business again and that's a shame that I won't be patronizing a Monroe Ave establishment, especially because I live in this neighborhood and staunchly support my local businesses. —BillFrist

---
2007-08-26 15:47:29 Just had lunch there today, our first visit. We had the Sol Burrito (beef) and the Carnitas (pork). Both were yummy, served at the perfect temperature and everything seemed very fresh. The server was very nice, think it's a man and wife team(?) Not the cheapest mexican-type food in town but the portions were huge so you get what you pay for. So far so good, we'll be back. —DottieHoffmann
---
2007-09-25 21:22:01 Had the sol burrito this eve. Delicious. The burrito is spicy without being hot; that shows a real understanding by the cook on how to use spices.
$6 for a sol burrito is a bargain when you consider the quality and portion size. —MrPhil

---
2007-10-16 20:12:30 I've eaten there twice, and both times it's been great. With this and Taco John's in the area, we've got some good burritos in the area! —IsaacVanDuyn
---
2007-11-01 13:48:38 I have had a number of things here (all delicious) but the best by far is the chicken quesadilla. Ton of food, all of the ingredients are fresh and the tortillas are like none I've been able to buy. I'm really picky about fatty chicken, and this is the first place I've eaten where I didn't have any in the entire meal. I've gotten these over and over and they've always been the same excellent quality and very reasonable price. I try to make these at home but they never come out as good. Sol Burrito has ruined all other Mexican restaurant food for me. —JulieDoyle
---
2008-01-03 16:37:21 I had a great burrito here. Especially noteworthy was the outstanding tofu. Very flavorful, with a nice firm texture appropriate for use in a burrito. Service was a little slower than some other burrito joints in town (about 10 minutes), so next time I'll call ahead. —EastSideStephen

---
2008-01-26 20:13:03 I love me some sol. The Baja burrito is so damn good, and the black bean hummus..well..dont get me started. The chics who work there are cute too. —BillTramp
---
2008-01-28 22:44:49 I got the fajita burrito Sol bowl style. I was kind of disappointed after reading the rave reviews here. The peppers and onions were still kind of raw(not crunchy..raw) but soaked in oil. The rice had a very faint taste of lime. The chicken was well seasoned though. Overall, it was passable tex mex.
I prefer Moe's Southwest Grill in terms of the intensity of flavour in the rice and unlike Sol's, they have fresh cut jalapenos (as opposed to the pickled ones). —OneLove

---
2008-02-29 18:46:42 OneLove totally doesn't know what he's talking about. Sol rocks my friggen world! They have really good TexMex, given where we are, and it actually tastes fresh. I highly recommend the Sol Burrito, the Carnita, and the Baja (for all you Veggies). The only I've had so far that hasn't wow'ed me is the Black Bean humous, but you can't win 'em all I suppose.
I go about once every other week - it's that good. —EdBender

---
2008-08-11 10:33:04 Blah. My taco had potential to be good, but I think they drowned it in Frank's Red Hot or a their own sauce which is very similar. I would not recommend.
Plus we were the only people in there and every table was dirty. (I had to clean one myself.) Perhaps we came just after the rush, (3pm on Sat) but the girl behind the counter should have been cleaning when we walked in. —MrRochester

---
2008-08-24 01:29:39 BEST TOFU EVER!!!! Baja burrito is amazing. —SuMak
---
2008-12-07 18:12:57 I thought that John's had the best tofu in the city, but Sol tops it. Their black beans are terrific as well. —JayUnnikrishnan
---
2008-12-22 18:03:24 After many awesome burritos in the past, I got old cold food. The seasoning tasted different. I was never quite sure if the "nacho chips" limply floating in my chili were artichoke petals or just slimey grossness. I hope it's just the winter that's got to them. —JohnS
---
2009-01-21 12:45:02 When I want a stomach-sized burrito, perfectly rolled, filled with delicious flavors, and at a reasonable fee, I go here. I have never had a poor experience and the service is always super-friendly. My only (minor) qualm is that the dining area tends to be on the cold side during the winter months. —BatGuano
---
2009-02-28 18:08:12 This is the best burrito place I've been to in Rochester. I honestly haven't tried their other menu items besides the burritos, but they are good enough that you don't need to! Their salsa isn't great, and I don't like lettuce inside burritos, but they've never had trouble with a "custom" order. The staff is friendly and the location is convenient. —NateBurtch
---
2009-03-28 11:58:59 Pass.
The Monroe burrito looked promising, but just wasn't big enough.
I'm resigned to having to fly to California once a year for horchata and a burrito that's truly satisfying (HINT: you have to make your own tortillas). —ZachSmalt

---
2009-05-18 13:28:09 Had the Sol Burrito at lunchtime. Service was quick considering the line and price was reasonable. The server was polite and helpful, and the burrito was pretty good. Make sure you get some salsa or hot sauce, as my burrito was distinctly lacking in red (tomatoes/salsa) otherwise. I'll be going again. —RichardSchreiber
---
2009-10-14 10:56:14 seriously? maybe my standards are too high but i cant believe these reviews. this place is twice as expensive as taco bell but maybe 15% better. and jesus christ, premade taco shells? is this an elementary school cafeteria? i don't know why anyone would go to this place when john's is right down the street doing the "american mexican" style way better, and el dorado is over in henrietta serving authentic affordable mexican food. —RaginRon
---
2011-12-12 12:53:26 People would only think this place is good if they are incredibly high when eating the food. RocWiki has a lot of love for bad food though, don't get it. —jberna
---
2011-12-12 17:01:08 Today, I had a carnitas burrito bowl for lunch. It was o.k., certainly better than the soy-meat cr@p they serve at Taco Bell, but that's about all. Between Moe's and Sol, I'd have to say that Moe's was slightly better (which isn't saying much in itself, if you've seen my review of Moe's), although Moe's wins mostly because they have a 'salsa bar' and they also have enough space for diners. Sol is TINY!
The carnitas was o.k., but bland. As with most 'Texican' places, it's up to you to add any flavor by shaking on one of several bottled hot sauces available. Otherwise, expect the burrito to be rather uninspiring. Like Moe's, they seem to be selling quantity over quality, but not giving you quite as much as Moe's does. For a buck more, though, Chipotle does a much better job. Also, all of the competition has more parking than the tiny lot at this location does.

---
2012-02-22 09:47:16 Went here for lunch the other day, and the burritos were great! The marinated tofu is on some other kind of level, definitely wasn't expecting it to be so good! Will certainly be back here when burrito hunger hits; sorry Moes and Mex, this is my new favorite place to get one.
Oh and the pacman arcade game/table in there is a nice touch. :) —BrianHahn