St. Luke's Church is the oldest public building in Rochester. It was built in 1824-5 and was Nathaniel Rochester's home church for many years. It is located at 17 South Fitzhugh Street, in the middle of downtown Rochester. According to the Landmark Society, it is the oldest surviving public building in the city of Rochester and an unusually early example of 19th-century Gothic Revival style. It's located right downtown across from Irving Place and next to Rochester Arts Academy.
The organization of St. Luke's Parish was effected by the Rev. Henry U. Onderdonk," Rector of St. John's Church, Canandaigua, and Missionary in parts adjacent," on the 14th day of July, 1817, under the corporate name of "St. Luke's Church, Genesee Falls."
The original corporators, as indicated by their signatures to the "Declaration of Attachment to the Protestant Episcopal Church," were:
S. Melancton Smith,
Moses P. Belknap,
Wm. Y. Green,
Jesse Moore,
A. G. Dauby,
John P. Comparet,
Anson House,
Daniel Hibbard,
Jacob Howe,
Elisha Johnson,
Jonah Brown,
Caleb Hammond,
Jabez Wilkinson,
Joseph Thompson,
Wm. Atkinson,
Sam'l J. Andrews,
John C. Rochester,
John Mastick,
Silas Smith,
Roswell Babbit,
Enos Stone,
Oliver Culver,
John P. Sheldon,
Daniel Tinker,
Lewis Jenkins,
H. Montgomery,
Joseph Spencer, and
Joseph Griffin.
On March 13, 1817, Rev. Mr. Onderdonk "held the first public services of our Church at Rochesterville." The above-named persons met in a schoolhouse, belonging to Samuel James Andrews, on the east side of the river, in what was known as the town of Brighton, in the county of Ontario (at the time).
An offer of the original proprietors of "the 100-acre tract," Misters Rochester, Fitzhugh & Carroll, "to convey lot No. 85 to the first religious society that should take possession of the same and build a church thereon." The construction of a wooden building, 38 X 46 feet, to contain about forty pews, in the Village of Rochesterville was decided upon, and a contract entered into, Aug. 5, 1820 with Elias Beach and Phelps Smith, to build the same, at a cost of $1260, and $200 additional for a bell tower — the building committee consisting of Col. N. Rochester, John Mastick, Harvey Montgomery and George G. Sill.
The little wooden church was first occupied on Christmas Day in 1820 and was consecrated by Bishop Hobart on the 20th of February 1821 ensuing, at which time also the Rite of Confirmation was administered to the following persons:
John Mastick,
Jared N. Stebbins,
Elbert Scrantom,
N. T. Rochester,
Ann Cornelia Rochester,
Dorothy Stebbins,
Frances Tiffany and
Sarah Mason.
On the following day, the Rev. Mr. Cuming was advanced to the Priesthood.
The infant parish thus obliged to be dependent on its own resources, determined to "arise and build." In September, 1823, the Vestry resolved to enter into a contract with H. T. McGeorge to build a stone church 53 x 73 with a tower 16x6 at the contract price of $9,000, and William Pitkin, Caleb L. Clark, S. M. Smith, T. H. Rochester and Silas Smith with the minister exofficio, were appointed the building committee.
The old wood frame church was removed to the rear of the lot and was subsequently used for Sunday School purposes until 1832, when the building was sold, removed to Buffalo St., converted to secular uses and finally demolished in April, 1875. The corner stone of the new stone structure was laid May 11, 1824, and the edifice was first opened for public worship Sept. 4, 1825. The number of pews on the ground floor was sixty-six, and in the gallery twenty-six. The church was consecrated by Bishop Hobart, Sept. 30, 1826.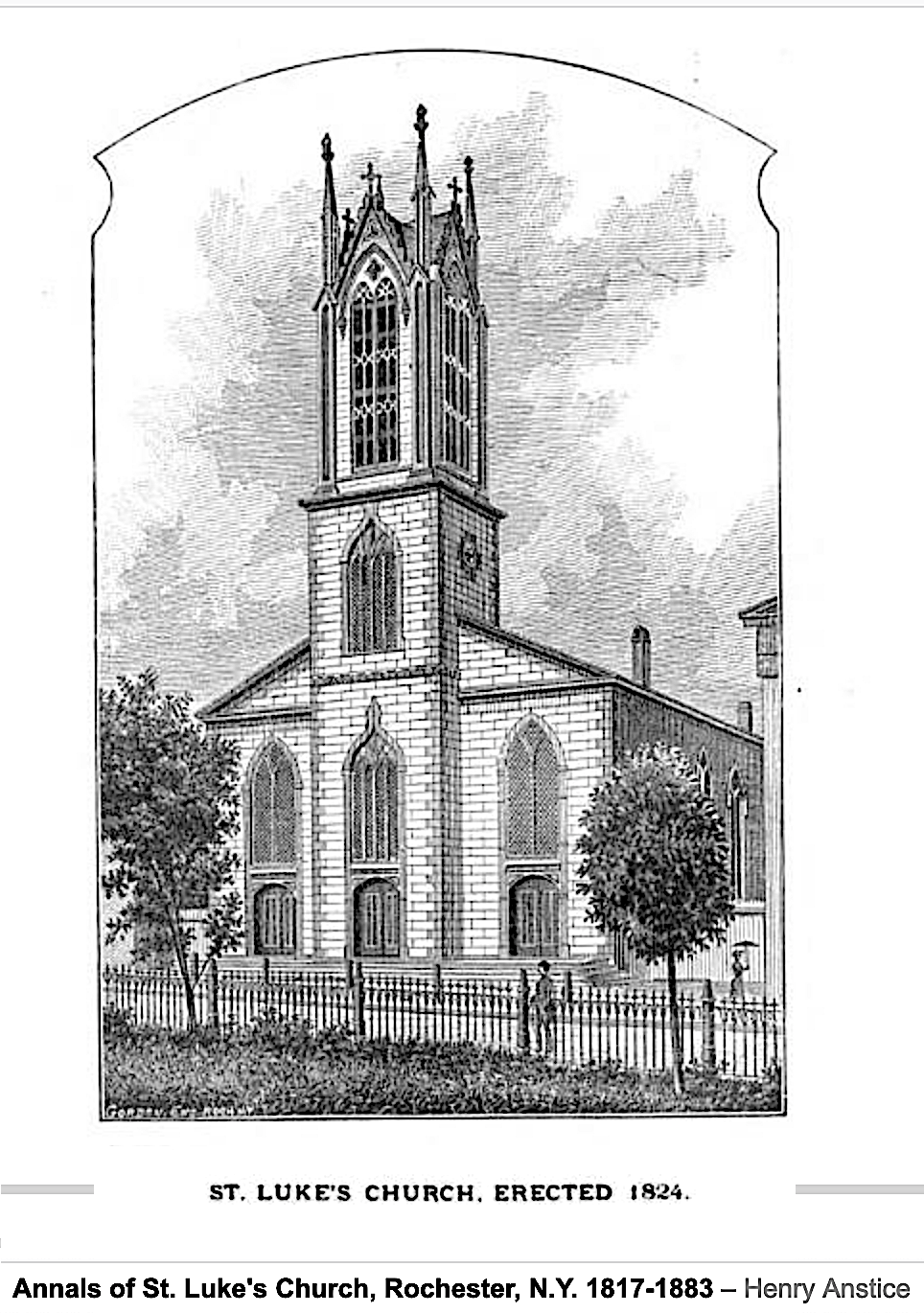 Rectors:
THE REV. FRANCIS H. CUMING, D. D.
Eight years and four months.
From Dec. i, 1820, to April 1, 1829.
THE RT. REV. HENRY J. WHITEHOUSE, D. D., LL. D.
Fourteen years and five months.
From Dec. 6, 1829, to May 5, 1844.
THE REV. THOMAS C. PITKIN, D. D.
Three years.
From July 14, 1844, to July 12, 1847.
THE RT. REV. HENRY W. LEE, D. D., LL. D.
Seven years.
From Jan. 1, 1848, to Jan. 1, 1855.
THE REV. BENJAMIN WATSON, D. D.
Four years and three months.
From April 29, 1855, to Aug. 7, 1859.
THE REV. R. BETHELL CLAXTON, D.D.
Five years and ten months.
From Dec. 1, 1859, to Sept. 24, 1865.
William Pitkin, Rochester's 12th mayor, married Louisa Lucinda Rochester (a descendant of Nathaniel Rochester) at St. Luke's on June 20, 1848.1
In 1988 St. Luke's, the oldest Episcopal congregation in the city and St. Simon Cyrene, the city's traditionally African American Episcopalian congregation, merged forming
St. Luke & St. Simon Cyrene Episcopal Church, and the current rector posts his sermons on
his blogger page.
Comments:
Note: You must be logged in to add comments
---
2007-04-15 22:43:26 It's 1823, and I have a photo to prove it if anyone's interested. —GrahamSaathoff

---
2007-04-19 14:20:59 You may want to post that on this page. —JoannaLicata
---
2007-04-20 17:19:01 The building at 13 South Fitzhugh Street is the ROCHESTER FREE ACADEMY (not the Rochester Arts Academy). The Free Academy was Rochester's first school. The building also served as the Municipal Court and the Board of Education building. In 1982 it was converted to private offices, and had a famous restaurant in the basement. The building sits vacant today. It was just recently puchased by a South Florida developer who plans the adaptive reuse of the building, which will be converted to residential apartments and commercial spaces. —GeorgeTraikos
---
---
2008-08-01 08:55:29 Fitzhugh is the only street by that name in the Country, if not the World. At least that is what I was told as a child. —SignoraElettra