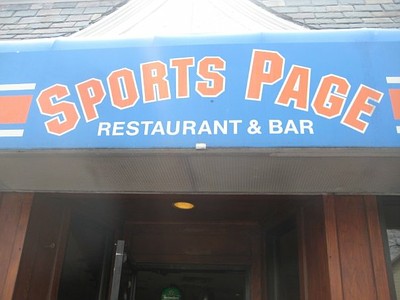 The Sports Page
Former Location
499 Monroe Ave, Rochester, NY 14607
Status
CLOSED (as of 2015)
Closed in mid-2015.
Comments:
Note: You must be logged in to add comments
---
2007-08-08 14:55:23 The sports page is under new management and has been completely renovated. Check out the "pork wings". —DarrenKemp
---
2007-08-08 18:42:55 I think the website might be for a different Sports Page. I don't recall Monroe Ave extending all the way to Melbourne, Florida. —DaveMahon
---
2009-09-03 11:37:51 Honestly, I love this place and have always defended it from its many detractors among my friends. The food is good, as are the usual drink specials, and the staff are usually willing to put on whatever baseball game I ask for, even when it involves lowly, non-regional teams. That stated, I feel compelled to give the joint a good chewing out over a terrible experience I had recently. My girlfriend and I arrived shortly before 7:00 PM, eagerly anticipating a pair of delicious burgers, a brimming pitcher, and a baseball game. Despite the fact that the place was NOT crowded, the bartender— an incompetent young woman— took over 15 minutes to come over to our end of the bar. I know this because I sat there watching the Guinness St. Patrick's Day clock tick down. She repeatedly took orders from people who walked in after us, and in fact only attended to us after we walked to her end of the bar and asked her to come down to ours. She huffed about it, refusing to make eye contact. Then she proceeded to take an order from a guy standing next to us before she entered ours. Finally, she scribbled down our food and drink request— complaining audibly that too many people had tabs open and that ours was adding to the mix of confusion— but left her writing pad next to the computer that sends orders to the kitchen. She then took additional orders from her preferred section of the bar and entered them before punching in our items. I waited an additional ten minutes before another, much better bartender brought down the pitcher of beer. The rest of the night was good, especially because the inept bartender clocked out and was replaced by about the 3rd inning.
Admittedly, food service can be a tough, high stress/ low reward industry. I've been there. But bartending gigs are hard to come by these days; plenty of better people would kill to have the job she apparently disdains. I plan to go back to Sports Page, but I won't stay again if she is behind the bar. Rant over. —JeffreyL

---
2010-12-23 14:45:18 I went here once because they had a game on their TVs that I couldn't get at home. I got a beer and some wings, which turned out to be inedibly bad — cardboard, and not just from overcooking. I don't plan to go back. —GeorgeOliver
---
2011-04-16 00:26:00 Walked in, heard "It's the Limp, Pimp!" blasting on the stereo, left shortly thereafter. It's a typical sports bar. —BatGuano
---
2012-12-23 19:28:51 Went there with some friends on Wednesday. Very friendly, homey-type of place. My friends swear by the wings. I had a Buffalo chicken salad and was indeed very impressed. —EileenF
---
2015-09-09 09:24:11 I liked Sports Page, but it seems like it's closed now. There's nothing on the internet anywhere, and they have got rid of its Facebook and everything else it seems. Not sure what's going on. —DE
---
2015-09-09 12:24:59 It looks like the building is being remodeled. The new windows still say Sports Page. —EileenF
---
2015-09-23 22:03:57 According to Acme's Facebook, they've remodeled and are re-opening the place as Charlie's —DE