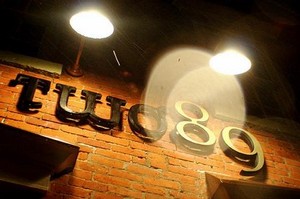 Image By ???
Former Location
289 Alexander St., Rochester NY, 14607
Status
CLOSED as of April 15, 2009
Two89 was an upscale dance club and martini bar on Alexander Street. The inside was newly remodeled, featuring two bars (downstairs and upstairs), a small dance floor, and a variety of seating options. Flatscreens behind the bar and dancefloor run videos along with the music. They featured DJ's several nights a week spinning a variety of dance music.

Closing was announced in the 3/17/09 D&C.
Comments:
Note: You must be logged in to add comments
---
2007-06-17 14:44:31 At this place, it appears that both the male patrons and the club staff expect the females there to be obliging to the men who try to grope them. If there is a situation where a woman is trying to keep an unwanted advance away, the club and those who work here seem to side with the man - if he complains about her unwillingness (for example, by lying and saying that she hit him), they will eject the woman with no questions asked, nor will they answer any questions. —PatriciaTehan
---
2007-07-15 21:06:39 I have also found that the owner of this club seems to lack any sort of human soul. Never patronize two89... its just not worth risking the bad
kharma. —KristinCox

---
2008-01-29 08:50:06 I will never go to Two89 again. After leaving my wallet there by accident (I left at 2:00 am) $120 was stolen from my wallet along with my credit card. My stolen credit card was used AT Two89 to buy $172.50 worth of drinks!!! How the hell did that happen when the bar closes at 2:00??? Maybe a bartender gave themself a nice tip???? Repeated calls to the manager have gone unreturned....A skeevy place if you ask me. NOT UPSCALE by any stretch of the imagination!!!!!!!!!! —PattyPatron
---
2008-01-29 12:16:01 I went here pretty soon after they opened and was extremely impressed with the decor. It does look amazing inside. But that's where the good part ends. My friend and I ordered drinks and waited for our friends to show up. When our friends showed up, it took more than a few minutes for the bartender to take their order. He was too busy talking to some women at the other end of the bar. I have to note that this was a weeknight and we were the only in people in the place besides the 2 other women at the bar. To make matters worse, they turned on SportsCenter, drowning out their otherwise great music. I've never been back. —MarcVera
---
2008-01-29 13:46:22 If you have an issue with this club and the owners wont return your calls then feel free to contact them at their other place of business.
http://www.princerealtyofrochester.com/ The only two agents at that realtor are the two owners of Two89. —LanceReed

---
2008-03-21 09:32:20 I remember when this used to be Lloyd's. It looks a bazillion times better from those days. I found the prices to be a bit high. I didn't experience any of the problems most people who posted did but it I didn't get a good vibe the 2 times I have gone there. I am much more comfy at Matthew's or Salinger's. —DianaLicata-Wright
---
2008-03-21 10:19:26 There is nothing wrong with Two89. It is a nice place for what it is, a mini club.
I think the commenters on here were just out of place. If you dont like NJ or the town of Greece (very similar) then you wont like Two89. (Even though Salingers is the town of Greece reincarnated.)
I enjoy Tim Tompkins bar One much better, but he did a nice job on Two89 for what it is. If you are 18-26 then this is a great spot, once you are older than that you are probably out of place.
Two89 is a small step up from a Ronnie Davis bar. Try it once and deem it. —MrRochester

---
2008-03-21 10:25:44 I've only been to Two89 once (last month), but I had a good time. It wasn't like being at the bar at Max, but it's pretty nice and much, much better than it's previous incarnation, the Jungle. Sure, the prices aren't great, but it is east & alexander. Everything is expensive. It's a fun place to dance and have a drink. —SaraChristine
---
2008-04-08 08:52:24 I really love the atmosphere at two89. The layout is great, the crowd is young, people are beautiful. This place is hot, especially for dancing, and especially at the end of the night. This place is definitely not for meat-heads like the crowd at Vinyl.
I haven't heard many good reviews of the new boys night out on Wednesday nights, but I don't care, I'm working on changing that :-) —MichaelDelaney