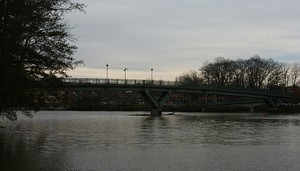 The original bridge. Taken from the River Campus side, with Brooks Landing visible in the background. (Nov. 2012)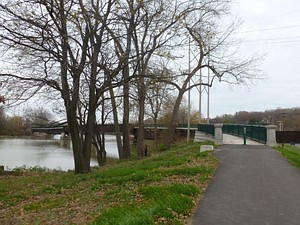 River Campus entrance to the Erie-Lackawanna Bridge. (Nov. 2012)
The University of Rochester Footbridges refers to the two pedestrian bridges linking University of Rochester River Campus to the Plymouth-Exchange and 19th Ward neighborhoods across the Genesee River. The first bridge to Brooks Landing (19th Ward) opened in 1991.
The second bridge, properly called the
Erie-Lackawanna bridge, opened in July 2012. Originally a railroad bridge, it extends from Wilson Boulevard near Jackson Square (formerly known as the Towers) to the Genesee River Trail in PLEX. It was completed as part of the Brooks Landing Project to link students living in the new Riverview Apartments to the River Campus, and to provide the UR community with an easy bicycle route to downtown.
Comments:
Note: You must be logged in to add comments