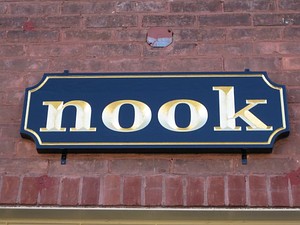 Former Location
20 S. Main St., Pittsford NY, 14534
Status
CLOSED as of June 13, 2009
:nook (AKA nook) was a very cute and painfully hip book/gift/music/home-decor boutique that used to be located in the 'hip strip' of the South Wedge, on South Avenue near Open Face Sandwich Eatery, Lux, and Godiva's. This store fit a unique niche in Rochester, and there was VERY little overlap between this shop and any other stores in Rochester. They sold artsy day planners, CDs, LPs, magazines, clothes, bags, furniture, rugs... with a strong appeal to young apartment dwellers.

The owner, MarcVera, seems very friendly, although some people have a mixed opinion of his friendliness/the store's hipness. It was awesome to see this place open up - it's sort of a "way cooler than urban outfitters" place (hope that assessment doesn't make the management ill.)

Store hours changed depending on the season.

:nook was the area's exclusive home for blu dot furniture, the original fatboy, baby furniture from oeuf, and was the only place in Rochester to find items from: Sukie, Whimsy Press, fomato, Seraph, Robert Le Heros, Wired, gg2g, loop, Lynn Muir, modern basics, kiwi industries, Silent Revolution, MissPrint, k studios, and more.

Want to read reviews or impressions of the of the shop? Visit the old nook Talk Page!