Location
725 Pittsford-Victor Road, Pittsford, NY 14534
Hours (as of March 2012)
Monday - Saturday: 11:00AM to 9:30PM
Sunday: Closed
Phone
585 383 8911
Wheelchair Accessible
Info Needed
Alcohol
Yes
Website
Facebook
Agave Mexican Grill is a Mexican restaurant in Bushnell's Basin. Delivery available.
Agave opened in June 2011 in an old Quiznos location at 2820 West Henrietta Road, Brighton. They moved to their current location in 2014.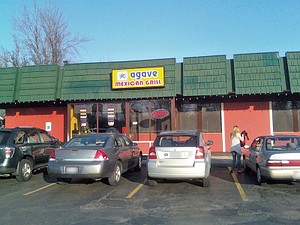 Original location in Brighton, March 2012
Comments:
Note: You must be logged in to add comments
---
2011-07-15 02:12:47 bleh. more mediocre mexican food in the roc. —jberna
---
2012-01-21 14:51:34 Had take out for lunch. Staff were accommodating. Place was 1/4 full. The food was not bad. There are much worse Mexican restaurants in the Rochester area. —ScottHendler
---
2012-01-23 19:58:24 This place was horrible. I went with 3 friends on a Friday night, there are literally maybe 7 tables in the whole place and they had 3 servers on. It took them 20 minutes to come back with our drinks (2 bottles of beer, glass of wine, and a margarita). We had ordered nachos as an app and then 3 of us got fajitas and the other got a combo meal. The app never came, however they asked us if we wanted more chips like 10 times. Each time we said no because we ordered an app. Then an hour after we ordered, my husband got his hot plate for the fajitas and his plate of beans, no tortillas, and my friend got her plate of beans. After 5 minutes, the server came back to check up on us. We told her that my husband hadn't gotten his tortillas yet and she said that they were coming. When we questioned her about the nachos, she acted like she didn't know what was going on. She then left. After another 5 minutes, they bring out my hot plate, but no beans and no tortillas or any of us. At that point i was pissed and asked the server to take back the food and to bring it all out together so that we can all eat together. She took back my husband's cold food at this point. after a few more minutes of waiting, we just left. This was the absolute worst experience i've ever had. —AlexisMcLaughlin
---
2012-03-23 10:43:31 Went here last night because of a LivingSocial deal I had purchased. Got a decent meal for a decent price, though the tilapia I ordered was dry and more "fishy" tasting than I'm used to. The restaurant was really slow the whole time we were there.
With so many options for Mexican nearby, I don't think I'll be returning. —AlexanderGartley

---
2012-08-06 13:40:30 Absolutely the worst meal I have ever had! If Chef Boy-ar-dee made Mexican, this would be it! They even charge extra to go! —Donshoemaker
---
2013-02-09 20:30:16 Really wanted to like this place. Had read some decent reviews and decided to give it a try with a coupon from Restaurant.com. Chips and Salsa was decent. My husband and I ordered Fajitas Nachos as the appetizer. It was chips with barely any runny white cheese sauce and lots of onions and peppers with a few pieces of steak.
Literally less than two minutes after the appetizer was put in front of us, the main course, fajitas for two was going to be placed in front of us. My husband protested and they took it back and said they would remake it and bring it back after we finished our appetizer.
The main meal was fajitas for two, where 3/4 of the items on the sizzling pan were onions and peppers. Barely any steak. The accompanying rice and beans we very bland, with the rice having pieces of potato in it and the beans being extremely runny.
All in all a forgettable meal we will not be repeating at this place. —GloriaMueller

---
2014-04-17 16:22:34 Seems to be closed? —alex-c
---
2014-04-28 16:26:44 Relocated to Bushnell's Basin - 725 Pittsford-Victor Rd. Phone 383-8911. People have commented on their Facebook page about eating at the new location and ValPak has new coupons available -
http://www.valpak.com/coupons/printable/Agave-Mexican-Grill/35843 —jgerek
---
2014-05-09 19:45:12 Just got take-out from there. Will not be going back. This is the equivalent of McDonalds, in my opinion. Plus I got a dark hair in my burrito. Gross. No authenticity, no flavor. Just a bunch of lettuce, tomatoes, bland meat, stuck in the same flour tortillas you can buy at wegs. I honestly could not tell the difference between the enchilada and the burrito.
Sorry to post this but it's the truth. We so wanted a good Mexican place to come around. The search goes on. Waiting.... —EnricoPalazzo

---
2014-06-29 16:52:47 We are very glad to see Agave open again, even with the shorter menu [Express menu needed]. A bit longer drive for us (without the same dining experience), but their awesome salsa and a few favorites dishes are still available. We had one problem in their old location, and it was all (very new) server related. One comment on here, created just to leave something nasty solely against Agave (and no others comments) seems suspect; other sites house a better balance of reviews. Fresh, tasty, and fast. Try it, at least once, then decide. —URalum
---
2014-10-04 22:16:04 This is not tex mex. This is legit Mexican that has been somewhat sanitized for mass appeal. Everything is super fresh. Chicken is ok, steak and ground beef are both good, the pork is excellent. Chips are fresh and tasty. Rice and beans are both standard. Guacamole is great. —Cretinx