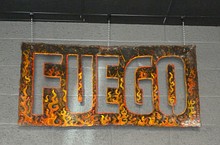 Indoor sign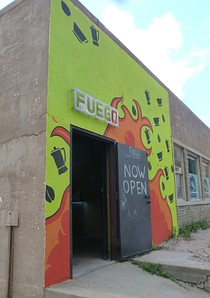 Original location on Liberty Pole Way.
Fuego Coffee Roasters is a
Third Wave coffeehouse in the Washington Square Neighborhood downtown. Fuego roasts their own beans and offers direct trade coffees from all over the world. Their coffee may also be purchased at Cafe Sasso, The Red Fern and other area businesses, and seasonally at the Brighton Farmer's Market. Online shopping is available via their website.
Fuego also serves as a small art gallery that participates in First Friday, featuring work from local artists on a rotating basis.
Fuego Coffee Roasters opened on June 28, 2013. Owners Tony and Renee Colon were longtime employees of Java's Cafe. In 2016 Tony made the prestigious US Coffee Championships qualifying event in Kansas City.
On June 24 2016 they moved from their original location on Liberty Pole Way to a larger space on Euclid Street. On November 5, 2018 they moved again to a larger space in Woodbury Place.
See Also
Comments:
Note: You must be logged in to add comments
---
2015-01-13 14:21:31 In my opinion, the best coffee in Rochester. I'm speaking of both the coffee drinks prepared in the shop and the roasted beans. Superior to other similar quality establishments in the area. However there's definitely room for improvement on the management side of the business. I went in Dec 2014 to buy a gift card or certificate for a gift and was told they did not offer either. A missed opportunity for sure. Also stopped by this past Saturday 01/10/15 and they had no beans roasted. I left empty handed. —jjjingleheimer
---
2018-09-26 17:05:46 Moving to Woodbury Place at end of 2018 or beginning of 2019. —scotthendler