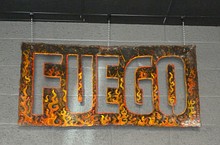 Indoor sign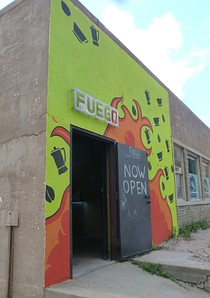 Original location on Liberty Pole Way.
Locations
45 Euclid St, Rochester, NY 14604
1000 East Henrietta Road, Bldg 4, Brighton, NY 14623
Hours - Downtown (as of October 2015)
Monday - Friday: 7:30AM to 10:00PM
Saturday: 8:00AM to 10:30PM
Sunday: 9:00AM to 8:00PM
Hours - MCC (as of October 2015)
Monday - Thursday: 7:00AM to 8:00PM
Friday: 7:00AM to 2:00PM
Phone
585 270 9214
Wheelchair Accessible
Downtown - Yes
MCC- Yes
Alcohol
Downtown only
Email
<fuegocoffee AT gmail DOT com>
Website
http://FuegoCoffee.com
Facebook
Twitter
Reviews
2013-07-17 City Newspaper
Foursquare
Fuego Coffee Roasters is a
Third Wave coffeehouse in the Midtown District downtown. They opened a second location at Monroe Community College in 2015. Fuego roasts their own beans and offer direct trade coffees from all over the world. Their coffee may also be purchased at The Red Fern and Hart's Local Grocers. Online shopping is available via the website.
Fuego's downtown spot is also a small art gallery that participates in First Friday. In 2014 they received a Wall\Therapy mural on the side of their building.
Fuego Coffee Roasters opened on June 28, 2013. Owners Tony and Renee Colon were longtime employees of Java's Cafe. In 2016 Tony made the prestigious US Coffee Championships qualifying event in Kansas City.
Their coffee is also served at 3rd Floor Cafe.
On June 24 2016 they moved to a larger space on Euclid Street.
See Also
Comments:
Note: You must be logged in to add comments
---
2015-01-13 14:21:31 In my opinion, the best coffee in Rochester. I'm speaking of both the coffee drinks prepared in the shop and the roasted beans. Superior to other similar quality establishments in the area. However there's definitely room for improvement on the management side of the business. I went in Dec 2014 to buy a gift card or certificate for a gift and was told they did not offer either. A missed opportunity for sure. Also stopped by this past Saturday 01/10/15 and they had no beans roasted. I left empty handed. —jjjingleheimer