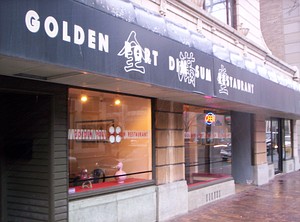 Former Location
105 East Avenue, Rochester, NY 14604
Status (as of 2021)
Closed
Comments:
Note: You must be logged in to add comments
---
ADMIN NOTE: Comments previous to 2008 are now archived in Golden Port/Comments
---
2008-07-01 20:52:53 I've only been here a couple times with my husband and friends and I LOVE it! What I've had of the sushi has been excellent, the Chinese food I've had here has also been quite good. Like RB, I have a favorite Chinese near my hometown in Columbia, MD and this place has come notably close to being a suitable substitute in Rochester. The prices are on the high end of reasonable but with the quality of food and excellent service, I don't mind too much. I like the decor but wish the place was a little more spacious, I sometimes feel like the next couple over might as well be sitting at the table with us - this small point aside, I'll be back again and again to this place. Haven't had the Dim Sum yet, but I really look forward to stopping in some time for it. —StephanieTodd
---
2008-11-21 10:35:24 I love this place, the dishes of all the different regions of cuisine are all top-notch, which is rare for pan-asian restaurants. I love their pad thai. Dim sum is great, though I'd appreciate a larger selection. The waitresses are pretty hot too! —AlexD1234
---
2008-12-03 23:32:16 Obviously you people have never been to Hong Kong and had real dimsum. The dimsum at Golden Port is horrible compared to the ones i've had in Hong Kong. Extremely depressing when you are craving dimsum and you go into a restaurant with the words "dimsum" written on the windows and the food tastes the way it does. The service is horrible. I was told by the waitress that i could special order any dimsum that i wanted even if it was not on the menu—but she could not understand what i wanted, and she refused to find someone that speaks my language to come translate. The sushi was okay. More fish and less rice, but I cannot complain about that I suppose. Food took a while to come out. The most annoying part was when the waitress brought out my food and some of it slipped and touched the table and she used her hands to move it back on the plate and tried to serve it to me, then gave me an attitude when I told her to take it back and have them re make it because it was contaminated by her filthy hands and the table. They also don't know how to refill water, apparently, because both mine and my boyfriends water cups were empty the entire night, even though the people came by and dropped off dishes and took dishes from our table.
So.......come here if you want shitty dimsum. If you want good dimsum, go to hong kong. can't afford it? well...that just sucks now doesnt it? —harryFREAKINchu

---
2009-02-14 12:34:42 I've never been able to figure out why it's so hard to get decent Chinese food in Rocky. We have wonderful Ethiopian, Indian, Jamaican. . .maybe it's because I grew up in the San Francisco area, where there is lots of great Asian food.
This place is acceptable. I've enjoyed their hot-and-sour soup and some of their dim sum. But the pot stickers are usually tough and greasy, with watery weak dipping sauce, and mu shu dishes come with flour tortillas because the kitchen is too lazy to make real Chinese pancakes. The hot Jasmine tea is delightful, and they also serve it iced - wonderful accompaniments in winter or summer. But they seem to specialize in fried-chunks-of-meat-with-syrupy-sauce dishes, or maybe that's just what people around me always seem to bee having.
The service is wacko. You have to fill out a complicated form yourself; dishes come willy-nilly at different times, and there is no pacing. Sometimes you'll wait twenty minutes for your appetizers or soup and then they'll plonk the entrees right in the middle of everything. The servers just kind of throw the food onto your table and vanish. More than once, we've had to chase them down to get the check or a refill of water. And if you're planning on getting somewhere like the Little after dinner, give yourself plenty of time because you won't be able to predict how quickly you'll eat. —LisaJadwin

---
2009-02-14 13:27:18 The wacky way of ordering is common in many Chinese restaurants in other cities. —RxScabin
---
2009-02-14 13:28:02 I never had a problem with it. We have been customers since the South Clinton days. —RxScabin
---
2009-11-16 16:39:37 Having previously been satisfied with the food at Golden Port, a friend and i decided to have a bite midway through our study date. We ordered some scallion pancakes, steamed broccoli and a pad thai. The food came out in a timely fashion but to our surprise, the pad thai arrived with a coarse, jet-black hair on top. We immediately made the waitress aware of the situation (these things happen at restaurants) and requested another pad thai. The waitress very pleasantly apologized and said she would have a new one made for us right away. **now let me give you a bit of a back story. Before notifying the waitress of the disgusting jet-black hair, my dinner guest and i thought it would be interesting to put a piece of our scallion pancake in the center of the dish, to see if they would actually make us a new one...or simply pick out the hair and reheat! If the new pad thai arrived with the scallion pancake somewhere amidst the noodles, we would know we had been hoodwinked! Brilliant...i know!
ANYWAYS, the dish arrived once again, this time unsettlingly quick. The waitress set down the dish, and told us "they made you a new one." She left, and we immediately began digging through the noodles for our scallion pancake. We got halfway through and thought we'd give them the benefit of the doubt. It seemed as though this place was legit, they ACTUALLY made us a new one. I even exclaimed joyfully toward the end of our meal, as mere scraps of noodles remained on the plate before us, "wow, the scallion pancake wasn't in there!" But I spoke too soon. Just then, as my dinner date agreed with an equally exhuberant tone, she glanced down. Her glee turned to absolute horror as she replied "you mean THIS SCALLION PANCAKE!?!" Yes, there it was, sitting in all its deep-fried glory, mocking us, having a laugh at our expense. The scallion pancake.
After we got over our initial bouts of nausea, we notified the waitress and informed her of our scheme. The jig was up! We had found the scallion pancake we planted amidst the pad thai. We know you lied to us about making us a new one. We just ate a hairy pad thai. The waitress looked at us in confusion. "Oh, they took it out and refried it." Our mouths dropped. "Didn't you see the steam," she said. We replied in disgust, "you told us you were having them make a NEW one, we didnt want the food that had the hair in it." She was still confused and eventually walked away. As we choked back our vomit, we thought that in the spirit of good customer service our entree(at least) would be comped. the waitress came back with the bill...full price. That's right, we paid full price for a pad thai laden with the hair of a sweaty, short order cook.
A manager never came over to apologize. In fact, we didn't receive an acceptable apology from anyone. We left, vowing never to return.
In conclusion, GoldenPort/Dim Sum disappointed us beyond beliefe. There are plenty of chinese restaurants in Rochester which would at least have the decency to attempt to please the customer. Golden Port is not one of these restaurants. Unless you enjoy the taste of a strangers dna, get your chinese food elsewhere! Excuse me, once again, while i vomit. —ChrisDattilo

---
2009-11-17 11:20:55 I am sorry to see that the quality has apparently diminished as the restaurant got bigger and bigger. Oh well. —RxScabin
---
2010-06-04 13:49:46 The food is good, according to Rochester standards. There's lots of variety (even thai and japanese) and it's a good place to take a group - everyone can get what they want. For someone like me, the size of the menu is actually kind of overwhelming. Some of my favorites:
Salt and Pepper Tofu = surprisingly delicious despite the simple name
Tom Yum Soup
Scallion pancakes
Thai Basil Yellow Noodles
and while I don't eat sushi, I hear it's pretty good there
And while the food is good, I would be neglectful to mention the consistently horrible service. I've been going here for a few years now and the staff is, more often than not, rude and inattentive. The front lady likes to yell at the servers and the servers themselves prefer to gossip instead of do their jobs. Maybe they just get paid horribly?
So conclusion:
good food, moderate prices, horrible service. —pdx87

---
2010-10-11 08:44:02 Am writing this several months after visiting. Was told by a friend that this is the best in Rochester for Dim Sum and that's all I tried here. Was not impressed at all, and hope to find better Dim Sum elsewhere and will continue my search. —KairakuShugisha
---
2011-11-21 16:48:03 This is a review I originally posted on Yelp:
Wel, first of all, the term "Dim Sum" means that they bring dishes around to tables on a cart, for you to choose from. Ordering from a list is NOT "Dim Sum". While the orders are about the same size, having things cooked to order completely ruins the entire idea of Dim Sum.
On to of all that, the food here is really fairly bland and uninspired. They also offer an even more uninspired choice of sushi-like dishes, (which are even slightly more disappointing for those who actually know what real Asian foods are supposed to be), and the service in this place is curt and erratic. Add to that the lack of parking, and all in all, you can do better at any of a number of Chinese/Shushi/Asian places in town.
The only saving grace this place has is it's location, so if you are truly stuck in the inner loop and can't get anywhere else, this place is probably the best you're going to find. For anybody with a car, however, you can do better, and for less money, as well —Alex-C

---
2013-06-29 11:08:57 We've been fans of GP since the days they were on South Clinton, and always make a visit when we are at the Jazz Fest. Yes the Dim Sum is cooked fresh to order instead of brought around in bulk on a cart, but it is tasty none-the-less. And it is nice to mix-and-match Dim Sum dishes with sushi for a nice meal of small plates. We find the prices quite reasonable. Service was a bit discombobolated but the Jazz Fest probably bings them the most business in one week all year, so we were understanding. Maybe not the best authentic Asian in town, but pretty darn good. —jgerek