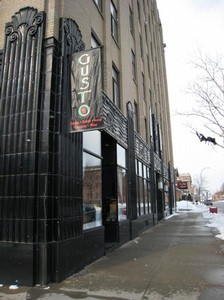 Gusto Exterior on Alexander 03-2008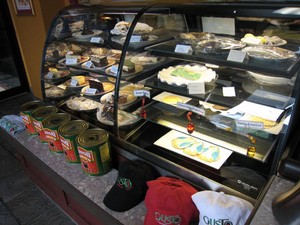 Goodies in Gust0 03-2008
Location
1200 Brooks Ave, Rochester, NY 14624
Hours (as of October 2018)
Monday - Friday: 5:00AM to 8:00PM
Phone
585 235 4744
Wheel Chair Accessible
Yes
Alcohol
Yes
Gusto is an Italian restaurant at the Greater Rochester International Airport.
Previously they were located on Alexander Street. As of October 2012, this location is closed and that they joined forces with Benedettos down the street. After that closed they opened a kiosk at the airport. As part of the renovations in 2018, they moved and have sit down service.
Comments:
Note: You must be logged in to add comments
---
2006-09-15 11:36:01 Piping-hot lasagna special - $7.50 - is comfort food on a cold day as well as an escape from workaday lunch fare. Stuffed peppers (they said plural) arrived singular (portion too small unless dieting) and could've used more seasoning, but it wasn't nothing that couldn't be saved with extra cheese, as we unsophisticated eaters like to say. Desserts: choco mousse is smooth and airy, while the almond-raisin lemon tart pleases the fruity-sweet tooth. If not crowded, the space feels comfortable esp. when nursing coffee with Billie Holiday in the background. Specialty foods and branded products add up to enough of an identity. All around, should be a viable business. —ChristineLeo
---
2006-12-08 13:07:27 A few of the portion sizes seemed bit small, but all the ingredients were of good quality. My garden salad was excellent with a bounty of fresh veggies and cubes of fresh mozzarella on top. The paninis are thin and crisp with just the right gooeyness inside. Save room for a selection from the dessert case! —EllenKelsey
---
2007-02-06 13:02:55 Nice little restaurant for a lunch or small meal. I had a bowl of chicken cacciatore soup which was well thought out, along with a spinach salad, which was plain but well executed. My companion had a stuffed pepper, which she found a little underwhelming. They had an interesting selection of italian drinks. On our waiter's recommendation I tried a chinotto (an italian soda), and it was tasty and interesting. Our waiter was helpful and friendly, and was obviously enthusiastic about the food he was serving. I always appreciate that. I will most likely be back —EastSideStephen
---
2007-02-26 15:45:59 The Bruschetta and soups (Greens and Beans especially!!) are wonderful - the ingredients are quality and fresh. I appreciated the good service as well. Highly recommended. —MaryKit
---
2007-03-31 12:10:54 Great little place! I split a couple paninis with friends and had some fire-roasted tomato soup that was delicious. Finished it with a mocha gelato and cappuccino...yum! The interior has been beautifully restored from the old bakery that was there (if anyone remembers that place...) and the service was friendly and attentive. I'll definitely be back! —RochesterGuy
---
2008-02-26 13:13:16 Cute little place near The Old Toad for a decent lunch. My friend and I got sandwiches which were pretty bland but our other friend lucked out and got the lasagna which looked mighty good... They had some tempting desserts in the case but after the terrible sandwiches I wasn't up for trying them out. —JaimeTe
---
2008-03-01 15:16:48 Nice casual Italian for lunch or dinner. Paninis were good and Italian wedding soup got high marks too. Nothing fancy here and prices pretty much in line for what they are. —DottieHoffmann
---
2008-04-24 14:11:20 Nice looking little restaurant. The food though...
The first time I ate here the food was horrid.
The second time I got food poisoning.
Nuff said. —MrRochester

---
2008-04-26 14:32:01 I really enjoyed this meal. I had a Ceci salad, the special pizza that night (prosciutto and marinated tomatoes with mozzarella) and shared a slice of chocolate raspberry cake. Portions are the perfect size for me— nice and light, but still satisfying. Service was wonderful as well. —RoryGordon
---
2008-06-15 12:18:36 Stopped in for desert and it was very good. The service was great, they were really attentive and cool. The owner stopped by and asked how things were. They have some cool seating options on the right as you walk in. I am definitely going to try this place for lunch or dinner some time. —BadFish
---
2008-08-03 19:42:38 I dig Gusto. She liked the ravoli; I liked the prosciutto and fresh basil pizza with the cracker thin crust. —ZachSmalt
---
2009-04-27 19:11:45 Somewhat unimpressed.
Ordered an antipasto and it was not what I expected at all. It was also $14 instead of $11 as is quoted on their website. It did include generous portions of meat and cheese, but very few vegetables — I'm used to antipasto being served as a salad, but gusto's antipasto seems unbalanced, too meat heavy, with no lettuce or spinach or other roughage. I was also surprised to see that they included parm in fairly large chunks. Fresh parm is tasty when grated or shaved into small pieces, but it isn't nearly as appealing when served in cube form.
My meal wasn't terrible, but it wasn't great either. . . I probably won't be back. —GrahamSaathoff

---
2010-05-25 22:32:02 I have never had a problem with Gusto. Every time I've been there the food (especially the pasta and pizza) and the service have been excellent. I would probably say it is one of the best home-style Italian in downtown Rochester and the prices are quite affordable for what you get. Almost everything is homemade and fresh to order. Plus the desserts, wine, beer and drink selections are top notch. I think twice now before going to Park Ave for a quick bite, especially since Gusto is around the corner. —DanielVentura
---
2010-05-26 14:04:45 Also, Gusto seems to be open until 11pm now on Friday and Saturday —DanielVentura
---
2010-10-24 02:05:15 Dinner there was pretty decent overall - good service, quality wine at a reasonable price, tasty paninis. Though, $4.00 per person for a side salad is a bit pricey. And the "olive salad" side dish is just ..... olives. Nothing else. Also, be careful when ordering dessert - we asked for the mocha conno, a chocolate cake type delicacy. We weren't plannning on going home right away and thought the mocha conno would be ok in the car for a few hours. But, we arrived home to discover that the "mocho conno" that we ordered and paid for was actually a "dream bomba" - i.e. gelato - and hence was completely melted and worthless. We had even pointed to the mocha conno in the display case and the waitress had described it as definitely being cake, not ice cream - otherwise we wouldn't have ordered it, knowing it was going to sit in the car for awhile. So the staff needs to brush up on the dessert offerrings, apparently. If not for this dissapointing abuse of confection, we probably would have become loyal customers. —AJH
---
2012-10-07 19:08:27 It's gone. Closed up and I will miss it. —HenriettaRob
---
2014-02-03 15:22:36 NOOO!!! :( This was a Valentine's Day tradition for my wife and I. Will be missed. —alexandergartley
---
2014-02-03 19:17:30 Note that there still is a food concession at the Rochester Airport with the name "Gusto" that is under the same ownership. They consider the airport location "An Italian Ristorante", but somehow the ambiance just isn't the same. See:
http://www.eatwithgusto.com/contact.html —jgerek
---
2014-02-03 20:23:51 I love the smell of Jet Fuel and pasta sauce in the morning. Smells like success —Damiankumor