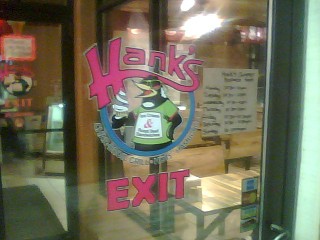 Hank's penguin logo is everywhere.
Former Location
235 North Ave, Webster, NY 14580
Hank's closed in November 2014 and left the following message on their website:
THANK YOU FOR YOUR SUPPORT!

OUR MOST VALUABLE ASSET HAS ALWAYS BEEN OUR SATISFIED CUSTOMERS BECAUSE WITHOUT YOU OUR BUSINESS WOULD SIMPLY NOT EXIST. WE CONSTANTLY STRIVE TO ENSURE QUALITY PRODUCTS FOR YOU THROUGH PREMIUM PRODUCTS AT A FAIR PRICE. WE WOULD LIKE TO THANK YOU FOR YOUR CONTINUED SUPPORT.
Photos
The Hankie Plate - Hank's huge take on Garbage Plates.
July 2009, Ice Cream Counter - BradM
July 2009, Park Outside -BradM
Comments:
Note: You must be logged in to add comments
---
2007-09-17 16:05:01 This place has excellent roast beef sandwiches and frozen custard. I look forward to my next visit before the summer ends. —RichardSarkis

---
2008-07-20 14:08:34 Shhh - the best kept secret in town.
Plate lovers - the Hankie Plate is the biggest around. You might want to consider buying one for two people (and yes, I know ANY plate is enough food for two people). The burgers are huge, home fries hot - and best of all - the perfectly spiced hot sauce is SELF SERVE. Extra sauce and onions on mine.
The french fries are seasoned and crispy. The condiment bar has just about everything you can think of (sauerkraut, mushrooms, several different kinds of hot sauce). Loganberry in the soda machine!
The ice cream and frozen custard are just not realistic if you're ordering a plate. Save some room. The frozen custard is very creamy.
The only thing I'm not wild about is the roast beef. A little well-done for my tastes, but still good.
There is plenty of parking, as well as indoor and outdoor seating. —ZachSmalt

---
2009-07-21 21:47:06 Took two granddaughters in for ice cream while bike riding out at North Ponds Park. Always appreciate the Perry's hard ice cream - good ice cream and flavor selections. Waffle cones were fresh and tasty. Pleasant service and clean surroundings. The place has expanded a lot since the days I came here while working at Xerox in 2001/2. Lots of seating arrangements in and out. —BradMandell
---
2009-07-22 09:00:17 Hanks has free wireless available. —ScottTaylor
---
2010-06-03 12:52:04 Hands down best frozen custard around. Sooooo creamy. Folks, they have ice cream cakes, too! —LisaRuns
---
2014-11-01 20:13:54 Reported to be closing tomorrow:
http://www.democratandchronicle.com/story/webster/2014/11/01/hanks/18326237/ —markjackson