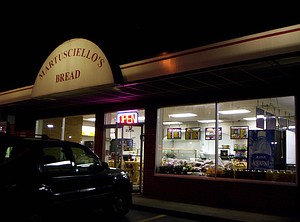 Photo by RickUrwin
Former Location
2280 Lyell Avenue, Gates, NY 14606
Status (as of January 2022)
Closed
About 10 years ago Martusciello Bakery moved from their century old and apparently too small building on Saratoga Ave in the Lyell-Otis neighborhood. Their last bakery was in Gates, just beyond I-390, across from Wegmans which brought them closer to their customers. In addition to operating a retail store, they also baked a large menu of cookies, cakes, and custom orders.
outside Picture from The Refrigerator

inside Picture from The Refrigerator
Comments:
Note: You must be logged in to add comments
---
2006-05-25 16:35:41 A little about... When I moved to North Greece from Webster I had to find a new place to pick up fresh bread. On a recommendation the first place I tried was Martusciello's because of it's close proximity to i-390. In fact, they are just about 1 minute west of i-390 on Lyell Ave. So it's location got me in the door but the inexpensive great tasting breads keep me coming back. That and the pizza, calzones and sandwiches which are great for lunch. —RickUrwin
---
2006-06-13 18:54:25 IMHO—the best french bread in town. —MrPhil
---
2006-06-14 05:05:06 i LOVE their rolls for sandwiches and such.... but they go bad quickly (no preservatives) so be sure to eat them quick! —JcPop
---
2006-07-27 12:10:37 Best Italian bread in town. —ZedOmega
---
2008-03-22 22:36:08 The best bread in Rochester Hands down!!! Worth the drive. They also sell it at the public market ( cheese shop) They also have cheap
prices too! —JenniferWynne

---
2008-03-24 12:25:04 Some of the best bread in the ROC. —MrRochester
---
2008-06-13 15:52:26 The best, hands down, deli/hot food on the city. —JK44
---
2008-08-16 19:00:48 I had the pleasure of enjoying my lunch on Martusciellos new outdoor deck. It was a beautiful day and the soft music was very relaxing before I had to return to work. As usual my lunch was great...give it a try when your in the area!!!! —jamie
---
2008-08-17 20:46:47 They also carry their rolls at R's Market on Monroe Avenue in Brighton. Awesome for burgers. —ThomasPawlik
---
2008-08-26 14:46:46 You get a lot of bang for your buck here - Huge quality subs filled to the brim for less than you would expect. Hot and cold ones are worth trying (chicken parm yum!) and the bread is the best. I had a few of their homemade Italian cookies which were also delicious (I wanted to taste just a few and the woman helping me threw them in for free). There are several round bar-style wood tables to sit at and eat lunch and the inside is bright and clean. Everyone is so nice and friendly you can't help but want to go back for more :) —JaimeTe
---
2008-10-18 18:22:23 La maggior parte Delicious Pane ho avuto a Rochester finora.
In other words; Most delicious bread I've had in Rochester so far. —CristoforoMiceleBasso

---
2009-03-25 22:19:45 We ordered lunch from here today for work. It was great. I love their bread! I had a medium cold sub — their prices are really good. —VinceC
---
2010-01-15 11:21:55 Once and for all how do you correctly pronounce the name? —CreamAleDrinker
---
2010-01-15 18:11:08 I believe it's pronounced Mar-too-she-yell-o —PeteB
---
2010-02-14 15:28:36 I always thought meatball subs were a pretty sure bet when ordering food for lunch. The sub I had from here was horrible. Overcooked tasteless sauce and undercooked meatballs. On top of that, it was messy. Bread tasted stale as well. I'll admit it was a good price but they lost me as a customer. —MetalFrost
---
2011-04-07 21:06:49 The subs my wife and I picked up were undercooked, the small pizza we had while waiting for our order was soggy, we also felt rushed as it was 3:30 and the help seemed more concerned with closing at 4:00 than worrying about our order. Very good bread, but I missed the treat you like family appeal that I always get when I walk in Savastano's or Gisueppe's. Will not be back. Paolo —paulroberts
---
2011-05-25 04:17:41 I am 38 years old and I have enjoyed coming to this bakery since I was 8 years old when it was located on Saratoga Avenue. Excellent food! Great bread and other italian foods! —RobertStar
---
2012-01-26 13:24:45 My favorite bakery!!! I am pretty sure they make the best bread I have ever had, and their subs are giant, amazing, and cheap!! Their pies are also really cheap (although I've never had one...) and their pastries/cookies are so good (esp. the Baklava!). —StephanieD
---
2014-11-02 10:07:29 10-15 years ago this was the place to go. Yesterday my other half had a steak sub and the bread was so soggy by the time he got it home to brockport it was like it was sitting in water for the whole ride home. Back in the day it made it back to brockport without a problem. My other half called the store and told them about the problem and the they gave him a credit but when we went back the today the women was so rude and gave him discus looks like he was lying and never gave him the sub. She said it wasn't written down and until she found out who said it was ok she could not give him credit for a bad sub. Thanks for sucking at customer service lady —hollysheffield