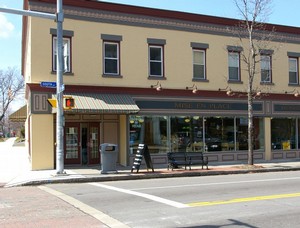 Mise En Place Market, 4-2008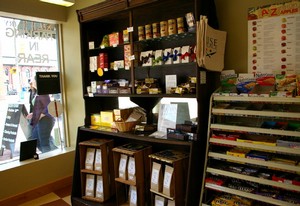 Specialty Chocolates and Coffee, 4-2008
Former Location
683 South Ave, Rochester NY, 14620

(Corner of South & Gregory)
Status (as of December 31, 2017)
Closed
Mise en Place Market was a European style grocery and cafe located in the heart of the South Wedge neighborhood at the intersection of South Avenue and Gregory Street. They also did catering.

The grocery portion of Mise en Place offered a diverse selection of food and dry goods. In addition to standard convenience store items like milk, pasta, and basic baking supplies, Mise En Place featured local products made by neighbors such as South Wedge Botanical Soap and Hedonist Artisan Chocolates. In the Fall of 2008 they began offering a selection of craft beers from places such as Dogfish Head, Smutty Nose, and Fuller's.

The restaurant and deli counter were open for lunch and dinner. Lunch fare included hot and cold subs (featuring Boar's Head meats) and daily specials. Dinner options ranged from fried fish and burgers to scallops and stuffed pork chops (the owner spent years as a cook at Restaurant 2 Vine in downtown Rochester and dinner offerings at Mise En Place were comparable to what you would be served there or at other upscale restaurants in downtown Rochester). Eat-in dining was available in an isolated area on the West side of the shop. The deli counter also offered prepared foods such as macaroni and potato salads are available for eat-in or take-out.

Under former management, this was the South Wedge Green Grocer and Garden Center. Current management re-opened the shop under its new banner in early 2008. Although the previous incarnation of this store focused on hard-to-get (and often expensive) specialty items Mise en Place offered more standard fare at prices comparable to major groceries. Unlike the (inappropriately named) South Wedge Green Grocer, Mise en Place also stocked a variety of fresh fruits and vegetables.

In December 2017, the owner announced he will be closing to spend more time with his family and will start being the chief cook for Foodlink, creating prepared foods.
Comments:
Note: You must be logged in to add comments
---
See Archive Page for comments prior to 2009.
---
2009-03-25 20:48:26 I had one of the best customer service experiences here yesterday. I went in for some ground beef for some burgers. This was only my second time in the store so I asked the cashier if they sold ground beef. She pointed me to the deli counter and I asked the guys working on a sandwich if they had any ground beef. After a look around they said that, unfortunately, they didn't. Very well, I told them, I'll just run over to Wegmans. I thanked them and left. I hopped in my car and started to call the fiance to tell her I was going to have to run to Wegmans and that I would be a little longer. Next thing I know, the owner comes around the corner and asks me what I was asking for. I told him just enough ground beef for two burgers. He apologized that the workers didn't realize they had ground beef in the back and he said he would pound out a couple burgers for me. It was a simple act of kindness and it was much appreciated. It's unfortunately a rarity these days to go to a place that works so hard for your business. After reading the comments here, such service is par for the course at Mise en Place. It's a true gem of a local market. I'll be going back. —BatGuano
---
2009-03-27 12:16:34 I came in to eat here for the first time last week, but I usually get soup to go (excellent soup). Friendly competent staff, wonderful selection of fresh produce and toiletries and such. The food was divine! The salmon, scallops, lamb, and tenderloin we ordered were perfectly cooked and sauced, starches and vegetables perfectly seasoned, and all the food was piping hot. We got to meet the person who cooked our food. We asked if he was the owner and he said "no," he's out for the evening. He was the sous chef. A very knowledgeable and friendly young man who we hope will cook our next meal when we inevitably return. Keep it up Mise En Place!**** —Gormand
---
2009-04-10 11:00:26 Amazing fish sandwich! The large is about $7 and can feed two people with the addition of a large side of vegetables for $4. I'd love to try more menu options, but the fish sandwich is so good I get it every time. As mentioned in other comments, the employees are friendly and helpful. —EllenKelsey
---
2009-06-25 11:24:20 not sure how to update the listing, but if someone wants to, this now has a website -
http://miseenplacemarket.com/ —DanetteFitzgerald
---
2009-07-10 23:36:56 (comment on first visit) Inviting atmosphere. Good selection of food. Big and tasty hot sandwiches. Poorly though-out seating area. Efficient service. —Giffen
---
2010-01-31 12:39:19 My husband and I have been to Mise en Place a number of times for dinner and we liked the food so much we decided to have my mom's 65th surprise birthday there as well. When I met with Casey the chef, I told him how I wanted it to be at lunchtime, but more of a dinner type meal. He said he could do pretty much anything I wanted. I was feeling overwhelmed trying to decide on the menu, and he was so helpful with coming up with great suggestions. He was very personable and so easy going and was accommodating to making changes along the way. For the appetizers,we had different types of Bruchetta (white bean, spinach ricotta, butternut squash) and mini crab balls, along with a sherbet punch. For lunch we had tossed salad, Caesar salad, chicken sauteed in a garlic, lemon, wine sauce with artichokes, roasted red peppers and mushrooms, a pork loin in a bourbon glaze, parmesan risotto, brussel sprouts and honey glazed carrots. For dessert he made a triple layered white cake with raspberry filling and chocolate frosting. Everything was homemade and the meal was hot and delicious! Everyone at the party came up to me afterwards going on and on about how great the food was and how they haven't had a meal out at a party that good in a long time. I just can't thank Mise en Place enough for making my mom's special day so memorable. If you are looking for a great meal in a unique setting, I highly recommend going here.
---
2010-02-19 22:36:41 Really excellent meal and they have a great variety of foods. Quick and friendly service. —MattHenshaw
---
2010-09-11 13:12:04 Went here yesterday with three friends. Have several comments to add to everyone's input since I was not impressed with the overall service and that took away from the quality of the meal. I made reservations to make sure we were seated in a relatively timely fashion as we had plans later that evening. When we arrived, no one actually had a record of the reservation. We waited for 15 minutes for a table. No one asked us what we wanted to drink. No one brought a menu. Finally, a waiter arrived and asked us what we wanted to eat....we asked for a menu so that we could at least order. The menu came. We ordered at the deli counter. Waited for 35-40 minutes for 4 sandwiches (!!!). Yes, they were tasty but did not rock my world. No one asked us if we wanted more water. My appetizer order was forgotten. No one brought a check so we just paid at the counter and left. If a place advertises itself as a restaurant or a diner, there has to be some attempt at service. A couple of harried waiters and too few water glasses does not make a restaurant. Yes, the food was tasty, but the service was below the level of a diner. This is FINE until you advertise that you are a restaurant and then service has to, at least, exist as such. Will go elsewhere next time... —RocDoc
---
2010-09-17 00:14:51 I can't say enough good things about Mise en Place. Love the food, I had some of the flourless chocolate cake with white chocolate cream that was mentioned on this page and I wish they still served it. Some of the best food the Southwedge has to offer and great products on the shelves. —PMazur
---
2010-09-22 23:52:29 I love this store. This is my go-to shop for local & organic meats, baked goods, and cheeses. Great beer selection as well. The folks at the deli counter are incredibly helpful and I've bought consistently great stuff there. Very competitive prices ($4.99/lb for organic chicken breasts!), and far closer — and less stressful — than Wegmans. —AliMcGhee
---
2011-01-01 03:49:25 After hearing good things about the New Year's Eve dinner here, and having had great lunch experiences here in the past, I and seven friends decided to make reservations and try it. Huge mistake. I realize a table for eight might be a bit of a stretch for what's ordinarily a lunch joint, but we found ourselves seated at folding chairs at a folding table after waiting too long in the lobby to be noticed by any of the employees.
We all figured that we could get past these issues and tuck in to a nice dinner, but when we were told to place our orders at the deli counter, like we would for lunch on any other day, we were more than a little turned off. When another employee came by and told us that she would take our order (but not to tell anyone, like it was some secret premium service), we decided we'd had enough. Luckily, Edible's was able to make space for the eight of us on such very short notice.
We didn't have a huge problem with any individual failures, but the entire list of them combined to make for a thoroughly unpleasant experience. One would expect to at least be able to sit at a real table and have someone take your order when paying upwards of $50 a plate for a holiday dinner. The staff seemed flabbergasted when we tried to explain this on our way out.
Since I live in the neighborhood, this definitely won't make me stop going to Mise En Place for groceries or perhaps the odd sandwich or takeout meal, but I will have to seriously think long and hard before going there for anything more again. —AlexK

---
2011-03-08 13:25:57 I would like to comment on some of the comments I read regarding New Year's Eve. I was there that night enjoying a wonderful meal. Mise en Place was just as I expected it to be. It was as it always is, which is what I wanted. I did not want to dine with "the amateurs" that night, which is what every other restaurant in town would be filled with. I did, however, want to eat a delicious meal and that's exactly what I got. I did not expect Mise en Place to change just because it was New Year's Eve, I wouldn't want it to ever change into something it's not. It is supposed to be a causal comfortable place. I have never had a bad experience there. If you were so concerned with all the things you commented on, knowing what it's like there, why would you not call and ask if they were breaking out the fine china and linen for dinner? I think the real reason those nasty comments were posted is becauase when asked for ID for alcoholic beverages most of the table couldn't produce them...Do you go out without your ID on New Year's Eve? Then the table left. I think this is what really ruined there evening: the fact that Mise en Place was responsible and wouldn't serve people without ID's I understand the disappointments they listed but really what did they expect? Both the people who wrote comments said they had eaten there before so what was the big surprise? Clearly they found what they were looking for but to write such nonsense because they came to restaurant that does what it does everyday is kind surprising to me. My table and I fully enjoyed our dinner and were much happier when the pretentious people left the facilities. —BellaAnn

---
2011-03-29 07:43:02 I'd like to clear up some of BellaAnn's misunderstandings. As I mentioned before, I've been to Mise en Place in the past and am familiar with their modus operandi, though when a special set menu is planned for a holiday requiring reservations, I'd at least expect a slight attempt to bring the atmosphere up to par with the menu and prices. Plastic chairs, an uneven folding table, and self-service ordering were not worth the prices we were being asked to pay. Casual is one thing, but for a complete $50 dinner, one would expect to order somehow other than by schlepping to the deli counter.
Additionally, to clear up the gravest error in the above post, there was no issue whatsoever with providing ID for alcoholic beverages. Several members of our group were under 21 and so made no reach for their wallets as they knew liquor was out of the question. Nobody in our group complained about this situation or tried to make anything of it other than what it was. I know that RocWiki is a community-sourced effort, but that doesn't allow busybody observers to simply fabricate facts about events with which they were, at best, peripherally involved.
As I stated in my prior comment, the ultimate cause for our displeasure with the night was not any one issue, any of which could have been tolerated that evening, but the synthesis of a number of small failures that simply led us to decide that Mise en Place was not the New Year's Eve celebration we were seeking, though it remains a fine spot for a casual meal on a less formal occasion. —AlexK

---
2011-09-04 14:51:40 The english muffin breakfast sandwiches are amazing, and highly recommended! Their english muffins are moist and perfectly spongey, and they cook everything just right to make a delectable start to your day! —NellieW
---
2013-09-28 15:03:37 I love eating here. Every time I eat here, my date and I are very pleased. Love the casual atmosphere..perfectly my style. Burger is amazing, as are the fries. Oddly, I find their selection of groceries completely unappealing, as much as I'd love a nearby grocery source. —breaker
---
2017-12-14 20:23:28 Closing at yearend, per
http://www.democratandchronicle.com/story/news/2017/12/14/mise-en-place-close-south-wedge-after-10-years/952541001/ —markjackson