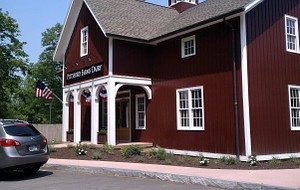 The New Building, May 2012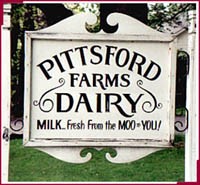 The Pittsford Dairy
Pittsford Farms Dairy & Bakery is a little locally owned dairy, bakery, ice cream shop, and cafe. They are located behind Schoen Place in the Village of Pittsford. Their milk, which is produced by regional dairy cows, is vat-pasteurized, bottled on-site, and sold in old-fashioned glass bottles.
Using this milk they produce and sell ice cream, frozen custard, butter, buttermilk, chocolate milk, and eggnog. They also sell grocery items such as local baked goods from Baker Street Bakery and Flour City Bread Co., pastas from Flour City Pasta, coffee from the Merchant of Coffee and Finger Lakes Coffee Roasters, and maple products from Merle Maple.
The ice cream parlor offers 30 flavors (there are even more flavors available to buy in packaged take home quarts). There is also frozen custard available in chocolate, vanilla and a rotating feature flavor. The Dairy also makes ice cream cakes, pies and chipwiches. All ice creams and custards are homemade, made from the dairy's fresh cream.
The on-site bakery makes authentic French breakfast pastries & quiche daily. They also make dessert pastries, pies and cookies. And for lunch (or dinner) they also make mini gourmet pizzas and sometimes soup or sandwiches.
The coffee bar serves fresh Java Joe's coffee (hot or iced), and pastries.
On August 7, 2020, the owners opened a second retail store on Park Avenue.
Notes and References
Comments:
Note: You must be logged in to add comments
---
2007-04-26 15:19:09 If I remember correctly, Java's Cafe gets hot chocolate (or the ingredients for it—not sure) from Pittsford Dairy, and it's delicious. —RachelBlumenthal
---
2008-04-10 21:01:44 Do they make yoghurt? —ThomasPawlik
---
2008-04-12 23:20:29 I didn't see Pittsford Dairy yoghurt there, but they had locally produced as well as Stonybrook yoghurts for sale. —ChrisJohnson
---
2008-11-30 08:52:38 Story on rnews today says they now take credit cards.
Can anyone tell me where else their milk is available? Anyplace else outside of Pittsford? —TomBellucco

---
2008-11-30 10:02:09 I could be remembering things weird, but I think I've seen their stuff at Abundance Co-Op and Lori's Natural Foods. We're probably making a pilgrimage to Abundance today, so I'll update this comment if required... —Users/RyanTucker
---
2008-12-02 11:49:53 I have seen Pittsford Dairy milk available at the Culver Road location of Palermo's Meat and Food Market. —DanielM
---
2009-03-28 00:45:42 WOW Glass containers, thats great ( reminds me when I was little) I wish more stores would have glass bottles & I wish their was still a Milkman !!! —NancySchulz
---
2009-10-25 18:28:40 Their chocolate milk is delicious. We used to get it at Lori's, but they said they're not selling it anymore since they can't verify that they don't use artificial growth hormones. —DeanRzonca
---
2010-08-09 13:48:52 I love this place. My husband and I are frequent visitors. I used to not like drinking milk, as I was only accustomed to the grocery store stuff. Pittsford Dairy's milk completely changed my mind! We get the skim milk, which never tastes watery or thin... it tastes more like 2%. The dairy has great customer service and their products are absolutely worth the (small) extra cost. If you haven't tried it yet, you're missing out! —sarah
---
2010-09-23 22:58:53 I've only begun coming here for my milk needs. So far I've had the 2% and skim. Both are outstanding and I feel great supporting a local farm. It also gives me a good excuse to pick up a pint of their chocolate milk (the best I've ever had). —BatGuano
---
2011-06-10 10:29:05 Great quality, personal service and a good community atmosphere. We shop here weekly for milk and often for ice creams. We like that they carry other locally produced goodies as well (Leo Bakery and Ravioli shop). Waiting for the new ice cream parlor and shop to open. —DesignDreamz
---
2011-08-26 18:34:33 Pittsford Dairy milk is available at Leo's Bakery & Deli in East Rochester and Bernunzio Deli off Penfield Road. —JDillman
---
2012-05-30 21:40:54 Pittsford Farms Dairy is not Eco-Friendly they promote waste & pollution by lower the price of a gallon of milk in a plastic jug by $1.00 & charging $2.00 more for a gallon of milk in glass bottles plus $1.00 deposit, isn't that a nice way to treat customers!
---
2012-05-31 20:46:58 sarden - if you buy the glass bottle, you pay $2 once. Each time you return, bring your bottle and you pay $0 because your bottle refund cancels out the deposit on the next one. If you buy the plastic gallon, you pay $1 each time. Thus, it's smarter to go with the glass financially and environmentally. —BatGuano
---
2013-03-23 13:07:47 This place is fantastic! A definite upgrade from the old dairy. They have numerous pastries to choose from and the pinwheel is to die for! It's like a croissant met a cheese danish and sprinkled powdered cinnamon sugar on itself. —AnnieS
---
2016-11-28 16:18:23 This place has come a really long way from when it was just a little shack. The new facility is amazing and the ice cream is outrageous. But that's not all! The baked goods are just fantastic - everything. Pricing is fair for what you're getting. —Cretinx