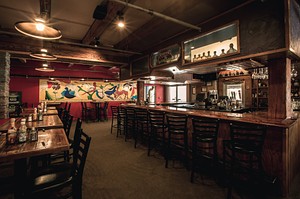 Salena's Mexican Restaurant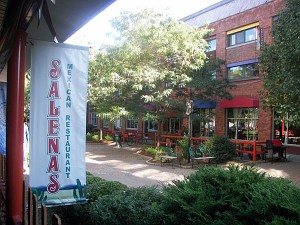 Salena's Courtyard, 2013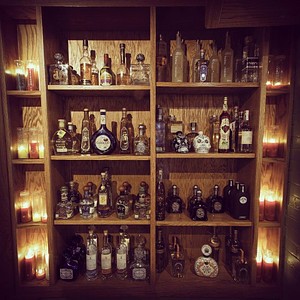 Tequila Wall
Location
302 North Goodman Street, Rochester, NY 14607
745 Maiden Lane, Rochester NY 14615
Hours (as of December 2022 via Website)
Village Gate
Tuesday - Thursday 12:00PM to 9:00PM
Friday-Saturday: 12:00PM to 10:00PM
Friday-Saturday: bar open late
Greece
Wednesday - Sunday 12:00PM to 8:00PM
Alcohol
Yes - Village Gate location only
Phone
585 256 5980 - Village Gate
585 270 5033 - Greece
Website
http://www.Salenas.com
Facebook
Twitter
Review
CitySearch.com
Yelp.com
Salena's is a family owned and operated Mexican restaurant, located in a new location at Village Gate on North Goodman Street. There are nine beers on draft and a selection of over 80 tequilas. Margaritas are made with real ingredients and no sour mix.
Salena's has an outdoor bar and seating as well.
They also offer catering, in-house paint classes, and tequila tasting classes.
On December 5 2022 they opened a second location that is more of a quick service model in Greece.
Salena's has been voted "Best Mexican Restaurant" in City Newspaper's "Best of Rochester" awards every year from 2007-2015.12345
Comments:
Note: You must be logged in to add comments
---
See Archive Page for comments prior to 2009.
---
2009-02-04 11:09:18 We love Salena's, however they're now closed on Sundays and Mondays, which after having gone there on Sunday probably over ten times we find this fairly distressing. They always seemed relatively busy on Sunday.... So, if you go, the shredded beef burrito with white sauce, guacamole tostada and the Cadillac margarita. Oh yeah, and order a side of guacamole for the chips they bring out to the table, its fresh and delicious. The perfect meal. SO GOOD! —PersonFace
---
2009-02-28 17:56:17 I'm a fan of Mexican food so I finally tried Salena's today. The place looks really nice and is in a great setting in Village Gate. The food though was, eh. I didn't care for the salsa that came with the chips and the entrees did not have the flavors I typically expect. I believe they used Mozzarella cheese. However, I was more concerned about the slowness of service... there weren't a lot of people there, and other tables that were seated later received similar food faster than we did. Plus it took a while to get a check. Overall, it seems a bit overpriced for what you get, but I'm probably going to give it a 2nd chance this summer and try something else off the menu, especially with all the good margarita reviews I now see. —NateBurtch
---
2009-03-12 14:02:18 Ate here back in December and it was eh. Not terrible but not great. Would probably come back for a happy hour & drinks but not food. It's a cute restaurant and has a nice bar. Service was friendly. —JaimeTe
---
2009-03-19 23:05:15 Very tasty Mexican food and mostly authentic. The margaritas are wonderful but remember that they have more booze than the average margarita. The servers are all very nice and friendly. —PrincessB
---
2009-04-09 22:44:23 I recently had a horrible experience with Salena's. It was not my first time and I had, in the past, loved the black bean stuffed avocados with rice and refried beans. We made a reservation for 8 and were promptly seated upon our arrival. From there the evening began to go down hill. The 8 of us were sat a table for 6, with 2 of us sitting on the opposite ends of the table. On top of being cramped at the table, we were placed ridiculously close to the wall - they could stand to take a few tables out of the lower seating area. The small, not particularly noteworthy margaritas were overpriced. The food, once our order had finally been taken, was much blander than I remembered it being. The service in general was not very good but the real kicker was the blatant lie that our checks could not be separated. We were forced to separate our checks by hand (once we finally received the check) and after all of that he took a ridiculous amount of time to ring us out. Yes, I understand the restaurant was busy but this evening was just ridiculous. You can get tastier, more authentic Mexican food for less money at other locations. I would say give Salena's a try, but don't expect the world. —JaredDavis
---
2009-05-10 10:34:31 Dos Equis braised chicken wings topped with crumbled blue cheese and diced tomatoes are one of the top dishes in all of Rochester. —RealMrRochester
---
2009-05-20 18:18:22 Food here is decent, the margaritas are the best in my opinion. I LOVE the margaritas! —GizPotter
---
2009-06-30 17:32:46 Last time I ate here my entire meal tasted like an entire shaker of salt had been dumped into each bite. After that experience, I have been unable to contemplate eating there again. At one time, this place was a suitable alternative to Maria's. No longer... —BatGuano
---
2009-07-02 20:51:26 Been going there for ten years and definitely agree that the food itself is nothing to write home about. But the one thing that really set them apart wasn't there today when I went, and that's their chips. For ten years, they had these incredibly thick and tasty chips, like none other I've ever eaten. Today, they just had ordinary chips like they'd come from a bag. The salsa was awesome as always, but why'd they bag their out-of-this-world and best-on-the-planet chips? —bionicsimmons
---
2009-08-21 21:35:00 My wife and I eat at Salena's regularly (so much so that certain servers now recognize and greet us when we arrive) and it's one of our favorite area restaurants. We've tried different combinations of nearly everything on the a-la-carte menu, and the food is consistently good. No, it's not exactly what you're going to get in Mexico, or Texas, or Arizona, or SoCal. If you're a stickler for authenticity, drive out to Rio Tomatlan in Canandaigua (another of our favorites). If you want Mexican-style food that's served quickly, prepared however you like, with tasty chips and a knockout margarita on the side, in a way-cool atmosphere, then head to Salena's. We've tried plenty of other Mexican restaurants around the area, and we always come back to Salena's. —daverea
---
2009-10-05 13:30:52 For Northern Tex-Mex, it's some of the better stuff you'll find in Rochester, and we enjoy eating here a lot. If you don't like the crowds or waiting for a table, I've got a secret for you — go early & eat at the bar. We've had fantastic service, consistently good food, and decent margaritas. Just don't steal my bar stool. —LoisGraham
---
2009-10-05 13:31:20 one sour note (forgot to add) = too much garlic in their salsa. whew! —LoisGraham
---
2009-11-27 23:02:02 I was surprised to see that this place was voted best Mexican. NO WAY! The food is so so and quite pricey for what you get. The last time we there was with friends from out of town. My food was cold and overcooked, my husbands was ok but very salty and we paid $9.00 for a teeny margarita. We vowed to never go back. Monte Alban is much better, more authentic and reasonably priced. —DianaLicata-Wright
---
2010-02-13 16:46:39 Went for the first time on a recent Saturday for lunch. Was seated right away and server was very prompt. The food however was 50/50. I opted for a couple of soft shell tacos. The chicken was kind of on the bland side while the shredded beef was very good. I also didn't care much for the rice and bean. As stated in a few reviews above, I thought things were a little on the small side for the price.I will all probability return since nothing was bad, but I will try something from the entree selections. —almorinelli
---
2010-03-03 12:01:11 Unimpressive. The chips were cold and slightly stale, the salsa lacking, and the meals flavorless. I've been looking for good Mexican food in Rochester, and will have to keep searching. The awards won by this restaurant lead me to believe that either Rochester natives are not familiar with good Mexican food, or that this truly is the best in the area. I hope the former is true. —nickelcokes
---
2010-04-07 01:35:02 Any Mexican restaurant that prides itself on the number of bottled hot sauce has got to be bad. This place isn't bad, but it sure ain't Mexican. Bottled sauces, beans that taste like they came out of a can, melted cheddar cheese. —roadhog
---
2010-04-10 21:31:01 One of the better Mexican restaurants in Rochester! Prices were a little steep, but the food is so much better than any other Mexican place that we have been to in the area. FANTASTIC margaritas! I got the stuffed avocado entrée and my husband got the steak fajitas. Loved our meals (and we sitting at the bar since it was an hour wait on a Saturday night), great service and food came out promptly. We were STUFFED when we left! We will definitely be returning! —Acarp
---
2010-06-22 23:26:39 I was here for lunch and I still don't get the appeal of this place. The rice was tasteless and the shredded chicken was lacking flavour. Thank God for the hot sauces (and their decent salsa!). Next time I am dragged here by other people, I think I will try the Dos Equis wings. —OneLove
---
2010-08-11 13:56:30 We really enjoy the shredded beef burritos, white style and with red sauce. Their Cadillac margarita (w/Gran Marnier) is amazing, but be careful if you have two. Their chips are really hit or miss and mostly miss ie stale, salty. The salsa is a little watery but has a decent flavor. Going on the weekend? Prepare for a long, congested wait at the bar, trying to order a drink between people who think its cool to park and eat at the bar, leaving no room for anyone to order a drink. I want to punch these people, seriously. Anwways, go and order a Cadillac, a white style shredded beef burrito and a guacamole tostada. Thank me later. —PersonFace
---
2010-09-16 13:19:15 My name is Aaron and I took over as GM here at Salena's 4 months ago. I have noticed most of our negative reviews are old. I believe we have made a lot of positive changes here at Salena's and we are always striving to improve. If you have had a poor experience, I encourage you to come back and try us again. If you are not completely satisfied please feel free to ask for me or leave us a note on our website. We are always open to constructive feedback. I look forward to seeing you and hope you have a great dining experience. —AaronMetras
---
2010-10-01 11:38:18 All-in-all, pretty good. I ordered a "Salena's combo" with a beef enchilada and a chorizo burrito. The prices were very good for the tacos, burritos, and enchiladas. The service was very fast and friendly.
Dissapointments:
- Chips and salsa were some of the worst I've had. The salsa didn't have much flavor beyond some cilantro, and the chips tasted as if they were days old.
- Burrito didn't really include anything but the meat. I like to have more variety.
I will return sometime to evaluate one of the main dishes. —SargtGrumbles

---
2010-10-07 11:54:25 After one (unsatisfactory) visit over a year ago, we decided to give Salena's another try. This was definitely the last. I had the chicken mole, which tasted like rubber with flavorless brown sauce poured over it. My husband had the "Mexican flag," which was three enchiladas- also flavorless. Our dining companions had the chipotle chicken and the carne asada- sadly- the theme continued- and their food was also flavorless. The chips were stale. When we got home, we talked a little more about it and even the three margaritas we had for the table were flavorless. Maybe I should rephrase...everything was so salty we were dying for water by the time we got home, however, in my opinion, salty doesn't equal flavorful and this was one of the worst meals we've had in Rochester. With so many other good places to eat, I say adios to Selena's —ShawnaLusk
---
2010-10-10 18:38:49 my first and last visit last night. This is rochester's favorite mexican. ROFLMAO. cold, greasy tortilla chips. tortillas for the fajitas were also cold. Never been to a mexican restaurant that served cold tortillas. They were also way too thick, floury, and tasteless. Ate my fajitas with a fork. Ordered quesadilla for the kids. Never seen a quesadilla with so much stuff glopped on top. After you dug through the mess to the quesadilla itself, it was a soggy mess. Never again. —jmw2323
---
2011-02-15 16:11:02 I've been going to Salena's for 10+ years, and it keeps sliding. Used to be "best of a bad lot" of Rochester Mexican restaurants, but it doesn't even deserve to be in the conversation any more. The food has always been bland. Yes, they are generous with condiments and sauces that you can use to spice things up, but Salena's approach is just a couple steps short of giving customers the ingredients and the oven and having them make their own stuff. The chips used to be unmatched anywhere, but have tasted and looked like they came from a bag the last several years. The salsa, long distinctive and thick and excellent, now tastes like it's watered down with Ragu sauce and ketchup. Okay, so this is Rochester and not San Antonio - I get that. But except for the convenience of eating out, the Old El Paso aisle at the supermarket could get you better Mexican, as could (at worst) Moe's and dozens of other places in the area. —bionicsimmons
---
2011-03-04 06:58:29 Salena's is ok. I don't think the food is good enough to warrant the prices they charge. We usually get the Mexican Flag plate of enchiladas, and it's ok, but not thrilling, and I think it's pricey at $14.95 for the lack of pizzaz in the dish. I'm going to try John's Tex Mex and see how that compares since I'm sure it's half the price! —KatieSchmitz
---
2011-07-19 08:35:28 I have been to Salena's several times and found the food to be good. Certainly not authentic Mexican like in Tucson, AZ or Tex Mex like in Dallas, but good, and I do enjoy their mojitos! I brought a friend from the Chicago-land area to Salena's as he expressed interest in Mexican food. (Honestly if we had more time we would have gone to Canandaigua to Rio Tomatlan). In the interest of time we were meeting my husband there after work with my 9 month old baby. We got there early to secure a table and order appetizers (the baby LOVES quesadillas). They would not seat us until the whole party arrived and pointed us to the bar. The restaurant was fairly empty and the bar is not a great place for a baby. But we dutifully sat (and ordered nothing had we been at a table we would have had a few drinks and started food). my husband arrived and we went to the hostess who informed us that there were no more high chairs and offered a booster seat. I was very disappointed in the way we were treated. Save yourself the trouble for mediocre Mexican for and instead do like I did and go to the Gate House. The food is fabulous, service attentive, and they didn't punish me for having a baby. —MamaK
---
2011-11-21 16:32:12 This is a review I originally posted on Yelp:
As others have said, this place is pretty far from being "authentic Mexican", which is not to say it's necessarily bad. It's just not terribly good, either. You have to wonder about the authenticity of a Mexican restaurant that has to resort to putting no fewer than 6 bottles of hot sauce on each table. That's "Texican" food, not Mexican.
As per most "Texican" places, the food is swimming in too much bland sauce, and has far too much cheese on it. This place seems to exist primarily for the bar, which, I have to admit, is quite well done. The margaritas and mojitos, however, are quite ordinary, and the din in this cavernous room can get annoying on busy nights.
OTOH, prices are reasonable, the decor is interesting, and the food is not terrible. For Rochester, that might be enough to be considered a recommendation. I just wouldn't suggest anybody go too far out of their way if they are looking for something special.

---
2011-12-01 09:43:47 If you want to pay a lot of money for overpriced food and be rushed out of the "restaurant", go here.
I don't know what the big fuss is over this place. The food is meh. $12 for a tiny plate of chips with a bowl of chili in the middle? Meh. How is that a "mexican mess"? And the service the last two times I've gone here has been godawful pushy. "Do you want to order? How about now? Now? What about now? Order now? Or you're waiting for two more people? So do you want to order now?" The time before that, we were actually asked to move to another table, because we weren't ordering enough food to justify where we were currently sitting. Even though they sat us there, and we told them beforehand we were just having drinks. After we ordered the nachos, she kept coming back every 2.5 seconds to see if we were ready to order more food—even after we asked her to chill out. How about letting us converse, and finish the drinks and food currently on our table first? You know, like a dining experience. Are we customers, or cattle being herded in and out of a barn? The whole experience is so obviously around how fast they can turn tables, and they don't really seem to give two craps whether or not you care. They just want you to order as much mediocre food as possible, and get the hell out. At least, that's the whole vibe I got. I also really enjoyed the dirty plates piling up on the table. Oh and after the check came, "Are you ready to pay? How about now? Now? Oh you're still calculating? Well I can just split it all if that's easier because it would get you the $#%! out of my table faster." It was kinda funny. But pretty awful. You could just bring a flask to Taco Bell instead. At least there you can choke down your tacos in peace. And actually have a conversation without being interrupted every .5 seconds to buy more products. —VinceC

---
2012-03-10 09:12:11 Only went once, and have never been back since. Food took forever to arrive, service was unattentive, and ultimately food was something on par with something a little better than Taco Bell maybe? Extremely overpriced and in a loud obnoxious environment. I wish I was able to try back in it's good days, but it seems like it's plummeted since then —AGoldman
---
2014-10-23 21:12:55 Four adults and a child went to Salena's two weeks ago and had a successful meal. The food is much improved with the new chef (Kevin Sapere), and the place was PACKED on a Thursday night. The portions are substantial, and the food is good. It will satisfy most tastes. —KatieSchmitz