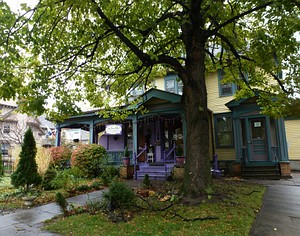 Former Locations
258 Alexander St, Rochester NY, 14607
1697 Monroe Ave, Rochester NY, 14618
The Sugar Mountain Bake Shoppe was a cafe and bakery co-located in the same space as La-Tea-Da! Tea Room and Parlour on the corner of Park Avenue and Alexander Street. The menu included paninis, salads, soups, cupcakes (their specialty) and the usual cold/hot beverages.

According to the October 28, 2009 article in City Newspaper, the arrangment is no longer co-location but a joint venture between owners Maureen Becker of La-Tea Da and Sugar Mountain's Riley Greider and Donald Brown. When Becker heard Greider and Brown were thinking of throwing in the towel.


"I panicked," says Becker. "Their cupcakes are too good, and I couldn't imagine them going out of business, so I decided to think outside of the recession box and make them an offer."


La-Tea-Da, whose clientele is described by Becker as mostly women, many of whom live off of their 401Ks, was also struggling in the poor economy. So she decided to offer Greider and Brown half of her shop in an effort to cut her operating costs, and provide them with a desperately needed storefront.


The newly branded joint-venture storefront, ... is being labeled La-Tea-Da by day and Sugar Mountain Bake Shoppe by night. Each of the shops has its own space with very different décor: La-Tea-Da has kept its formal setup while Sugar Mountain Bake Shoppe has remodeled its room into more of an urban-chic coffee house.

"

Free Wi-Fi was available.

Rochester Business Journal reports the Monroe Avenue location closed as of November 30, 2012. The Alexander Street location closed suddenly in October 2014.
Comments:
Note: You must be logged in to add comments
---
2009-11-03 22:22:18 What a lovely space - small, warm and inviting. I tried the "Cappuccino" cupcake and it was tasty but extremely rich. Unless you have a serious sweet tooth, I recommend sharing. The chocolate mint tea was also delicious. The "Very Vanilla" cupcake received rave reviews as well. The host was very friendly and attentive. It is great to have a cafe open till midnight during the weekend in the Park Ave area. I will be back soon. Update from more recent visit - I was here on a weekend and their area was packed. Therefore we had to sit in the La Tea Dah area ... that was overwhelming and distracting. However, I was told the bakers revamped the buttercream frosting after receiving feedback on it being too sweet. I definitely could tell the difference. I think I will stick to weekday visits (when we can avoid the La Tea Dah ambiance). I agree that it is somewhat overpriced but then again which cafe's desserts aren't? —OneLove

---
2009-11-09 09:22:09 A friend and I stopped by this weekend and I thought the Cookies and Cream cupcake was horrible! The cupcake itself was extremely dry and the frosting in the center had a sour taste to it. The only part of it that was good was the Oreo on the top. I think it's safe to say I won't be back. —Kimberdoodle
---
2009-11-09 19:16:17 We went with friends last week. The surroundings are the dusty, cluttered, tacky "Victorian" junk from the Tea Shop. The service was, well, odd. The cupcakes were nothing special, you can get better cupcakes and baked goods at a lot of other places in the city. I give them six months max. —DottieHoffmann
---
2009-11-14 13:37:26 Have gone there twice and have had a pleasant experience with them. The place is tiny, so it can get a little crowded with just a few people. The staff is VERY attentive, which may turn off some people. What I did not know is that some of the cupcakes are made with alcohol which may explain some of "odd" taste that others experienced. Can't wait to go back. —JJohnson
---
2009-11-18 19:40:45 These cupcakes are fantastic. My significant other and I have tried several varieties and have not been disappointed yet. We spoke with one of the staff this evening and found out that you can see their daily rotation of cupcakes on Facebook. The only other option for inquiry was to call daily to see the selection. The three cupcakes that they have as daily staples are Very Vanilla, Chocolate Peanut Butter, and Sinfully Chocolate. They rotate the other flavors "randomly" daily. I highly recommend! —MerCDotes
---
2010-02-23 11:17:47 Surprised at a couple of the harsh comments here. This place is great on many levels: the cupcakes are unique (and they add more and more flavors every week), the owners are very responsive to their customers (note their growing facebook page and the fact that they respond to feedback right away - they post their daily specials AND inform you of specials) and the atmosphere is incredibly friendly (the owners are unbelievably gracious and inviting). If you're looking for a quiet place to sit and eat? Stay at home. If you're going to complain about the decor? Don't eat there. (You CAN get things to go.) If you really want to support a growing business? Stop by SMBS - they are growing by leaps and bounds for a reason and its nice to see that that can still happen in a city where restaurants often don't have a long shelf life. —tankearae
---
2010-03-19 16:35:33 Ok so my opinion is a bit Biased. i am chief of a SMBS fan group known as VICE very important cupcake eaters. I was made this by the staff at SMBS as I have sent many people to the shop. I am not a relative,girlfriend (steve wishes lol),or in any other way affliated with this shop. I just attended the grand opening months ago and love the people and the product.Small busness in rochester need support and these are good people. They have freq buyer cards and do specialty birtday "cup"cakes. Free tastings for the community and the facebook group is always kept up to date even by the hour. As far as cost i compare a SMBS cupcake to a big piece of decadent cake found at a upscale resteraunt so its not a bad price..Stop by and see for yourself..You might catch a VICE meeting lol —Mandy
---
2010-06-05 13:35:49 Still consistently amazing. They are always coming up with new flavors and continue to involve their "fans" in the business. It's a great place to stop with out of town guests or to pick up dessert after a dinner out. Or just anytime because their cupcakes are amazing. If you like deliciousness, you should stop here. —MerCDotes
---
2010-06-10 13:39:53 Delicious! These are what a gourmet cupcake should taste like. I've tried 5 different flavors and I can't wait to try more. Not only is the cake delicious and moist but the fillings and frostings that they pair together create a wonderful combination of flavors. —carolturo
---
2010-06-22 23:38:33 They used to serve tap water but recently, when I request water, I get a bottle...what is up with this? Do they not offer tap water any more? I asked for tap and they said something like "Oh, we have only bottled". How is that possible? Call me cheap but when I am paying $4 for a cupcake, I usually prefer not to spend more on a bottle of water. The cupcakes however remain excellent! Try the White Chocolate Raspberry. —OneLove
---
2010-09-06 12:18:47 I often stop in here on Friday or Saturday nights to get a cupcake or two for take-out. Though I don't stay long, I go for the atmosphere as well as the cupcakes - even just a few minutes in this delightful place instantly boosts my mood. The people behind the counter are always super-friendly and their enthusiasm for their products is apparent. They are consistently familiar with the selection and are happy to gush about every minute detail of their fabulous cupcakes (which are definitely the best cupcakes I've ever eaten!). —AJH
---
2010-10-12 15:17:58 We tried Sugar Mountain Bake Shoppe for the first time on Saturday night. Sugar Mountain has a rotating menu of about 70 different cupcakes. However, on any night they only have about 8 different flavors. The flavors of the day are listed on their Facebook page. Although Sugar Mountain is open late, I highly recommend arriving early for the best selection. We got there at 7:30, 2 1/2 hours after opening, and the cupcake I was most interested in trying was already sold out. By the time we left, 2 other flavors were gone. These are not bakesale variety cupcakes. These are luscious, gourmet cupcakes and well worth the price.
We sampled 5 cupcakes - the Elvis (banana and nutella), the chocolate merlot, the sinfully chocolate, the new cakes and bacon (maple and chocolate covered bacon, and the rainbow (orange cake with lemon filling). The cake was moist and delicious. The buttercream frostings have the rich and creamy taste of real butter. The Elvis and Chocolate Merlot were amazing. The rainbow was yummy and tasted like sherbet, but was a little too rich for me. If you like pancakes, the bacon cupcake would be great. However, I was not a big fan. I'm told that the Sinfully Chocolate was the best. Sadly, my daughter devoured the entire cupcake before anyone else could try it. Seeing as she finished it off at a speed usually reserved for velociraptors with the munchies, I'm inclined to believe it must have been pretty darn good.
While the cupcakes alone are worth the return trip, Sugar Mountain also serves fantastic paninis and soup. Because Sugar Mountain is known for its cupcakes, we didn't expect much from the other menu items. Fortunately, we were in for a pleasant surprise. We tried the meatball and roast beef paninis as well as the pumpkin soup. My very picky boyfriend, who isn't fond of paninis or meatball sandwiches, already wants to go back for another meatball panini. The paninis were just that good. The soup was a little off. The flavor was good, but the consistency was meh. The pumpkin soup had been pureed and then additional chunks of pumpkin and vegetables had been added. Although I prefer the creamy smoothness of a fully pureed soup, the added vegetables might have okay if they hadn't included unpleasantly hard shreds of something (possibly of carrot). Still, I'm not giving up on their soups yet.
All in all, Sugar Mountain is a pretty solid choice for casual dining and/or cupcake indulging. I can't wait to go again! —ChristineH

---
2010-10-28 10:16:02 Rumor has it that they will be opening up a second location on Monroe Ave with daytime hours. Excellent! —MerCDotes
---
2011-07-30 10:07:23 Have to mention how easy they are to work with for special orders/events. I ordered a large selection of cupcakes for my sister's bridal shower and they couldn't have been easier to work with. —MerCDotes
---
2011-08-27 19:28:27 Completely disgusting and dissatisfied! My cupcake was obviously not fresh and extremely dry. And minutes after leaving I experienced a severe allergic reaction because they do not label or separate their cupcakes for severe food allergies! Nuts should not be in a case with other foods! Especially in a small bakery. When I contacted the owner I was never even given an apology! Completely disrespectful ownership and staff. Would NEVER reccomend or go back! —ErikaCatherine
---
2011-09-03 11:56:05 I disovered SMBS on FB thru friends. My family and I went a couple times, always a fun time. Then we started having the same server each time - Tina! She is wonderful - so attentive to service etc. Now, it is my husband who says to me - are we going for cupcakes on Fri or Sat? We go every week - I have turned many friends onto going there as well - we just love it there. One nite, Doni sat down with us and chatted with us for about 20 minutes or more - such a great guy! On the rare occassion that we don't have Tina as our server - the others are great too. Never have we been disappointed with service, product or atmosphere! Love the place! In all the time that we have been going - I still have not had the same cupcake twice = always a great selection. I have found that the secret to going is to not look at the list of what they have that evening - just to go and be surprised! Make it a fun adventure - sure, you can go other places and get cupcakes - but NOT like these! They are AWESOME!! Love you guys, cannot say enough about your business - oh, and I have forgotten to mention the wonderful host: Steve!! See you all next weekend..............looking forward to it! —JudyK
---
2011-09-03 22:52:40 What can I say about Sugar Mountain Bake Shoppe to adequately express just how fantastic the cupcakes and their staff to be? Each time you walk in there are new flavors which have been developed painstakingly to give the customer an experience they won't soon forget. These are not out of a box assembly line made nor brought in from another location, i.e. they are made daily from scratch one batch at a time. The selection changes each day (with 3 exceptions) which never leaves you dissatisfied or at a loss to find one you just have to try. From the very first cupcake to the last one not long ago I have never been disappointed. The taste, quality and aroma is indescribeable. The entire time you're there you can't help but have a great time. The look and feel of this place; the vibes from each staff member is one that fills you to the brim with "HAPPY". The decor, the crazy hats, the friendliness and professionalism makes Sugar Mountain an EXPERIENCE, one that few could ever regret. SMBS is not just a cupcake joint either. They make a variety of pies on request and cater weddings almost daily throughout the year. Did I mention their ciders? One so yummy is the MacIntosh(?). I don't care for cider but this one is good to the last sip leaving me wanting more. I have even tried some cupcakes that didn't "sound" good to me because I can be choosy. The Cakes 'N Bacon" is one of those. It's like eating breakfast for dessert. A hot coffee on a Sunday morning would go perfectly with it. They strive to give their customers the absolute best in service and taste. I have seen firsthand the dedication and lucky enough to have eaten/drank it too. I don't mind the price especially when you receive a quality product. They are reasonable when you consider that "store bought" desserts are not that good and are costlier. You also get regular opportunities for discounts PLUS a punch card that gets you a free cupcake after the 12th purchase. They post on their website and in their flyers the ingredients to ALL their delights. If a new one is available any staff person can tell you what's in it. Their displays are simply gorgeous; the dainty cups and saucers are quaint. Even the music filtering through is eclectic and not so loud you can't chat. In the length of time I have been a customer, (two years or more) I have never had a major issue. Only once was there a misunderstanding of sorts and with lightning speed it was dealt with appropriately. An effort was made promptly to ensure me and my guests were satisfied. They went out of their way to let me know they value my business. That's as important as providing quality taste/service in my book. I would recommend Sugar Mountain Bake Shoppe to anyone with no qualms. I would suggest you see for yourself just how good this place is for your sweet tooth.
---
2011-11-11 10:55:02 Gave the Brighton location a try. Like the interior. Purchased 4 cupcakes. They were good and moist. I have to say I think the chocolate ones lacked some chocolate flavor but they were still good. I think I like Dolce Cupcakery better but will need months of tastings of both places to do a good analysis. —ScottHendler
---
2012-04-30 14:23:34 Tried their cupcakes three times, twice at the Alexander location and just recently this weekend at the Monroe ave location. I have noticed on all three visits, that the staff isn't too welcoming and almost seems like they are annoyed to have customers. Their cupcakes look super pretty, but they look much better than they taste. Disappointed in the overall experience. —lilBiscotti
---
2014-10-16 20:33:08 Closed as of October 15, per the /DandC/, their website, and Twitter. —markjackson