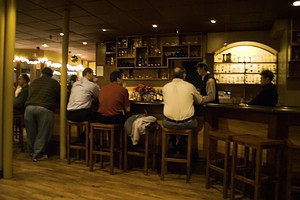 Tap and Mallet bar - photo by TomMaszerowski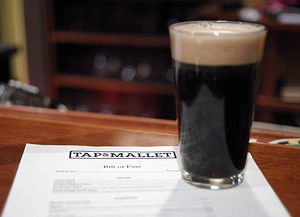 Sly Fox stout at the Tap and Mallet - photo by kimbee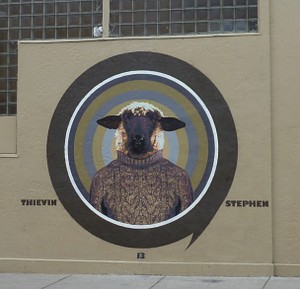 Wall\Therapy mural added in 2013
Former Location
381 Gregory St, Rochester, NY 14620
Status (as of December 31, 2021)
closed
Awards
Comments:
Note: You must be logged in to add comments
---
See Archive Page for comments prior to 2008.
---
2008-01-04 14:38:20 I went to the Tap and Mallet for dinner with friends around 7pm on a Friday night just before Christmas. The place was full and quite lively, the beer selection extensive and I liked the decor. Because there was no seating system we had to lurk around the dining room waiting for people to finish their food. We did end up with a table, but not without some necessarily aggressive behavior on our part and some resentment from those people who also felt they deserved that table. This is not a good way to start a meal and I hope that the management will change the way they seat people on crowded nights. The burgers were good, but the 'fresh frites' were terrible (short and soggy). I ordered something called Diabalo Shrimp which was expensive and boring. I would recommend this place for beers and 'bar food,' but not for dining. —ZahraLangford
---
2008-01-05 18:37:38 Went with friends. Beer selection is awesome, but unless you're an expert it's overwhelming. I got frustrated and ordered wine. Descriptions on the menu or flights would help. The decor is nice except: The art (mug shots) is hideous... it creates a negative, cold vibe. And the red benches in the bar are extremely uncomfortable. The seats are narrow and there are no footrests so people kept sliding off. A deterrent when you want to cozy up and have a brew. Service: our waitress was a sweetheart. If everyone is as nice, I'd have no complaints. Food: chicken fingers were way too battered and super greasy but fries were good. Mussels were pretty good. Crab cakes were just okay. Overall: Food and beer is a tad pricier than other places, but the atmosphere is nice and beer excellent. Though parking in that hood is a pain in the arse so I'm not sure the draw of a good beer will bring me back. But give me a comfy seat, better art, and a good meal too? I probably would. —DustyDusty
---
2008-01-17 09:48:33 I don't believe the McBane's bitter is a cask ale. —DarrenKemp
---
2008-01-24 14:04:26 I've visited on a couple of occasions now, and it's always been excellent. Whereas you can't sample the bottled beers and ales, you can get samples of anything on tap. I've gone with friends each time, and the food that's come out has always met our expectations. I'm not sure what other folks have experienced with bad food, but it hasn't happened to me yet.
In all fairness, I have not gone on an extremely busy night (i.e. Friday or Saturday). Perhaps it's different then — but I enjoy going on the "off nights." —RyanShepard

---
2008-01-26 18:53:33 Had dinner here Friday night. Once again, the beer selection is pretty good. I am a draft beer person and the selection could have been better, the bottled beer selection was great. I had a Cuban sandwich that was excellent but my wife had the special of the night portobello mushroom sandwich and it was way, way too much bread, roll actually, and a very small mushroom. It was tasty she said but disappointing none the less. It was the special after all and it just was not special. However, we will be back. —HenriettaRob

---
2008-02-01 08:47:44 Very excited about this new place. The beer selection is the best in town, with the possible exception of the Old Toad. The decor in the main section (near the bar) is nice. My only gripes: 1) the secondary seating section is very sterile and uncomfortable, like a diner—Old Toad kills on this front; 2) they were out of half the beers on their list last time I went, and hadn't posted which ones they still had. I imagine this will improve as they get a better sense of their popularity. —OwenThompson
---
2008-02-14 07:13:31 We went and checked it out last night. The supply problem still exists, as the first few beers I tried to order they were out of. I let the waiter make a sugestion based on what I originally asked for and he brought me samples of draft to try out before I decided. They also allowed me to order a "half" beer of the cask conditioned Flying Bison Oatmeal Stout (yum!). We ordered mussels in whit bier with chorizo and the caprese salad and both were very good. They also have servers come to the small tables around the bar, which was a pleasant surprise. The womens room was very clean (huge plus!). It was quite busy there last night, the parking lot was full and the bar area was full. If they were to ask me one thing to change the only thing I could come up with would be to list the draft and bottled beers by style instead of a jumbled list and keep the list current. —DeniseElliott

---
2008-03-24 16:26:47 Saturday the 23rd. Yummy beer, tasty food and great service. As usual. Thank the gods they got rid of most of those creepy portraits. Still have the uncomfortable bar stools though. —ZedOmega

---
2008-03-25 19:15:16 I have been there twice in the past month and have not had the supply problem some people were describing. The server was very knowledgeable about the beers and gave us prompt service. I had the bangers and mash which I enjoyed. This place gets a thumbs up. —FrankGrimes
---
2008-04-11 11:51:56 As of this week, they are open for lunch Monday through Saturday. —RyanTucker
---
2008-04-17 09:16:30 Took my parents there last night. Unfortunately there was some sort of singles mingle there and the dining room was very loud. The beers were great as usual and I ordered plain ol' chicken fingers. The fries were sort of soggy but pretty good. They had a cool idea with the chicken fingers, but somehow it fell flat. They batter them with the fish fry batter. Honestly, that batter is better than what usually comes on chicken fingers but it just made me wish I had the fish fry instead. Won't order that again. My mom liked her fish fry and my dad really liked the bangers and mash. —BadFish
---
2008-04-24 14:25:56 Great neighborhhod bar, food wasnt bad either.
Probably the best beer selection I have ever come across in a bar in the world. Beats places in Munich, Brussels, and Prague hands down.
Like going to beer heaven. —MrRochester

---
2008-04-26 08:55:35 I have to say that I am not crazy about the food so far. I ordered the calamari app. It says sauteed, but the calamari was barely cooked. It was more like sushi. I have had seafood cooked some unique ways but this was just bland and chewy. The waitress did take it off the bill. I will be back again though! ***Edit on 5/8/08 - In case I have been misleading, while I have had some bad luck with ordering food here, I still love the place!***/—BadFish
---
2008-04-27 19:22:12 Beer is amazing but if your hungry I would suggest eating before you go. Eaten at the Tap & Mallet twice and very disappointed both times. The 1st time we attempted to eat there we we're ignored for about 20 minutes so we got up and left. Second time the food was so so. 3rd time my southwestern style salad was supposed to have tortilla strips... I got crushed tortilla chips, like the bottom of the bag. No plans to eat there again. The beer on the other hand is amazing. If you like beer and trying new things there is no better place to go. I have no connection to anyone that works there or owns the place. —NewtonNola
---
2008-05-08 13:39:17 Its a bar, how good do you expect bar food to be?
For bar food, it was good enough. Esp for the inexpensive price.—MrRochester

---
2008-05-15 15:44:55 Outstanding beer selection and the food is pretty decent, although it can be overly greasy, even for pub food. In other words, I enjoy (and can't say no to) the beer battered fish and the chicken fingers, but I seem to inevitably need a big handful of Tums afterwards... The service is really inconsistent. Last night, our food took a notably long time to arrive, which would not have been a problem if the server had reappeared to refill our drinks. She was slow at every step of the process and tended to disapear for long stretches of time; getting the check took her at least twenty five minutes, so in spite of several rounds of great beers, everyone was a little aggravated feeling by the end of the night. —OxfordWriter
---
2008-06-10 19:07:22 What a great pub. On a recent visit I was happy to see their beer menu now gives a description of each beer with its ABV (which is very important for a lightweight like me). My pork-chop was superb, and their once-soggy fries were crisp and robust. Very friendly staff as well. —EastSideStephen
---
2008-06-19 22:07:16 I can only assume the positive comments posted here are from friends of owner/management. Having spent many happy evenings with friends at this bar when it was MacGregor's, I can't tell you how disappointed we were after stopping in for dinner. MacGregor's had great nachos - she ordered a plate tonight and sent them back - they were horrid - nacho chips were more grease than nacho(to the point that they were actually shivering with grease). It was coated slightly with bland, tasteless cheese and few olives. The friendly waitress offered Tabasco sauce, which gave it some semblance of flavor. She exchanged this with a plate of nachos in spinach/artichoke dip(as per her recommendation). This was edible, but similar to a frozen TGIF TV dinner. I had a cheese steak sandwich which was reminiscent of generic brand Steak-ums, but also loaded with grease. The fries were ok. With respect to your arteries, I don't recommend you ever eat here. I have eaten a lot of bar food over the years and I tell you this, without exception: regular bar food is not this greasy...pay no attention to other comments on this page! AND EVERYTHING IS GREATLY OVERPRICED!
Beer list is extensive, but also overpriced. I liked MacGregor's beer list much better and they had great ambiance. Speaking of which...
What's with the dark and morbid atmosphere? We sat below a picture of a dark haired woman who would have made Sylvia Plath seem happy. Trendy? No, not worth the trip.
Bring back MacGregor's - a great neighborhood bar.
p.s. - love the Old Toad —MaxCalvada

---
2008-06-20 09:31:46 I have no connection to anyone working here or owning this place other than flirting with the punkish hot waitress. This is one of my favorite places in Rochester—because of the atmosphere and the beer. Their food recipes indeed need some work. —BadFish
---
2008-06-23 16:32:06 While hosting some friends for the weekend, my husband and I decided to check this place out. For the four of us as beer enthusiasts, we were happy to see a great selection of brews from all over to suit each of our tastes - I agree with previous reviewers that the prices seem slightly inflated. The menu was diverse but didn't make us feel like we had a book to read. Rachel, our waitress was kind, patient and attentive as we enjoyed a leisurely meal with friends. Between the four of us we had one order of hot wings (which weren't very hot,I-our-HO), sliders, tandoori chicken sandwich, chicken pesto sandwich and fish and chips. All dishes were quite good - standing very few improvements. We enjoyed the delicious fries which we drowned in vinegar. We were quite pleased with the price, also considering the diverse selection of food on the menu, the location and excellent service. We definitely look forward to another dining experience here! —StephanieTodd
---
2008-06-24 05:44:18 Totally fun place. I love trying new beers here. There is a great back porch area, and the fish & chips plate is AMAZING! —HilarieLloyd
---
---
2008-08-02 20:02:26 Fantastic beer selection and the food is very good and very reasonable. We did have to wait a while for service but our server was really slammed and was apologetic and did his best. Parking is a bit of a hassle. —ShawnaLusk
---
2008-09-28 22:44:15 I've been here quite a few times now. I like their beer selection better than the Old Toad: more of a range of options, and not so skewed towards heavy and/or bitter British-style beers. I think they've gotten better at keeping their drafts stocked, also—I haven't had to re-order as much as in the first month or so. I don't like the patio, though, too sterile. —OwenThompson
---
2008-10-06 12:10:09 The service at this place sucks. While sitting at the bar I had to ask a waitress to get me a beer. And why is the chef always behind the bar drinking? Food is all bland tasting. I felt like it was a young republican hangout. —travis
---
2008-10-06 20:36:58 One of my favorite things about this bar is how willing they are to provide beer samples. With this much selection, it's pretty par for the course for customers to ask for samples. The Tap & Mallet staff seems pleased to do this, which is a relief. You'd be surprised by how begrudging the attitudes are at some other similar local bars (Mac's). I also haven't felt either rushed or ignored when I'm there hanging out at the bar, unlike Mac's. —MariahBetz
---
2008-10-06 20:46:32 I have to add this: If you're one of the people who come to The Tap, order a Bud Light, and can't seem to figure out what to do next... this probably isn't the bar for you. I've seen this happen a few times and it's always simultaneously both amusing and sad. This is a bar for people who like beer -with flavor- and who appreciate a conversational atmosphere. If the paintings on the walls disturb you and you aren't even going to bother trying a beer that isn't Bud or Molson, uhh... seriously, just give up and go back to TGI Friday's.
---
2008-10-17 20:14:21 Came here tonight for the first time and am ashamed not to have come sooner, but I didn't know about this place until a really good old friend of mine suggested it for the fish fry and the beer. We each had the Bluepoint - Hoptikal Illusion 6.2 ABV / New York, and it was absolutely delicious. After I had my pint and ate my half of the very good fish fry plus my half of the made-on-site black bean burger, I realized I couldn't handle another pint, but I did taste the Lagunitas - Olde Gnarlywine 9.7 ABV / California, which really knocked my socks off, and the Great Lakes Nosferatu 8.0 ABV / Ohio, which was delicious as well, but more alcoholic than I could handle. I liked this place a lot: nice natural light, seems spacious, and has clean bathrooms. Ran into a few colleagues from work here, and that was another nice touch. —KatieSchmitz
---
2008-10-21 11:13:19 this will be the starting point for the first
Rochester Zombie Pub Crawl.
---
2008-10-28 10:13:02 Great place with amazing beer. However, the food could be better. The nachos we had were abosoultely horrible. Some of what they had is good though. The wings are pretty good for a plce that doesnt seem to specailize in the typical bar food. —MetalFrost
---
2008-11-17 12:40:25 One year later and a couple dozen visits, T&M continues to satisfy my beer craving with a great selection of domestic micro's and quality imports. Service continues to be excellent. Beer recommendations and flavor/style descriptions from the staff are usually spot on. The ability to sample is, of course, greatly appreciated. Food is usually pretty good, but I have had one or two things which were a bit sub-par. My only current complaint is music volume. They really need to take a cue from their own website; "There is soft lighting and music that doesn't overwhelm. We want people to feel relaxed and at home." Their music levels have been steadily creeping higher and higher, so much so that I've been asking them to turn it down so I don't have to yell to my friends just to be heard. Staff has been accommodating, but this has been an unwelcome trend. —ZedOmega
---
2008-12-06 10:24:56 Excellent food and service on slow nights, a little worse food and service on busy nights... I guess that can be forgiven, though, because the beer selection is unbelievable. They'll also let you take their custom glasses home if you give the waitress a generous tip. —BatGuano
---
2008-12-09 23:17:41 Was there tonight (a Tuesday), and there was a good crowd without being crowded. Easy to get a seat at the bar. Bartender was great and attentive. Love the huge selection of beers; I'd recommend checking their website before you go, which is kept almost up-to-date (just a few differences between the beer menu they had at the bar and what they had on the website). I had the burger and fries; burger was cooked as ordered and the fries were home-cut, and both were good. The bartender always checked if I wanted another beer at the right time and was very friendly. Also, they may have taken a cue about the music; the volume was turned down, and very easy to have a conversation over. There was A LOT of beer conversation going on; this is the place for people who know and talk beer. I plan on stopping in more frequently. —StevenDibelius
---
2008-12-28 18:00:20 Initially, I was a big fan when they first opened - lately, the place has turned into a typical douche bar. It is overcrowded, and standard hipster fare is blasted through the stereo at volumes making it nearly impossible to engage in conversation. The beer selection is adequate, though nowhere near places like MacGregors, and on the expensive side. The service is horrible. I sat with a party of 8 at the end of the bar and it took us 10 minutes to get service (at which point I had to literally yell at a bartender) - and there were 4 bartenders working. Far better places to go in my opinion, especially in that part of town. —MarcusKroll
---
2009-01-02 05:10:22 Some of my friends have taken to calling this place the "Tap Your Wallet." Here's a tip for anyone who can't seem to escape the bar without laying down twenty bucks for a few beers: Pick two beers that are less than $5 each (for a pint, not the 11oz glasses) AND are more than 8% ABV, then switch to water. There are usually a whole bunch of strong ales on draught and sticking to a smaller number of those will save you a fair amount of cash. —MariahBetz
---
2009-01-02 09:37:04 I'm a semi-regular, come at least once a week since they've opened. I like the place very much, with some caveats.
Beer selection great, with knowledgeable bartenders, clean taplines, fresh offerings.
As to price, good beer's expensive. Anywhere you go for a craft brew, you're gonna pay more than for the more-mass-produced/less-value-added suds. At least you got a beer to cry in, right?
The food here, spotty at best. I keep hoping for better and more consistently good and I'll probably keep trying, though with some hesitation.
Service? Great at the bar. Sometimes good at the tables, sometimes not.
---
2009-04-04 17:58:11 Getting a table and service here can be confusing and difficult at times. Originally, they had a seat yourself policy, but as they've grown increasingly busy they often have a host managing tables in the dining area. However, the host isn't generally waiting for incoming patrons at the door, often leading to the accumulation of lost souls around the entry to the dining room when things get busy. Service at tables is patchy, especially in the bar area. You may have to take the initiative and track someone down yourself if you'd like to get food or drinks brought to you when they're busy. —MaryAnneSchnarkles
---
2009-04-26 21:42:17 I think they have the best beer selection in Rochester but the prices reflect that opinion. Once, the food was really good and then it was really not good - and the service for food was the same. Bar service has always been good. I really want to like this place but I miss McGregor's.
---
2009-09-22 18:05:50 Great beer selection here but definitely not the cheapest. A lot of good beers that are on special often sell out pretty quickly. The food here is quite good and I've been here for dinner and lunch before. Service leaves a bit to be desired. For dinners, it is usually fine but for lunch, they are often understaffed so things can take a lot longer. Last time I was there for lunch with a party of six, it probably took us about 2hrs to order and receive our food. I understand we had a relatively large party, but why stay open for lunch if you're understaffed? We haven't been back for lunch but still enjoy the beer and decor. —MikeWu
---
2009-10-28 19:34:00 Went recently and they've updated their food menu.. I had a very good Bahn Mi sandwich and a sub-par Rohrbach on cask. —BatGuano
---
2010-03-29 12:09:30 I was in last Wednesday for the Foxy Lady v. SlyPA
keg race. The pub was busier than I thought possible on a Wednesday night, pushing the staff and facilities to their limits. To their credit, they kept everything rolling, and — to my amazement — did not resort to plastic cups for either the keg race or the half-hour frantic rush at the bar. A lesser establishment would have thrown in the towel and whipped out the disposable cups, but it was glassware all night long. It's a minor detail, really, but isn't craft beer all about the minor details? —Users/RyanTucker
---
2010-06-08 15:47:05 I've always had a good experience at T&M. I love that the staff is so knowledgeable and patient and friendly. It feels as though they are really there to serve you and interact with you, not just make a quick tip or hustle drinks. My experiences with the food here have been mixed — once had a truly wretched cuban sandwich, other times it's been just fine. Don't know if I've ever had *great* food here but it's quite serviceable. I love the atmosphere here. Casual, laid back, but still a modicum of sophistication. I love me a good dive bar, but there are times when I want something a bit more upscale, but not snooty. T&M fills that bill. I can't speak to the table service - I always either sit at the bar or at one of the small tables in the bar. All in all, a solid place to go when you want a couple of good beers and something to munch on, but don't want sports games blaring on a million TVs or people knocking you with pool cues. —ZeldaPinwheel
---
2011-09-09 02:46:48 Has a very extensive and regularly changing beer selection. The food has always been good. The crowd is a good mix of mid twenties and up - best bar crowd in Rochester. Interior is relaxing and classy with an every changing selection of art work. The music is generally a good selection of Indi favs. Wait staff is efficient - especially given how crowded it gets. Overall one of my favorite places in Rochester - a real gem. —eklie
---
2012-04-20 11:30:45 The food here is excellent! They even have delicious vegetarian/vegan options. Beer selection is vast and reasonable. Will definitely come back. —cuttothechase
---
2012-05-27 19:30:52 My husband and I have given this place sooo many chances! We want to like it but every time the food is just bad bad bad. It has been 2 years since we gave it a go and truly hoped for good food rather than food that was subpar. Unfortunately that was the last attempt. The reuben was grizzly, the nachos were sparse, and the peanut noodles were edible but uninspired and bland. I understand that the feature here is beer which, on a positive note, is excellent, but that doesn't mean that the food should be an afterthought. —Citizenoftheworld
---
2012-07-23 09:17:05 My husband and I went for the 1st time on Saturday night around 5:30. I would definitely come back. They had some great veg options and everything we ordered was tasty. Kim Chi Rangoon, pan Asian noodles, mussels and frites, bread, and another order of frites. These were the best fries I've ever had in my life. Also tried the hard cider on tap and it was very good. Service was hard to characterize. The staff was huddled in the back when we walked in and we had an awkward moment of not having a clue where to go. Apparently it was seat yourself. We opted for the back deck, but then realized that we'd have to deal with smoke and so asked to move inside. The server could not have been more gracious and accomodating. Our server inside was a young guy, and while he took our orders flawlessly and was generally there when we needed him, he definitely wasn't friendly by any stretch. That said, I would still come back. Did I mention how much we liked the fries??? Try them - you won't regret it. Our maybe you will, because you'll be addicted... —Bluehen
---
2013-01-16 09:12:34 The food here is good. The service here is terrible. The waitress acted like my husband and I were inconveniencing her by being there. It was a busy night but we were looking to sit with our beers and have some appetizers and so we stood in the corner out of anyones way waiting for a table. One server came up to us and snapped can i help you. no. sorry you cannot. I would not go back if you paid me. —jcs3636
---
2013-06-09 17:03:44 My wife and I enjoy the drink selection and changing menu of this location.
---
2014-07-11 10:47:19 $8 for a half-filled glass of wine??? —EileenF
---
2021-11-30 11:15:54 Plans to close at the end of 2021: https://www.democratandchronicle.com/story/news/2021/11/30/tap-mallet-rochester-ny-to-close/8802523002/ —markjackson