The Metropolitan, formerly called Chase Tower, is a 27-story, 398-foot skyscraper on the southwest corner of Main Street and Clinton Avenue in the Midtown District. This corner is the former site of Enos Stone's first Rochester home.
The tower currently serves as the local headquarters for JPMorgan Chase. Its other anchor tenants are the law firm
Forsythe, Howe, O'Dwyer, Kalb & Murphy, P.C. and advertising agency
DAC Group.
The address is sometimes given as 1 Chase Square.
History of Chase Tower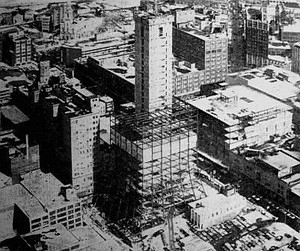 Chase Tower under construction
It was completed in 1973 as the centerpiece of a major development called "Clinton Square" (the name was later taken by another building in the complex). Site preparation required removal of an alley and three downtown stores. The tower was built by Lincoln Rochester Trust Company to replace their offices in the Lincoln-Alliance Building (McKim, Mead and White / J.F. Warner) of 1926 (this building still stands). At the time it was known as the Lincoln First Bank Tower. The architect was John Graham and Company of New York, Jack Follete, head of design. Chase Tower is another fine example (along with the Xerox Tower and HSBC building) of "late modern" commercial architecture popular in the 1960's and 1970's.
The structure of the tower is a "tube in tube" design. The concrete core in the center of the building teams with the stiff floor plates and the load-bearing exterior tube of 24 tapering steel columns to provide an iconic silhouette on the skyline as well as very flexible interior space. Twenty Four "non-functioning" external columns are hollow and carry the utilities throughout the building. This structural design results in a column-free interior, best appreciated when visiting the lobby or the bank on the first floor.
The exterior columns were originally covered with marble panels until the mid 1980's when the panels began to warp and loosen. Exterior panels were replaced with panels of painted aluminum while the interior retained most of its marble (seen in lobby, note the "veins" in the marble, missing on the aluminum). In 1996 name changed to Chase Tower. In 2007 the building received a $30 Million renovation project which resulted in new companies moving into the building. Some companies moved from the Midtown tower, leaving that building virtually empty.
The tower was connected to Midtown Plaza via a skyway at one time. It has several storefronts in its concourse including some that relocated from Midtown Plaza.
The Metropolitan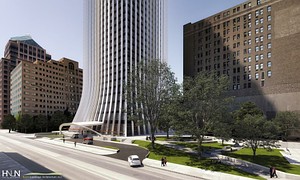 Future Metropolitan entrance
In 2015 Gallina Development purchased the property and renamed it The Metropolitan. They plan to convert floors 17-26 into for-rent apartments while floors 2-16 will remain office space, the first floor and the concourse will be used for retail. The corner of Main Street and Clinton Avenue will be turned into park space.
Restaurants
Companies
Comments:
Note: You must be logged in to add comments