Former Location
190 Monroe Avenue, Rochester, NY 14607
Status (August 8, 2020)
Closed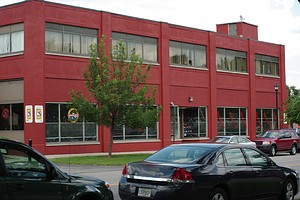 Old shop on University Ave (2009)
Comments:
Note: You must be logged in to add comments
---
See Archive Page for comments prior to 2008.
---
2008-05-07 09:47:52 I was glad to see Im not the only one who has had a negative experience at Towners. They were very rude as I came in when they were closing. All I needed was a tube. Very short and very rude. I came there to spend money, im going to Park Ave from now on. —MusicIsMyAntFarm8
---
2008-07-05 17:56:17 towners most certainly contains a judgmental staff. it seems to me as if they really only LOVE fancy fixed gears and brand new top of the line stuff. i have heard of them turning people away with older bikes saying it's not worth it to fix. still they will acknowledge a good bike and have extremely reasonable prices to help you get stuff up and working well.
some people swear full moon is the place to go for fixed gears, but don't be fooled - especially if you're building one yourself or converting. i needed to find an extremely long reach break and full moon couldn't get it while towners could with no trouble and fair pricing. towners can get you pretty much ANYTHING you need.
though the staff is judgmental, they are a fairly well rounded bunch and there's always at least one person you can talk to who knows about what you are looking for/into. —travisjames

---
2009-08-18 01:37:15 I recently bought an entry-level road bike from Towner's. I paid a fair price for the bike, which I have enjoyed immensely. However, the service since then has been inconsistent. First, they tune the bike before you leave, but as soon as I was out of the parking lot the chain started rattling loudly. I turned around and had them look at it. Sure enough, they said, the front derailleur had not been properly adjusted. The remarkable thing is that this happened two more times *the same day*. Each time, a different mechanic looked at it and each of them said it had not been properly adjusted. Oddly, it turned out that it was just something I was doing as an inexperienced rider (trying to ride in a gear such that the chain was at too much of a diagonal and scraped against the front derailleur cage). I finally figured this out when one of the mechanics (nice guy, small, shaved head) bothered to talk to me about it. The salesmen seem knowledgeable, but I agree they are a bit aloof. And I have to agree that the gentleman another reviewer described as fat is indeed someone I will avoid interacting with for the rest of my life. I took my bike into Full Moon Vista recently for a tune-up and they seem a lot better—they fit bikes that you buy from them, which Towner's did not do, for instance, and they are willing to show and explain to you what they're doing to your bike, and don't act annoyed if you are a novice and generally seem to want to share their customers' enthusiasm. —AlexFine
---
2010-05-19 12:45:17 Had my bike tuned up there recently and I was not impressed. They did the job, which they said would take about a week, and that they would call me when it was done. A week and a half went by and no call, so I called them and they said it was done. When I got there, the bill was $25 more than they said it would be, because they had to replace the shifter cables. When I asked for an explanation, the person behind the counter said "No one called you to approve the work?" Umm, no. They didn't even bother to call to tell me it was done. I figured as long as it had to be done, no big deal. However, they apparently didn't test the work because now I have an impossible time getting the chain to catch on the large sprocket. I'm going back only because I already paid for the work and I want it done right, but probably will find somewhere else in the future. Incidentally, the other reviewers who mention the fat guy behind the counter, I know exactly who they are talking about. He was rude and acted bothered by every question I asked when I was last in the shop. When I called to ask if getting my derailer adjusted to fix the problem I'm having was a fairly quick job, I'm pretty sure it was him who answered and said "I don't know, why don't you hold the bike up to the phone?" I can't speak for the rest of the staff, but if you want to talk to a rude, snobby guy who looks like he doesn't get on a bike much if ever, this might be the place for you. —MMann
---
2010-06-18 17:01:39 TOWNERS=FROWNERS/DOWNERS
Like most other comments, I am agreeing. That asshole (His name is the bike world is UNFUN TED, I think there is a couple of assholes, actually) that is on his high horse and treats all the customers like sh*t. Well, I hope you can read this review all the way from your high horse, unfun buddy, because I'm sending this to the owner after I'm finished. THIS PLACE DUSGUSTS ME.
"Frowners" makes my friends and I go to ANY other place, even very highly priced places before here.
They DO NOT help you whatsoever- I am apart of a couple bike community groups, I mean these groups are HEAVILY into bicycling, that know a lot about bicycles. We all agree to never go here. They make it seem like you are asshole for wanting to ride, or to make your bike work correctly.
How hard is it to grab a tool? Stop playing your WoW at the counter and do your overpaid job.
If we have to go here, it's just for maybe an emergency like a few innertubes. We know exactly what were are going in there for, all we need you to do is grab it, and THEY STILL TREAT US LIKE DOG SH*T!
They charge too much for all of the their products, labor and your time. Oh and they laugh at you if you ask about Fixed Gears. I don't really give two sh*ts about how you feel about certain bikes, but if you are working in a bike shop...maybe you should keep up with the times.
I went in there, before knowing as much as I do now, asking for a complete overhaul on my vintage cruiser. New tires, rims, brake tubing, tune-up, and fixing my internal hub, and fatty UNFUN TED says to me;
"Why would you even pay $1 for this bike? I would never ride this."
I retort "Because I wanted a f*cking yellow vintage cruiser, and I love it. And I wouldn't let YOU (looking at his fat gut) ride it."
"I don't see how and why you would." That's good, fatty. I don't see how you still work there.
Oh and they didn't even put my front wheel on all the way. The bolt was loose as hell, and could have fallen off at any moment. Aren't you supposed to check that...you know....being a bicycle repairman and all?
DOES THAT SOUND LIKE CUSTOMER SERIVCE TO YOU? IF you have to go in there, you're all out of options...WAIT TIL YOU'RE HAVING A BAD DAY, make sure you ask the chubby-lonely-pissed off-grumpy-balding guy and give him a piece of your mind.
If you want to go to place that cares about biking and their customers, try out Tow Path, Full Moon Vista, Berts Bike Shop, That bike/skate shop in Fairport, or use RocWiki to find the best shop.
Ugh. I sincerely hate this place. —Mandafinks

---
2011-01-16 13:26:23 I have to disagree with all of you (except for one). I went into towners seven days before christmas, I bought a haro 300.2 series blue and white bike. I asked the mechanics and salesmen to put better pedals on the bike for me, two more pedales (so i would have four), and frontbrakes. They went out of their way to find me great pedales that matched the bike, two extra matching pegs, and they went through the troubl of finding me forks that matched the frame that where still haro, and had the front brake cable guide so i could have front brakes. The pricing was unbelievable! I got the exact bike i wanted with everything i wanted on it for close to 400, i believe i paid $385. With the parts i had added on to it, and tax, and mechanical work, that was a great price. I couldnt be happier with my expierence at towners. I am going to go there all the time and I live 45 min away! They acted very professional. I am a novice rider an i told them that an they all treated me well. I STRONGLY RECOMMENED GOING TO TOWNERS, THEY ARE THE BEST BIKE SHOP IN ROCHESTER! —Lyell rs/Lyell"]

---
2011-02-03 20:18:07 @Lyell: Or, you could have bought the Haro 300.3 which included the stock brake and 4 pegs, for $70 less than your "great deal". I wouldn't say they did you any favors. —RichMulvey
---
2011-04-25 16:34:04 Towners has it's good points and bad points. My main critique would be that they have too many bikes, and consequently many of them sit on the racks for years. Go knowing that they may have exactly what you're looking for, but also knowing that if you're not sure what you want, they may try to get you on something that has been in inventory for too long not necessarily to offer the best deal in the process. Be saavy, and you can score an excellent deal here. —ErikReinert
---
2011-06-21 22:44:45 I agree with many, very cranky/rude staff. One person answered the phone apparently after hours and rudely told me that they were closed. Why did you answer the phone then? Dropped off my bike for help with getting a child seat installed properly. Someone left me a message asking what I wanted done. When I called back they said "Yeah your bike is done, but it needs a tune up badly". I wouldn't have ruled out paying for a tune up, but he said it as if I had already refused. When I came to pick it up, the stated again that "it needed a tune up badly" but never asked if I wanted to schedule it, what needed to be done, or how much it would cost. Brought the bike home and the "big tune up" was just to tighten the rear brakes a little. Everything is fine now.
If you hate working there so much, get a new job guys, don't take it out on me. I will be going to Park Ave or Towpath from now on. —WilliamJeffers

---
2011-07-28 05:03:43 They have always had everything I needed for my bike and always been pleasant and helpful. —PatrickPapadopulos
---
2011-10-19 15:47:32 i went into towners monday to have a tire replaced on a old ccm elan bike. the "fat guy" helped me. but he said it would be cheaper to replace the spokes and not the tire itself. i figured if it was going to be cheaper why not. they never called me when it was done i had to call them, and when i called they said they "tried calling with no responce from me" even though i gave them my cell number so i would have heard it going off. now lets see if they actually fixed them bike. —scottfralick
---
2011-10-19 15:57:16 @scottfralick I'm trying to imagine a universe in which spokes are replaced in order to resolve a problem with a tire... I really hope you meant 'wheel' instead of 'tire'. —RichMulvey
---
2011-11-22 09:52:47 I was really apprehensive about purchasing a bike from this shop after canvassing the mountain of negative reviews on this site. I decided to take the plunge, however, since Towner's is really close to me, and I always wanted to check it out whenever I passed the shop. I purchased a bike there recently, and I have nothing but *glowing praise* for the staff, the selection, and the service. I went back twice to get accessories, and the staff members were extremely helpful, informative, and very pleasant. Perhaps the negative comments inspired management to step up their game, but I have to say, I'll never shop anywhere else for my biking needs. —Jemy
---
2011-11-22 15:57:49 I had a good experience with Towners as well. I bought a u-lock a couple weeks ago and the guy (an employee, not the owner) there was very helpful. —EileenF
---
2011-11-22 16:09:13 As a former bike mechanic myself, first let me say that truly 'entry-level' bikes (a.k.a. Wal-mart trash bikes) are rarely worth fixing when they break. Also, yeah, bike mechanics often look down on non-bike people as being morons (and, frankly, they often are). But all that aside.....
Most of the things people say about Towners is true-lots of stock, they try to up-sell most of the time, yadda, yadda, yadda. I've found that their stock is usually fairly good, with a lot of less-common parts, especially when you get into the mountain bike and touring/hybrid worlds. Also, with a stock as large as they have, they also tend to have OLD parts more often than most shops (which is good for a retro-grouch like me). Just don't expect to get it cheap.
What I don't like about Towners (aside from the owner and about 1/2 of his employees) is that his stock of road bike parts is often incomplete. Sometimes he has new, expensive Campagnolo stuff, but he never has a selection of decent tubular tires. Sometimes they have a good selection of marked-down cycling wear, but just TRY to find the Yakima rack piece you really need. The list goes on... —Alex-C

---
2012-03-18 12:28:38 @RichMulvey they told me the tire and not the wheel —scottfralick
---
2012-05-25 07:21:15 ok ive got another problem i just had my spokes and my tube replace picked it up last night and to come to find out this morning that the tube is busted, i mean come on i did not even ride for a half hour and i was careful not to run over anything so the tube should not be flat, i am going up there today to tell them they need to replace it again and for free because they just replaced it yesterday!! —scottfralick
---
2012-05-25 07:40:14 to anyone who is buying anything from towners i would watch them install the parts so that you know you are getting a new part and not a used one —scottfralick
---
2012-05-25 16:13:22 @scottfralick If they replaced spokes and you almost immediately got a flat, it's likely that the rim strip on the wheel is incorrectly installed. The tube gets punctured when it presses against the head of the spoke nipple. —RichMulvey
---
2013-04-09 11:40:04 why do fake bike riders pick on average bike folks. like they really ben in the Olympic. —louisjr
---
2013-04-09 17:52:47 As for that last comment, all I have to say is: loquitur pro se ipsa. —alex-c
---
2013-08-15 21:43:41 Terrible customer service, unfriendly staff. —mikaren
---
2013-08-19 14:52:59 As a retort to all the negative reviews: You'll get no argument from me that the service at Towners can be downright surly. However, Towners is an invaluable resource that many locales are no longer lucky enough to have (and I'm not talking about the almighty LBS, everyone has those). Towner's serves an urban customer base that very often rides old beaters as their primary mode of transportation. As a result, they carry all of the common parts and perform all of the time-worn services that many New Bike Retailers no longer provide. I'm talking about things like: derailer hangers for your 12-year-old aluminum-framed cross bike; hub bearings and bearing grease for rebuilding your worn-out 105's; actual cleaning supplies that aren't ridiculously marked up after being rebranded by the bicycle industry; replacement square-taper crankset spiders; miles of cable housing and cable; replacement derailers (in stock! not next week's order); bike rack hardware. The list goes on. You want to be treated like a Dentist buying a Serotta? Then go to one of the other shops. But if you need a replacement rim to rebuild your 32-Spoke CXP-22's, one of the other shops will try to sell you a new set of Ksyriums and tubeless tires, Towner's won't do that, they'll rebuild your wheel.
In short: Towners serves their community. The other LBS in Rochester trend towards serving the bike industry, often attempting to sell race-oriented equipment to the general public. If that doesn't bother you, and the service at Towner's does, then by all means shop around. But let's be clear, no shop in town would replace what Towners is capable of doing, both through location and inventory. —ErikReinert