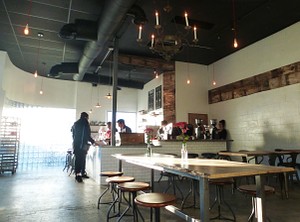 Somerton Street location interior.
Locations
23 Somerton Street, Rochester, NY 14607
44 Elton Street, Rochester NY, 14607
Hours - Somerton St (as of February 2017)
Monday: 7:00AM to 7:00PM
Tuesday - Saturday: 7:00AM to 10:00PM
Sunday: 8:00AM to 6:00PM
Hours - Elton St (as of February 2017)
Monday: 8:00AM to 5:00PM
Phone
585 209 3633
Wheelchair Accessible
Neither location
Alcohol
Somerton St only
Email
<hello AT glenedithcoffee DOT com>
Website
http://www.GlenEdithCoffee.com
Facebook
Instagram
Twitter
Reviews
2016-01-12 The Odyssey
Glen Edith Coffee Roasters is a local
third wave coffee shop and roaster. Their brews are direct trade and roasted in small batches. Glen Edith is also as wholesale to local restaurants and coffeehouses nationwide.
Owner is John Ebel.
Locations
Glen Edith's cafe was originally called Pour Coffee Parlor. It is located off Park Avenue, behind Cafe Sasso. In addition to their coffee, they also offer a small menu featuring breakfast and lunch options, including a vegan Jack Rabbit sandwich. Some of the pastries are gluten-free. There are also several local craft beers on tap. The roaster is also located here.
In November 2015 they opened a second location in the Neighborhood of the Arts with The Upper Crust Cakery. The bakery left the partnership a year later but Glen Edith continues to operate out of the space.
History
The name derives from the historic Glen Edith Hotel once located on Irondequoit Bay. In 1953 it was converted Glen Edith Restaurant, which closed in 1996. Ebel purchased the brand in 2009 after he came across an old Glen Edith sign in an antique store. He and several friends opened a motorcycle workshop and club under the name in 2012. Eventually, one of the other owners decided to relocate, while Ebel wanted to get into the coffee business. As a result, he opened Pour Coffee Parlor on April 28, 2014. The roaster half of the business launched in May 2015.
In January 2016 it was announced that Pour was officially changing its name to Glen Edith to prevent brand confusion, especially after the Upper Crust Cakery opened in November 2015. They also announced plans for Boxcar, a new bakery offering the "fancy, over-the-top donuts that are currently trendy in big cities." This will be on Railroad Street, near the Public Market and will be opening in the spring.
Longtime employee Ryan Baker started Meraki Coffee Co., a pop-up espresso bar], in June 2016.
Links
Comments:
Note: You must be logged in to add comments
---
2016-01-18 10:08:18 Excellent pourovers. One cup will set you back around $3, or you can get a six cup pourover to share for $7. So much flavor in a cup of coffee! Interesting place. The walls are adorned with reclaimed wood and Civil War era portraits. —alexandergartley
---
2017-04-09 14:49:09 I went to the Elton Street location on a Sunday at about 1 pm. I had a pour-over Rwandan with a chocolate chip muffin. I think it was about $12. The coffee was great (muffin was fine, I cared more about the coffee). The barista talked through every step. There were several people in the shop, mostly men with laptops. Note that there are several stairs from the front door down to the bar/seating level, no handicap elevator. The atmosphere is bright on a Sunday afternoon, I liked it. —GaryGocek