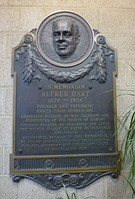 Plaque commemorating Alfred Hart in the Jewish Community Center. Hart's Groceries was a former grocery store which started with one store on Portland Avenue and eventually grew to serve much of Western New York.
Founded by Alfred Hart in 1893, Hart's Groceries had over 100 locations in and around the city by the 1920s. They were the first grocer to use store-brand labels and were also the first self-service grocery market. They offered coupons that could be redeemed for various products, including a play wagon modeled on their logo. They became Star Markets in the 1960s and lasted until 1984.
Their alleged downfall was a long-running "Coupon War" with Wegmans that involved the two competitors doubling and tripling their coupon values to gain market shares. It is said to be longest-running campaign of its kind in retail history. Tops, new to the Rochester market at the time, also participated.1
The name was revived as Hart's Local Grocers in 2014, in an homage to Rochester history and culture.
Links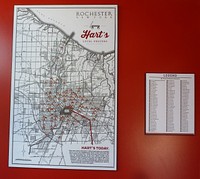 Map in Hart's Local Grocers showing all the locations of Hart's Groceries.
Comments:
Note: You must be logged in to add comments
1Whatever Happened To ... Star Supermarkets?, Democrat and Chronicle (2014-02-06)