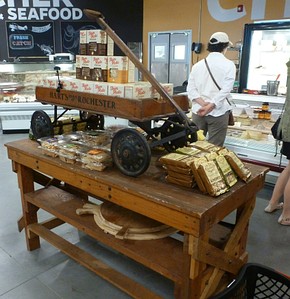 Authentic wagon from original Hart's Groceries.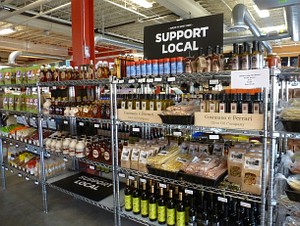 Selection of local products.
Hart's Local Grocers is an independent full-service grocery store in the East End. Their stock emphasizes local meat, dairy, produce, and baked goods at affordable prices alongside national brands. They also offer prepared foods based on an updated 1940s menu dedicated to local cuisine. The cafe features a different local coffee each month. Online shopping and delivery are available, as well as pick-up at the store.
Arbor Loft, the second floor event space leased by Agathi & Co.
The store was named after Hart's Groceries, a longtime Rochester institution.
Hart's opened August, 15 2014. Owner Glenn Kellogg is an urban planner originally from Washington, D.C.
The location was previously Craig Autometrics.
Local Brands Carried (Incomplete List)
Links
Comments:
Note: You must be logged in to add comments
---
2014-09-06 16:28:41 We encourage everyone to give Hart's a try. They are building a pretty good selection for a small local store. We've done well there with only a few things on the list that we could not find. They have a suggestion board where you can list things that you'd like them to carry. The prepared food has been good too. Prices are a little higher than other stores on average. The staff is very friendly and helpful. We hope they do well, which will happen only if people get out of the Wegmans habit and give them a shot. —DottieHoffmann
---
2015-11-02 06:35:32 been here once, nice selection and i enjoy the food. a few of my friends who lives in the city shop here most of the time. —bonnev659