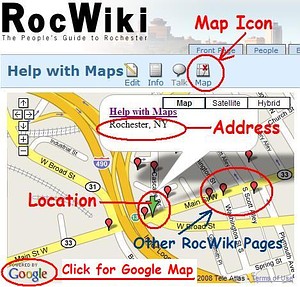 Help with Maps1 provides RocWiki viewers and contributors with information on mapping within RocWiki. Contributors are given a number of choices and tools to assist them in coordinating their material with geo-positioning information.

RocWiki currently supports direct mapping of one location for each RocWiki page using the Address Macro. RocWiki uses the macro to add a clickable Map icon with text in the menu bar at the top of the page. The first click on the button reveals a framed Google Map of the address. A second click on the Map icon will hide the map again. Clicking on the Google Icon on the map itself will open Google Maps with the current map displayed. RocWiki uses the Google API to generate the map, and is thus dependent on the manner in which Google resolves and places addresses.


The user may pan and zoom using the standard interface shown by the Google API. The current view selected by the user (zoom and pan) will be preserved while on the page, even if you click the Map Icon and hide the map.


To add the Map Icon to a page, insert an Address Macro, [[Address("street, city, zipcode")]], into the page. The address may contain only the city and state (as shown in the example on this page) or may include the details of zip code, street, street number, etc. Only one location per page is linked to the Map Icon, and that is currently (July 2008) the last entry of multiple entries.


If the map generated by the address used in the macro doesn't look right, it may be because of the way the Google API plotted the address2 you've given it. This occurs most often on streets that cross town boundaries. For example, Google seems to have a hard time figuring out which suburb to use when plotting Monroe Avenue addresses. Much of this problem is related to the difference between actual towns, zip code designations, and standardized geo-positioning data. For example, nearly all of Perinton is found using the Fairport zip code, even though Fairport is less than 2 square miles. Many Penfield businesses have Webster postal addresses.

If your map doesn't look right, be sure to include a zip code. Oddly enough, the best place to find a zip code is to use the Google Maps site http://maps.google.com. Even though we're using Google API to power our maps, Google Maps may be better because it relies as well on search information and not just the geocoding (address parsing) used by the API. Go figure!

Google Maps and associated search facilities provide a variety of tools to RocWiki contributors (and viewers). The Google Maps facility includes views of maps, satellite images, hybrid, terrain, and street views as well as traffic conditions. Google provides facility for multi-stop directions and the user may modify the directions by actively moving the route on the map. Maps and directions may be shared via email, link, or directly embedded on a web page (not available within current RocWiki environment). The satellite (or aerial) images displayed in Google maps may vary in age and quality from area to area. Built up areas such as the city and surrounding communities may display in high resolution, while coverage of more rural areas will not zoom in as closely.
Google Saved User Maps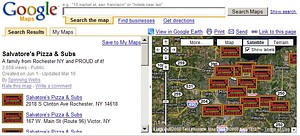 Google Maps - Salvatore's Screenshot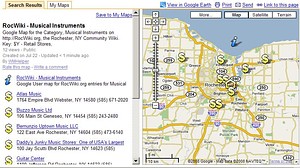 Google User Map RocWiki Musical Instruments
Google Maps features a My Maps facility which allows users to create their own maps with named lists of features tied to specific locations on the map. The features information can include text, links, photos, videos, user provided icons, etc. The User Maps can be made public or unlisted and other users may be given collaborative permission to edit the map. The User Map may also be saved as a Keyhole Linked Map (KLM) file, which can be viewed in Google Earth or can be imported into your User Maps within Google.

For example, a search of Google Maps for Salvatore's reveals a saved Google My Maps http://maps.google.com/maps?hl=en&mid=1216646417. A screenshot of the map is shown above, right. An entry in the Location section of the Salvatore's RocWiki page helps with the many locations, since only one can be mapped by the current Address Macro.

You will also find an example on the Musical Instruments page. The Google User Map RocWiki Musical Instruments displays the pages listed businesses, screen-shot of the map shown to the right.
Yahoo Maps provides facilities for displaying search results geographically and to develop directions for traveling between two or more locations. Their maps also feature maps, satellite, and hybrid displays as well as current traffic conditions. Yahoo satellite maps may sometimes provide better satellite image coverage than the Google Maps. Their directions mapping may also differ from Google or Mapquest.


Yahoo Maps allows search options by address or by business name and type. For example, Rochester, NY address within Yahoo provides a top level map of the Rochester area. Entering 1 East Main Street, Rohester, NY displays a more detailed map pointing directly to the address. Searching for Geva Theatre while on the last map provides mapping of the theater on that map with associated search results.

MS Live Maps provides facilities for displaying search results geographically and to develop directions. The maps also feature road, aerial, and birds eye views with option to turn labels off and on. The birds-eye views have high resolution aerial photography from four different angles. For example, see View of Rochester, NY.


MS Live Maps also have a Collections feature which integrates data from other web sources and contributors onto the map. There are numerous collection items on the Rochester map that relate directly to RocWiki pages. For example, you will find historical places like Corinthian Hall or even Nick Tahou Hots in the Live Collection Late Night Eats.
Mapquest Maps provides mapping services similar to Google and Yahoo


The Mapquest equivalent map for Rochester, NY provides map and aerial images plus traffic conditions (not currently available for Rochester). The Mapquest map for Rochester does not zoom down into the last two steps of high resolution, so image quality is inferior to Google or Yahoo.


Mapquest provides companies with Mapquest Platform Services which are used by many national and international companies to map their stores, offices, dealers, etc. on Mapquest maps. Unfortunately, the generated maps for the listings cannot be directly linked and added to a RocWiki page.
Several of the online photo storage services include services for the users to map their photos.


Fliker Photo Map displays photos stored on Flikr for which the user has provided map coordinates. For example, you can do a search and see all the interesting photos placed in Rochester, NY. Enter High Falls, Rochester, NY into the search box and see a number of photos from that location.

TOP -Address Macro - Using Google - Google Saved User Maps - Using Yahoo - Using MS Live - Using Mapquest - Using Photo Mapping