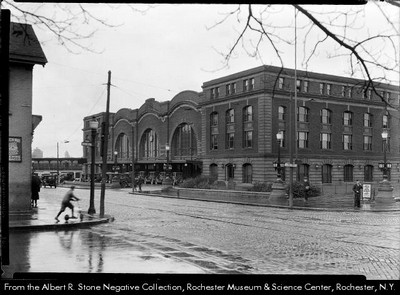 Designed by renowned architect Claude Bragdon, the demolition of the third building of the New York Central Railroad station is, arguably, one of the greatest losses to Rochester's architectural scenery and history. It was located at
Central Ave. and North Clinton Ave., where the Amtrak station is now.
In 1854, New York Central Station was constructed on Mill Street at the brink of the falls, serving as the community's transportation center for 30 years. In the 1880's the railroad tracks were elevated and the station was relocated to the east side of the Genesee River (on Central Avenue at St. Paul Street) among the thriving breweries and clothing factories.
The second station served New York Central's needs for just over 20 years, when they decided to build a new station on the north side of Central Avenue, between North Clinton Avenue and Joseph Avenue. New York City architect Claude Bragdon designed the third station, referred to as Union Station or the Bragdon Station, and it opened in 1914.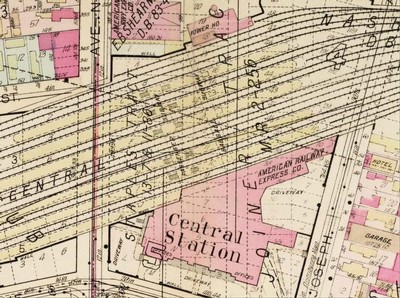 Bragdon gave particular attention to design of the indoor public spaces, including a large, general waiting room with a domed, ornamental ceiling and a lunch counter to serve waiting passengers. Bragdon incorporated the motif of driving wheels of a great locomotive into the three large arched windows. He utilized other railroading details geometrically in the decoration of the brick exterior and the tile interior.
Unfortunately, this grand station, busy for four decades, lost most of its passengers to the airlines. The New York Central sold the building in 1959, and the Bragdon Station was demolished in 1965 to make room for a parking lot.
There is
a rumor that a technical surplus store existed in tunnels below the railway station as its last remains were being destroyed in 1978. Do these tunnels still exist? See Q and A.
There is a nice write up
here. Text from this page stolen from
here. Pictures can be found
here. See also
Railroads in Rochester's History.