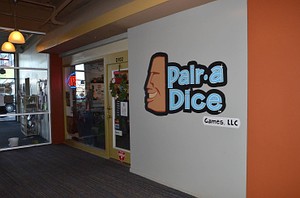 Pair A Dice Games, Dec 2011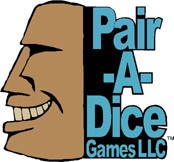 Where your Adventure begins!
Pair a Dice Games was RocWiki's Business Spotlight of the Month for February 2013!

Pair a Dice Games was a toy, hobby, and gaming store conveniently located in the Village Gate. You could find it by going in the "B" entrance which is off the back parking lot. They were down the hall from Gate House Cafe and across the courtyard from Salena's. Other neighbors were California Rollin', Comics Etc., and Yankee Peddler Bookshop, etc.

They focused on friendly service, and offered a loyalty discount program. They were able to do special orders and were often able to order hard to get items from overseas. They had free gaming tables that are available during store hours, and often accommodated league play and gaming groups. Amputheatre, created by a Rochesterian, was one of the many games available.
Closed in March 2016.
Comments:
Note: You must be logged in to add comments
---
2011-04-08 18:35:52 I don't play the types of games that bring people to Pair-a-Dice but I love walking into the Village Gate and seeing the people in there having a blast. May this little store live long and provide years of entertainment to all who enter! —BatGuano
---
2011-10-05 15:42:17 Nice comfortable place to play..usually snacks around. Owner is a nice guy —PeteB