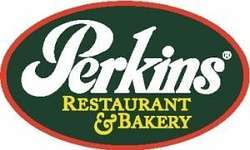 Former Locations
2130 Fairport Nine Mile, Fairport, NY 14450
1500 W Ridge Rd, Rochester, NY 14646
Perkins is a national diner chain that used to have several locations in the Rochester area.

In the late 1990s, they left the area, and some of the restaurants were converted to Denny's. Several years later, a new franchisee came in and built brand new Perkins restaurants with updated decor in Gates, Henrietta, Penfield, and Greece.

The locations in Gates and Henrietta were closed in January 2012. The remaining two locations followed in May. The CEO simply stated that the franchiser had terminated the license agreements for Monroe, Erie, and Niagara. The Henrietta location became the short-lived Opa! Authentic Greek Koozina, followed by the national chain Tilted Kilt (also short-lived); it is now the Henrietta Jeremiah's Tavern. The Penfield location became Cornerstone Restaurant & Cafe but it was torn down and a Chick-fil-A restaurant is to be built on the site.
Comments:
Note: You must be logged in to add comments
---
2008-02-27 13:56:43 Wouldn't recommend this place for dinner, rather overpriced, and the food took a while to get to the table. When it arrived, it wasn't that great. As long as its not a big game night for sports, go across the parking lot to Tully's for cheap amazing chicken tenders. —ProfanityPete
---
2008-05-16 13:30:44 Friendlys, Dennys, Applebees, Zebbs, Perkins, whats the diff? All terrible, they should merge all these chains. —MrRochester
---
2008-07-20 18:57:10 We were at the Perkins on Jefferson Road today @ 12:15pm. Our food took 40 minutes to come out. Reason we were told was due to 2 large parties (which we didn't see). There were also several empty spots in our area. They did give us a 50% discount on our bill. NOTE: We've been there multiple times with no problems so this could've been an isolated instance —PeteB
---
2008-09-26 11:48:32 Funny story about how I would typically view the service at perkins... went there around lunch time on Father's Day because it was one of the few places my sister, father and I could meet before I went in to work. My father had wanted breakfast and they serve all day. Of course it was busy and we don't mind waiting. The server was overwhelmed and my family is understanding because several of us put ourselves through college in the business. No one wants to work holidays, people are grumpy and employees are usually missing out on being with family. I've worked every major holiday... I get it. anyways, (apologize for preamble) food took forever, when it did come there were parts missing -i.e. toast, pancakes, we asked 4 times for napkins until I got up, went behind the service line and got them myself (I hate when people do that) when the check came she had brought the wrong check. The people with our check got a little discount and took off. The server asked us to pay the check anyways! First, she tried to tell us the other tables check was cheaper, which was a lie. I suggested taking the drinks off to make up for a difference and she wouldn't until we insisted. most the time she hid. manager never came to see us. food always looks and tastes like newspaper... colorless and tasteless. I go here as little as possible. —NightlifeCher
---
2008-11-04 22:09:44 I like the atmosphere here more than the other similar chains, but I definitely agree that all of them should be merged. I've come here thrice and service was good each time, though food was below average and plain. I'd rather go for Tim Horton's anyday for the baked goods. —JenFromDC
---
2009-06-07 19:22:33 I went to the Fairport Perkins. After taking a bite, I noticed that my plate was smeared with someone else's food. I returned the meal, and what I got back was what they already served (with my bite gone) on a new plate. No apologies from the waiter ("well, they microwaved it") or the manager. They offered me a piece of pie which I turned down. —Mike14610
---
2011-09-11 19:41:28 I've gone to the Penfield/Rt. 250 location several times over the last couple of years. I'm not sure why. I always seem to forget that the service is really, really slow. Make no mistake - the servers are friendly, the food is more or less what you'd expect, but when there's only a couple of people in the restaurant, it shouldn't take 45 minutes for a breakfast meals, salad, and sandwich to arrive. —RichMulvey
---
2012-05-15 18:11:04 As mentioned on channel 10, the 2 remaining Perkins will be closing at the end of this week. —Alex-C
---
2012-05-16 08:12:31 Perkins is closing? Looks like Tiger Woods won't be visiting here anytime soon! —PDub