Rochester Waterfalls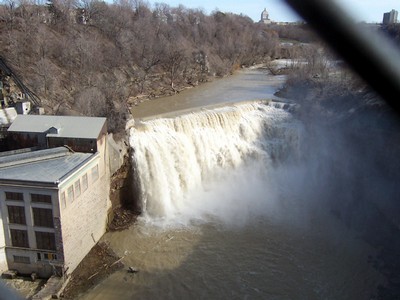 The Lower Falls
The Genesee River goes over several waterfalls: the High Falls, Middle Falls, and Lower Falls1. The largest waterfall, as most well known is the High Falls. It is viewable from a large pedestrian bridge that spans the gorge that the water drops into. The second largest, and also the highest of the falls, is the Lower Falls which is accessable from Seneca Park. The best place to view the lower falls is from the Driving Park Avenue Bridge (
maps.google.com link). The Middle Falls is not very impressive at all and is very close to the Lower Falls.
The grassy area near the Lower Falls contains a monument of some sorts called The Seat of Forgetting and Remembering.
Area Waterfalls
See Also
1At one time there was also an area of rapids with a fourteen foot drop known as Upper Falls located between the Court Street Dam and the Broad Street Aqueduct.