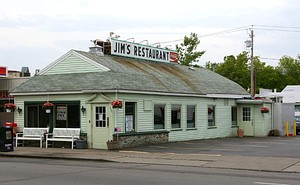 Jim's Restaurant, 5-2008
Former Location
233 Winton Rd N, Rochester NY 14610
They closed their doors on May 16, 2015 after many years in business to make room for a new Aldi's.
Jim's Restaurant Too closed due to fire but was replaced with Jim's on Main in 2016
Comments:
Note: You must be logged in to add comments
---
2006-12-11 16:33:09 Small, but far superior to the depressing and grubby Liberty Family Restaurant which is just down and across the street. And there's a metal dinosaur on the peak of the roof! —ChrisYoung
---
2006-12-12 09:39:52 Great food but can be crowded like any good breakfast-on-the-weekend place. Real cheap considering how much you get. I miss it like crazy, no good diners down here in Florida! —BadFish
---
2008-05-16 15:40:37 Had a great breakfast here with my boyfriend. Cheap and filing, just like diner food should be. We live in the neighborhood now, and I'm sure we'll be returning often. —SaraChristine
---
2008-07-16 18:18:34 Went here with my husband who told me that it was recommended by guys at the Brighton firehouse. Very crowded, but that is normal for a diner on Saturday morning. The service was okay, and the food was very tasty and very cheap. I got the eggs and hash, and it was the exact same thing that I got at Jines, only half the price. Beware that they do not accept credit cards, but they do have an ATM machine on site. —CatMagro
---
2008-07-20 20:33:09 A great breakfast joint. Three friends lived in the house next door on Winton Road, and the goal of parties there was to make it until Jim's opened - the "Journey to Jim's."
We were never the only ones waiting by the door. People began showing up 10 minutes before it opens - every time.
The specials are always tasty, but what isn't after an all-night-party? I always get the corned beef hash and eggs Benedict in honor of a former reporter for the Democrat & Chronicle. —ZachSmalt

---
2010-01-09 19:13:27 Very good food, fast service, and your coffee cup is always full. This is probably one of the cheapest restaurants one could go to. Do not be fooled though, just because the food is cheap does not mean that the food quality is. When going in on a crowded morning, be prepared to wait, but not for too long (maybe 5 minutes at the most.). Be advised this place is cash only... —DM
---
2010-03-04 07:28:26 Always a wait, but well worth it. The potions are great, the food is always wonderful, and the prices can't be beat. The wait staff is very attentive, and make you feel like a regular no matter how many times you've been. I highly recommend Jim's for a great breakfast, any day of the week! —MerCDotes
---
2010-08-02 10:52:52 One of Rochester's best-kept secrets! We love this place. Yes, you'll probably have to wait for a table, but I guarantee you'll have an excellent breakfast! —EatinOut
---
2010-09-14 12:58:28 I made my first visit here this past weekend. The first thing I noticed were the prices. They were refreshingly low.. very low. I ordered the Grits Breakfast which consisted of two eggs, bacon, toast and, big surprise, grits ($4.00 total, amazing). The breakfast was, well, breakfast. It was as good as any diner you could find. The only part of the meal that required a little skill were the grits and, while they were a little on the stodgy side, they were absolutely complimentary with a couple butter pats on top. I know I'll be back here multiple times. —BatGuano
---
2010-11-07 05:01:33 The best kept secret in Rochester. Question-Want breakfast? Answer- Jim's Restaurant —dindodentino
---
2010-11-27 20:46:06 It kills me to give this place a good review because it is already pretty busy but they sure deserve it! Perfect eggs, good pancakes and waffles, everything is great in that classic "cheap, good, and fast" breakfast joint tradition. One of my favorite things about this place is the team service approach that means you never have to wait more than a few moments to order or get a coffee refill and everyone there is incredibly friendly! —RachaelT
---
2011-09-16 05:19:09 Awesome place. I work nights (i usually get home around 2-3AM, so being able to find a place that's open when I need to have dinner/breakfast is excellent, and Like all of the other comments say, great food in both quality and quantity - I ordered the 2-2-2 special with a cup of fruit, glass of orange juice and cup of coffee, $9.16 with tax! As I am writing this, I am considering going there to eat before going to bed. mmmmmmm....Jim's Retaurant. Anyway, It's a little small, but not cramped. You can see the cook making the food, which I think is kind of nice, since it brings back memories of a time when my mom used to make meals. If you're reading this, you should deifintely go to Jim's restaurant, Just head less than a block (I measure from streetlight to street light) north from the tops of Winton, and there you are. If you pass Humbolt, turn around. :) —A.L.Silvertongue
---
2012-05-19 03:01:21 Its too bad but I have to pan this restaurant. The food was above average and so was the service. But I was ripped off of my money. It wasn't much - 5 bucks! - but it was being blamed for shortchanging who I think was Jim. I went recently, 5/19/12, to Jim's Restaurant at about 10:30. My girlfriend and I had a decent meal and then we went to pay. My girlfriend tried to pay with a credit/debit card, an old man in a pink polo shirt (Jim?) said they don't do that, so I reached for my wallet and counted out 10 $1 bills and 1 $5 bill, with the $5 bill on top. He hands me 8 cents. We go to my car and then pink polo shirt man walks out to my car and says "you owe me 5 dollars." I assumed I miss counted the singles, but am perplexed at being low by 5, I ask about the 5 bill and he disrespectfully and arrogantly tells me no, "I got the money right here" and counts it in front of me. I look for the 5 bill that I KNOW for a fact that I had before we left for the restaurant and for a fact that I had on top of the stack I handed this man. I look in my wallet, in my pant pockets AND in my hoodie pockets. No money. I check the car seat and everything around. Nothing. But I guess the customer at Jim's Restaurant is always wrong and its my fault that he accepted payment without counting (even when I counted in front of this man). I say this because I walked out of the restaurant, sat in my car for a couple of minutes talking to my girlfriend about how Jim's and James Brown on Culver compare, then I take off my hoodie and then reach at my open car door to leave...
Its really a shame. I thought the service was pretty good and the food was decent, particularly for the price. But honestly, the owner was really disrespectful, regardless of his "age." I don't think I'll ever go there again. Instead of cursing him off and driving away, I walked back and pulled from the ATM more money to pay him what he demanded. In retrospect I should have just said no and left because I won't return. If you go to Jim's, I implore you to count your money and make sure he acknowledges receipt of appropriate money because I think his mind was wandering talking and gossiping with his local customers. I guess I was too insignificant to deserve his full attention or something. Oh well. I suggest you go to James Brown on Culver, its like five minutes away and FAR better, both food and respect to ALL of their customers. They have interesting specials and don't try to woo you over with gimmicks like holding your coffee mug over the counter. And they never shortchange you five dollars and made it a rude ordeal when it was likely their fault, not yours. Truly a shame. —KevinDiamond

---
2015-06-09 15:22:22 Closed on May 16, 2015. —AdrienneDahler