Address
Location
Phone
(585)
1501 Howard Road, Chili, NY 14624
Airport area off Chili Avenue
426 4020
16 Courtney Drive, Fairport, NY 14450
Courtney Drive
425 0527
2373 W Ridge Rd, Greece, NY 14626
Greece Ridge Mall
453 9640
300 Hylan Dr, Henrietta, NY 14623
Marketplace Mall
272 7410
935 Holt Rd, Webster, NY 14580
Towne Center Webster
872 5470
1902 Monroe Avenue, Brighton, NY 14618
Twelve Corners Plaza
442 2060
2152 Fairport Nine Mile Road, Penfield, NY 14526
Fairport Nine Mile Road
421 6016
7651 RTE 96, Victor, NY 14564
RTE 96
869 2963
1015 East Ridge Road, Irondequoit, NY 14621
East Ridge Road
613 3974
Accessible
Company Logo ®
Yes - All locations
Hours
Varies by location
Website
http://www.Panera.com/
Wikipedia
Panera Bread
Panera Bread is a national chain bakery and fast casual cafe with seven locations in the Rochester suburbs.
Panera features fresh-baked pastries and bread, soups, salads and sandwiches. Beverages include iced and hot espresso drinks, chai, green tea, fresh lemonade and of course soft drinks. All area locations have free wireless Internet.
Photos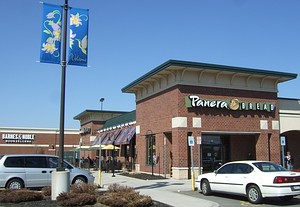 Towne Center Webster by BradMandell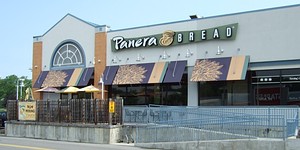 Panorama Plaza by BradMandell
Comments:
Note: You must be logged in to add comments
See Archive Page for comments prior to 2008.
---
2008-01-07 01:28:36 Panera is getting rid of Crispani's within the next week or so. Only the Henrietta and Webster stores will have them most likely until
supplies run out. —SarahFarmer

---
2008-05-07 08:32:15 I'm stopping into town to see the mom for mother's day and need a free wire-less place to work on Friday (5/9). Wondering if the Monroe Ave (12 corners) or Penfield Rd locations have reliable and decent speed connections. Since I'll be there all day, are there enough outlets?
Thanks! —CherStanley

---
2008-12-07 21:37:13 Side note; a few years ago when I was an undergrad in Trenton,NJ, myself and two friends were eating at a Panera Bread at closing time. This particular one had a policy of dumping bread Tuesday nights. There must have been 3 garbage bags full of loaves. I stopped him before it actually went out the door. I was hard pressed to find enough people to take the loaves from one of those bags before it spoiled. Happy Hunting. —Abruzzo2
---
2009-04-11 22:59:16 Two posts in one day bitching about fat in food but look at their website nutrition info before you convince yourself you are doing better here than at McDs or Wendys. Yeah, it tastes good but can't anyone make anything quick or decent that isn't the equivalent of a full day's fat and calories? —karlos
---
2010-06-21 11:31:47 I know it's hip to hate chain restaurants, and I want to be different like all the other different people, but I have to say that Panera is a solid choice for a quick, inexpensive meal in Fairport. Most food is merely average, but tastier and (a little bit) healthier than other fast food, assembly line restaurants. However, the jalapeno cheddar with ham breakfast sandwich is my absolute favorite "on the go" breakfast. —ChristineH
---
2010-11-12 15:01:02 Love the food. Hate the "Panerians" - the people who inhabit these places, no matter what the location. Each Panera will have at least three seemingly homeless people who have no qualms occupying a table for four hours while they sip their water and take advantage of the free WiFi. Also plenty of stay-at-home moms out en masse, usually with their SUV-sized strollers, obliviously taking up space during the lunch rush. Ladies, ever hear of McDonald's for your purposes? Food is consistently good, menu selections plentiful, service prompt. But it's odd how the clientele in every Panera I've been do seems to break down as listed here. —bionicsimmons
---
2010-11-13 08:41:22 I tend to avoid places like Panera because they are just another chain that loads the salt on everything, however, the times I have eaten there haven't been atrocious. The main thing that bothers me about this place is that their earthy, grainy, faraway-land "inspired" dishes (which you would never find in said faraway land) are no more nutritious or healthy than an Angry Whopper Quad-Stacker. —BatGuano
---
2012-02-23 15:09:22 Its almost comical how often the Perinton Panera screws up large take-out orders. Its almost like the ppl filling the orders don't bother looking at the order placed at the drive-thru. If it repeatedly happens to me, I can only assume its happening to others as well. —TippingPoint
---
2013-04-12 18:35:13 Their in-house Wifi is phenomenally slow and it's always packed but we enjoy the Henrietta location. —peteb
---
2015-10-04 16:14:58 The Greece location has closed and was rebuilt as a standalone restaurant with a drive-thru. Sounds like a nice upgrade right? Nope. The service has become phenomenally slow, the seating area is more crammed, if not smaller, and of course traffic now backs up a narrow access road. Not impressed. The other day I went there and a meal that ordinarily took no more than 5 minutes to prepare now had me waiting for over 35 minutes. No doubt this was due to the small kitchen attempting to service both cars and the people inside. Even though it wasn't particularly busy at all. Panera ain't fast food, folks. They're not going to have endless meals prepared at the drop of a dime. It's quite a ridiculous concept that has backfired. —sub619
---
2016-03-25 08:15:43 I may be a total locavore, but damn this place is good. —EileenF