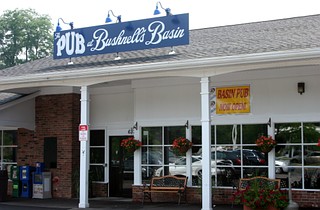 The Pub at Bushnell's Basin
Location
637 Pittsford-Victor Rd, Pittsford, NY 14534
Hours (as of June 2012)
Monday - Wednesday: 11:00AM to 12:00AM
Thursday: 11:00AM to 12:30AM
Friday: 11:00AM to 2:00AM
Saturday: 11:00AM to 1:30AM
Sunday: 11:00AM to 11:00PM
(Open until 2:00AM on weeknights based on customers)
Phone
585 385 1113
Accessible
Yes
Alcohol
Yes
Email
Contact Page
Website
http://TheBasinPub.com/
Reviews
2011-01-07 Metromix review
The Basin Pub is a bar and restaurant located in the Bushnell's Basin hamlet, just east of the village of Pittsford on Rt 96. The establishment is located in Hitching Post Plaza on the south side of the road, just West of the Marsh Road intersection, between Tom Wahl's Restaurant and Rite Aid Pharmacy.
The Basin Pub is located within walking distance to the Erie Canal, Abbott's Frozen Custard, Finger Lakes Coffee Roasters and Richardson's Canal House. Opened in Summer 2009, it offers seating at the large rectangular bar, as well as surrounding 2-top and 4-top tables and booths. Beer is offered on-tap and bottled, and NY / CA / international wines are offered by the glass and by the bottle. The menu is fairly standard pub fare; sandwiches, wraps, appetizers and salads.
Notes and References

Booming business in Bushnell's Basin on WHEC.com


Opening of The Basin Pub draws networkers on Democrat & Chronicle July 26, 2009 - "Is it the biggest television in Rochester? Brad Sluman isn't sure. But it's certainly the only one of its kind. At 109 inches by 58 inches, the high-definition behemoth hangs on the wall at The Basin Pub, a just-opened restaurant in Bushnell's Basin owned by Sluman and business partners Scott Thyroff and Irene Serles ... Topped by copper ceilings, The Basin Pub features artwork from ArtisanWorks placed throughout the 2,900-square-foot facility. ... "We went way overkill with the sound and stuff," said Sluman, describing the pub as an "elegant sports bar."
Comments:
Note: You must be logged in to add comments
---
2009-07-26 18:42:53 We visited the Pub at Bushnell's Basin on a Friday night, hoping to grab a quick meal in a relaxing atmosphere. The place looked great (they did a wonderful job refurnishing a former bank location into a very attractive eatery) and was full of people, but the music was so loud we had difficulty even conversing about whether we should stay or walk to the nearby Fruit & Salad Co. - not wanting to end the night hoarse and half-deaf, we elected to go elsewhere. —daverea
---
2009-08-07 23:13:27 We gave The Pub at Bushnell's Basin a 2nd chance earlier this week, and were suitably impressed. When I called ahead to inquire about music, the hostess assured me that "Mondays and Saturdays are definitely quieter". We arrived and were seated promptly, and the service was reasonably quick throughout our meal. I enjoyed my "Basin Grilled Cheese" - a concoction of Gruyère, tomato and thick-cut bacon on fresh, crusty baguette. On inquiring, our server explained that all of the Pub's bread comes from the Baker Street Bakery on Park Avenue. My dining companions enjoyed their meals - chicken fingers and a Basin Pub "signature" turkey sandwich - as much as I did mine, and we all commented on the particularly-tasty kettle-style chips that accompanied the meals.
While the food was tasty and the atmosphere much-improved without the blasting music, the Pub wasn't without a fault or two... The acoustics were poor at best (likely due to the drop-ceiling and almost-complete lack of sound-absorbing decorations) so adjacent conversations tended to carry and combine to form a definite din. The tables are quite close together, making passing diners unusually noticeable as they arrived and departed. Our server was friendly and helpful, but (understandably in a recently-opened restaurant) had to consult the kitchen on several of our questions. Fortunately, this pub's few rough spots are easily overlooked once the meal arrives, and aren't anything that can't be readily corrected by a responsive owner. All-told, the Pub at Bushnell's Basin is definitely worth checking out! —daverea

---
2010-03-15 13:12:06 This place has an outstanding Rueben and roast beef sandwhich. If you order the King Rueben, it is 12 ounces of corned beer — could be the best in Rochester. The wings are very very good. They have 3 dollar guinness on Friday and Saturday, so that it pretty good. The downside of this place is that it is always too loud. Whether it is the loud music on Fridays, or the poor acoustics when there are a lot of people there, this is not the place to have an intimate discussion. Also, it is a great alternative to the Pittsford Pub. —ScottLaRock
---
2010-06-01 16:45:31 Just recently went to the Pub at the Basin to celebrate a good fortuity on a Thursday. I had great wings, and an outstanding sandwhich and a couple of strong T & Ts. But, some guy was singing Sinatra songs and doing magic tricks. It was kind of funny. I wonder where they are going with this Johnny Fratto fella. —ScottLaRock
---
2010-06-03 11:27:01 I highly recommend this place. We stopped in for lunch about a week ago. The wings were well-cooked and very meaty. The Super Hot sauce was very hot (which is hard to find), yet still tasty (a combination that is nearly impossible to find). I got the "Queen Size" roast beef sandwich. When it came, I thought our server accidentally wrote down "King Size" as it was enormous. My boyfriend got the Basin Burger with bacon added. It came out medium, not medium-rare has he had ordered it, but the bacon more than made up for it. Instead of the single, droopy piece of bacon, cut in half and laid out in an X across the burger, it was topped with 4 strips of freshly cooked bacon - well worth the additional dollar. The sandwiches come with chips, but for a very small charge you can choose from a variety of upgrades, including fries, sweet potato fries, soup and onion rings. Heck, even the pickle that came with the meal was a whole dill pickle. It doesn't get much better than that!
Sure there were a few minor problems. The Pub is very small and the tables are centered around the bar area. Lunchtime was quiet, but I don't think I'd go there for dinner on a Friday night. The menu is limited, but is supplemented with a variety of daily specials. Unfortunately, they don't update the website to show these specials.
All in all, the food was delicious and the prices fantastic. I plan on returning to Basin Pub. Again and again and again. —ChristineH

---
2011-02-14 14:33:23 I go to The Basin Pub regurlarly on weekends. I can't speak for the food since I usually go after the kitchen is closed, but it's a fun neighborhood place. The bartender is a lot of fun and my drink is never empty. The people are always cool and the TV set-up is the best in the city. You can see any game you want right from your bar stool. —BarGuy
---
2011-11-10 22:55:07 Been here twice. This is a cool place. It's called a "Pub", but not something like the Old Toad. While they do have lots of delicious sandwiches and pub style food, they also have plenty of healthy options. They do a really nice job with their menu and the food. There's a big bar area to hang out at, or regular seating too. The good food, plus the nice interior and some TV's to glance at, make this a great place. Try it out! —VinceC
---
2013-01-25 18:21:33 The service here is the worst I have ever experienced at a bar in Rochester. Horridly overpriced. —Cretinx