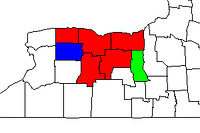 Rochester CSA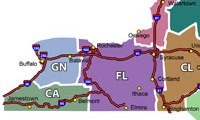 ILoveNY.com Regions The Greater Rochester Area normally refers to the Census Bureau's
Rochester Metropolitan Statistical Area which includes Rochester, Monroe County, and the surrounding Livingston, Ontario, Orleans, and Wayne counties - shown in red in map at right.
The Census Bureau's
Rochester Combined Statistical Area extends the area to include the micro-statistical areas of Batavia (Genesee County = blue) and Seneca Falls (Seneca County = green). As of the 2010 Census, the CSA had a population of 1,149,653. 1
The other major areas of Western New York include the
Syracuse MSA to the east and the
Buffalo-Niagara Falls MSA, to the west.
New York State breaks down into
named regions, with parts of the Rochester Area falling within the northwest corner of the
Finger Lakes Region. As part of that region, our focus extends east toward Syracuse and south toward Corning.
Other Perspectives on defining the Rochester Area:

See also:

Comments:
Note: You must be logged in to add comments