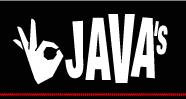 Java's is a Rochester brand with several area locations and names as well as a rather confusing business history. All of their coffee is Fair Trade.
Current Operations
Affiliates
Previous Operations
History
Java Joe's and the Public Market
Java Joe (aka Joe Palozzi) began farming coffee in Hawaii thirty-some years ago. Returning to his hometown of Rochester in the early 80s, he began roasting and selling
coffee at the Public Market and from a store at 16 West Main.
Sometime later, after success on Gibbs Street (see below) he opened a new cafe, Java Joe's, in the Union Building at the Public Market. After operating there for about two years, he moved to a new facility in an adjacent building, now painted blue. Public Market regulars have long known Java Joe, who seemed a fixture there; where he flame roasted and sold coffee, oversaw his cafe and breakfast and lunch counter.
In building his popular brand, he licensed "Java Joe's" to a cafe and bakery on Park Ave at Goodman, and to a line of coffee he does not roast—it sells in supermarkets.
Java Joe's was purchased by Boulder Coffee in 2008 and is now operated under new management.
Java's Cafe
Java's Cafe began in 1992 as Java Joe's Cafe - a new location for Java Joe's at 16 Gibbs Street. Joe started the cafe in partnership with Michael Calabrese, whose father owned the building. They opened the new cafe adjacent to Eastman School of Music in the tradition of coffeehouses in college neighborhoods, decorating the walls with offbeat art and booking latent musical talent.
Flush on the success of the Gibbs Street location, Java Joe sold his share to Michael, his friend and partner, who renamed it Java's Cafe. Joe returned to the Public Market location.
Michael opened Cibon on Park Avenue and about one year sold it to friend who has been running it ever since.
Michael expanded the Java label with Java Wally's in the Wallace Library at RIT.
Upon completion of the new student union on the Brighton campus of MCC, he opened Java's MCC in the pattern of Java Wally's.
Media mentions
In May 2005 Richards and TV crews enjoyed free coffee from Java Joe's, who was gracious even though he was a staunch Bush supporter and stayed away from the petition.1
Awards
Notes and References
Previous Comments
From Java Joe's at the Public Market

---
2006-12-20 08:50:45 Best coffee there is. Period. Now offering a full menu of breakfast and lunch. The finest Pastrami and Corned Beef this side of Manhattan. —JackPorcello
---
2007-12-09 08:43:50 Things appear to be in a state of flux at the market, but apparently Joe will be resurfacing at another location soon. —JackPorcello
Comments:
Note: You must be logged in to add comments
---
2010-03-21 12:44:13 The service is unfriendly. I have gone hundreds of times, and I had a smile maybe 2 times...never happy to see a customer. The coffee is not good enough to stand on its own, but they have a varied selection of teas. —aurorasmith