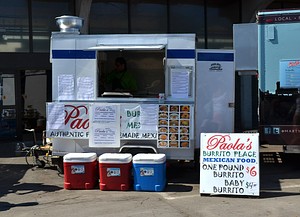 Paola's Mobile Kitchen, August 2012
History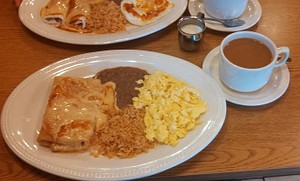 Breakfast available on the weekends, December 2013
Paola's used to have a brick-and-mortar restaurant at 1011 Culver Road. They opened there in October 2010, having previously been on South Avenue and East Henrietta. They closed again in 2012 but started the food truck. They officially re-reopened on December 2, 2013. The restaurant finally closed for good in September 2015. In June 2017 re-opened a new brick-and-mortar store called Mi Barrio in Corn Hill.
Comments:
Note: You must be logged in to add comments
---
See Archive Page for comments prior to 2009.
---
2009-01-01 12:37:31 Not sure I would know "authentic" if it hit me in the face, but we love Paola's. Great fajitas (half pound is plenty for two), great cheese sauce (with guacamole or beef), fresh salsa with wonderful flavors. One of our regular "take-out" joints... —LeGrandChien
---
2009-01-21 17:26:12 Paola's is closing - moving to Texas. I'm not sure when but you better get there soon. —Adettman
---
2009-01-25 10:48:32 I spoke to one of the owners just yesterday. They will be closing sometime in July and opening up shop in Austin, TX. —TacticalEvilDan
---
2009-03-28 12:22:37 Sad to see a business leave, but-
I've never had anything at Paola's that was noteworthy. Why would you slather a burrito in queso? Gaah.
And Austin? Can't imagine this food would fly down there. —ZachSmalt

---
2009-05-31 12:25:03 One of my all time fav mex places in roc. I poke with the owner yesterday. He plans to close at the end of July. —MartinWright
---
2009-08-13 18:13:32 Paolas is officially closed - drove by last week and everything is gone! Unfortunate, too - their guacamole was amazing! The burritos were good if a little bland, but I thought the tastiest thing were the flautas. Mmmm. —MRich
---
2010-03-02 16:43:58 I just drove down Culver Rd just north of East Main (near Garson) and there is a sign on the old Black Tie Catering building that said "Coming Soon - Paolo's Burrito Place". I hope that it is the same one! Anyone heard any news on this? —jlb8131
---
2010-05-24 19:25:19 For several months there has been a sign in the window of the former Black Tie Catering on Culver Road announcing that Paola's is "Coming Soon". Does anyone have any information about what's going on? We really miss their Carnitas Burritos. —vcook
---
2010-07-01 13:31:33 I drive by the culver rd spot near parson everyday. They have been doing a lot of work there the last 2 weeks. Not sure if its the same owners though. —MayDay
---
2010-07-01 13:32:37 Sorry, I meant Garson, not parson. —MayDay
---
2010-09-07 13:14:41 Paola's is reopening by end of September at 1011 Culver Rd. It's the same owner. I spoke with him today - he said he has all the permits - the place needs a bit more work. This used to be the best mexican food in town by far. Really looking forward to the re-opening. —freudincarnated
---
2010-09-13 11:30:58 YAY! so glad to hear that this is the same owner as the Henrietta location. The building was just painted last week and it looks great!! i can walk to this place and cannot wait until it opens. We need more placed like this to come to that area!! —alison
---
2010-10-04 14:04:47 YUK. i was happy that paola's relocated to my neighborhood, and they have just opened their doors, after waiting for what seemed like ages. so, hubby and i happily traipsed on down, and were treated very rudely by the cashier/waitress. whatever; we wanted mexican food! so, after deciding, we ordered chile verde with no rice and a burrito mexicano, pork. we got home, and broke into our bag... what?!? the chile verde had no beans, and extra rice- yuk, and the 4 corn tortillas (that we paid extra for) were stiff and dripping with grease. whatever, we had some tortillas in the refrigerator. so, as i heated our own tortillas, hubby ran back to paola's for beans. when we finally sat down to eat, i was so-o-o- sad... food that tasted little of anything but grease. all that trouble, and $20 down the drain, along with the hope that we had waited forever for. it was yucky, and that is sucky. —jeanettejeanette
---
2010-10-06 12:45:36 Been watching with anticipation and excitement as this place was renovated in my neighborhood . Regardless of my review, or others, this place is a welcome improvement on the seemingly insurmountable blight of N. Culver, and I'll support them just so that the neighborhood continues to improve.
I went for lunch today and ordered the Lunch Taco Plate. You get a choice of meat, and I ordered carnitas, which is the king of all Mexican meats, and a good measure of a restaurant's quality and athenticity. The meal was served with a side of house-made refried beans, Mexican rice, and 2 tacos that included tomatos, onions, cilantro, sour cream and guacamole (ordered extra). One of my tacos did not have guac, but I chose to let it slide. The beans were what you should expect, fresh, lumpy, but with a flavorful gravy. The rice was ho-hum (it usually is at most places), and probably instant. The tacos were served on corn tortillas of the thin, leathery yellow-corn variety. I prefer the soft, white corn tortillas, but the thin yellow ones may be a regional preference of the owner's home state. Either way, it's not as if there's a tortilleria in Rochester where you can get fresh, hand-made, quality tortillas anyway, so I'll consider this a matter of taste. The carnitas, however, were FANTASTIC- cubes of fatty, crispy pork, freshly hot from being fried in lard adorned my tacos in generous helpings. I make my own carnitas, and these beat mine (which I considered to be the best in town) hands-down. I'll go back next time, just for the carnitas plate, which is served with white flour tortillas.
A few addtional notes: No jarritos, horchata, or other typical drinks of Mexico. When I asked for Horchata, the cashier said that they don't have it yet. Hopefully soon. Prices are typical of Mexican food in Rochester, cheap, but not the eye-poppingly cheap prices you'd get at taquerias in the Southwest. Overall, my meal had some minor minuses, and 1 BIG plus. It's right down the street from my house, which ensures that no other Mexican joint in Rochester will ever get my business again.
Edit: Returned for dinner on Friday night. Got the Carnitas plate. Excellent. Also, the menu changed already, and they now have Horchata and Jarritos - talk about quick changes! The chile rellenos were also quite good. BYOB, but they only have plastic cups. A huge improvement could be made if they added table service. Seeing as how my previous call for drinks was met so promptly, I'm hoping this suggestion will have legs as well! —ErikReinert

---
2010-10-22 22:54:26 I went there last week with co-workers and it was fantastic. Plus our food came very fast, good service. —AdrianMartin
---
2010-10-24 12:59:05 The food is so so, Taco Bellish flavors but just slightly better. The salsa was terrible and that is a deal breaker for me so probably won't be back. It tasted like Campbell's Tomato Soup. —NewtonNola
---
2010-10-25 15:14:08 Went for lunch today and it was brilliant. Friendly waitstaff, delicious tamales! Got them fiesta style with some lovely guac and sour cream. —RyanPDonahue
---
2010-10-27 12:21:31 Ordered take-out today, Lunch Fajita tacos and a Grilled chicken burrito. For 6.99, you get 2 rather small tacos with not a whole lot of chicken, a scoop of re-fried beans and a scoop of rice. Pretty nondescript as far as tacos go, nothing to write home about and expensive at 7.00. The burrito came covered in bland tomato sauce and cheese wiz, didn't expect that at all. I remember way back when Hot Rosita's was on Dewey ave and they used to do burritos "wet". The flavors of the burrito were decent, but it was all rice and beans and hardly any chicken. I had to ask the guy who picked up the lunch if he got the order right. The burrito was around 7.00 also but considerably more food than the taco plate. Chips and salsa came with but the salsa was really bland as it was basically cooked tomato sauce and flecks of dried cilantro. I really don't know, I'll have to try some other dishes before writing it off but I won't order either of the items I had again. —GordonAnderson
---
2010-10-29 08:25:19 Enjoyed our lunch, watch the Cheap Lunch Crew in action at
http://www.rochesterfoodnet.com. —JimBarbero
---
2011-03-07 09:16:39 Had Paola's last night and it seems much improved, the salsa tasted better. Still wish they used Cheese instead of processed cheese sauce. —NewtonNola
---
2011-04-08 11:22:17 I was looking forward to trying this place - as I LOVE mexican and remembered the old one was pretty good. Sadly, it was nearly inedible. I think I just threw out most of it. Everything was tasteless and the corn tortillas just fell apart, making them quite impossible to eat. —katsweeney
---
2011-04-23 12:48:47 Ate here for the first time last night, carryout, and agree that the flavors are Taco Bellish. Not bad. Not great. Definitely cheaper than Salena's. We may try it again since it's close and not too expensive. Had the chile relleno, pretty good, but a bit soggy, and the enchiladas supreme, nothing to write home about. Salena's Mexican Flag enchilada plate is a lot better. Going to try Monte Alban next. —KatieSchmitz
---
2011-05-15 13:55:05 Friday evening we dined for the first time since Paola's reopened on the NorthEast side of town. The dining area is small but colorful with lots of tile decorations. It seemed like they were still finishing off other areas of the restaurant. My wife loved the tamales plate, with the tamal being lighter than at most Mexican joints. I enjoyed the pork enchiladas verde - but wished they had a little more spice. (That is what hot sauce is for!) The family was very friendly and pleased that we appreciated their home-style food. Maybe it is not gourmet cooking, but hearty and good for about $8 a plate including main, rice, beans and chips/salsa. We'll be back! —JGerek
---
2011-06-07 13:36:39 Paola's is now offering bottled beer. I got the Carnitas tacos again on Sunday night. They switched to flour tortillas, an improvement over the yellow corn. The carnitas tacos are the way to go here. —ErikReinert
---
2011-10-11 12:57:25 PAOLA'S BURRITO PLACE STUDENT DISCOUNT
STUDENT DISCOUNT
25% OFF
LUNCH OR DINNER PLATES
MUST BRING STUDENT I.D
Expires 12/31/2011 —ArturoMartinez

---
2011-10-28 09:55:12 Glad to see them back from Texas.
My wife & I really enjoyed their chilis rellenos — their take is not deep fried, but still very tasty. Salsa is fresh-made, tends to be more like Herdez than the type of stuff you'd get at a chain Mexican place. Friends who've done time in TX, NM & AZ tell me they're pretty real. Agreed that table service would be an improvement, but they were like that before they moved away so I don't expect them to add it now. Great place for a Sunday brunch — BIG cups of strong coffee, tastes like one of the Mexican brands (a little darker-roast than most of ours). —EricScoles

---
2012-07-21 10:52:08 Restaurant appears to be closed down. They do however have a food truck at the Public Market. —NewtonNola
---
2013-03-06 12:38:38 The truck is now parked by the UR School of Dentistry entrance M-F at lunchtime. Just pull into that circle and go to the left and there's some room to park. —PDub
---
2013-10-04 10:21:48 "COMING SOON" now on a banner on the Culver Road location, and it is a Paola's Burrito Place banner. In other words, it looks like they are re-opening in the same location. —amyLa
---
2013-11-13 09:44:44 Today a "Re-Opening Dec. 2nd" sign was placed outside their former Culver Road location! —KatieS
---
2013-12-03 22:14:42 They reopened as scheduled on December 2; Facebook page is active (https://www.facebook.com/pages/Paolas-Burrito-Place/143589562366547) but the old website is dead. I would take a stab at updating this page but I have no idea what the status of the food truck is. —markjackson
---
2013-12-19 21:57:08 He is doing breakfast on the weekends. Coffee is very good. Breakfast was fine, nothing special but well done, quick, and filling (it's basically his standard food, just with a side of eggs). Owner is very nice, says he plans to keep the restaurant open now, even in the nice weather when he runs the food cart, he's hiring a manager so he can keep both active. —DottieHoffmann
---
2014-03-17 10:45:34 I'm sad to report that each time I visit, I'm more disappointed with the quality of the food. We had bean burritos to go the other day and they were particularly lackluster: not stale but not fresh; assembled but not made with care; not bland but not delicious. I'll not be returning. —JasonOlshefsky
---
2021-02-03 16:57:06 I've lived in Philly for almost a decade and I miss Paola's right up there with Dogtown and California Rollin'. <3 —eugenecain