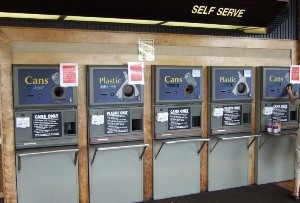 Photos courtesy BradMandell
The Rochester area is an active recycling community with returnable bottles and cans, curbside paper and metal recycling collection, and numerous other recycling activities. See our Rochester Environmental Issues
Bottles/Cans/Plastic - Residential - Scrap Metal - Compost - Electronics - Other
Bottles, Cans, and Plastic Bags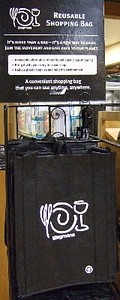 Under
New York State's Returnable Container Act (Bottle Bill) returnable carbonated beverage bottles and cans can be redeemed at local retailers, such as Grocery Stores, Convenience Stores and redemption facilities.
Cans and plastic bottles are typically fed through automated machines that read the container's barcode, reject any non-returnable containers, and issue a ticket receipt for the total containers entered at the machine. Bottles are returned at an associated counter near the automated machines. Visitors from outside New York, especially children, may be interested and amused by the process.
Many of the larger redemption areas also provide containers for shoppers to recycle plastic bags, such as those used for groceries. Some retailers are now promoting reusable shopping bags as an alternative to the plastic bag. Plastic bags may also be taken to Rochester Greenovation
.


Residential Recycling
The mainstay for residential recycling in the Rochester area is the
Monroe County Residential Recycling "Blue Box" program. As of 2014 the county has gone to a Single Stream Recycling process so there is no need to segregate these materials within your recycling box.
Materials which can be placed into the provided blue bins for this curbside recycling program include

Metal cans/lids, pots & pans, aluminum foilware


Glass bottles and jars (clear, green, or brown)


All plastics (#1-7)


A wide variety of cardboard and paper products
Please do not put plastic bags in your recycle bin. Monroe County does not have the facilities to recycle them and they can damage the equipment.
Scrap Metal
Scrap metal, both ferrous and non-ferrous, is a valuable commodity. Scrap Metal Dealers will buy retail scrap from consumers or businesses. If you have too little to make it worth selling, it can also be taken to the ecopark where it will be recycled without any cost or payment to you. Rochester Greenovation also accepts bulk scrap.
Note that as scrap metal prices have risen dramatically this has prompted certain unscrupulous individuals to steal any metal objects that aren't nailed down, and some that are.
Compost
Community Composting is a company that collects compostable materials door-to-door for a monthly or yearly fee. They serve the following area codes: 14604, 14605, 14607, 14608, 14609, 14610, 14614, 14618, and 14620. Scraps may also be brought to Rochester Greenovation for pickup.
Many people in the area, including the city, do their own composting. They may be willing to accept their friends' compost as well.
Impact Earth is a is a company that collects compostable materials door-to-door for a weekly or bi-weekly fee. They also have some lifestyle shops offering kitchen, bath and Laundry items that are locally sourced and fair trade.
Electronic Waste
Disposal of electronic waste through the normal curbside garbage pickup programs is not a responsible option to take (and is illegal for business and institutional waste generators). Electronic waste contains a number of materials that can be readily recycled (copper, iron, plastics) and some that are environmentally problematic (lead). A number of alternative options to landfilling electronic waste are available.
As of 2011 manufacturers of electronics must provide programs for recycling electronic scrap based on the volumes of product that they sell in the state. Most electronics retailers now offer free recycling for specific consumer electronics covered under the NYS Electronic Equipment Recycling & Reuse Act. In addition:

See also the
Monroe County Electronics Recycling page.
Other
Many products used around the home (e.g., paints, solvents, pesticides) can be dangerous if disposed of in the general trash stream. The county runs a Household Hazardous Waste Program to collect these materials and dispose of them properly. Periodic collections are scheduled in local Towns and are done several times per month at the ecopark.
For consumer items that are still usable and in good condition there are many options to Sell, Barter, Consign, or Donate Stuff. Buying used is also helpful to the environment.
SewGreen Rochester accepts scrap fabric and clothing.
Bottles/Cans/Plastic - Residential - Scrap Metal - Compost - Electronics - Other
Comments:
Note: You must be logged in to add comments
---
2010-03-04 12:51:58 Should a link to Imagine It Recycling be added in someplace? They seem prominent as they have significant media coverage. —DanielChristensen
---
2012-08-15 14:38:19 X-Ray films recycling services in Rochester NY
http://www.xrayfilmsrecycling.com/New-York/Rochester-Monroe-County.htm —SamBizaoui