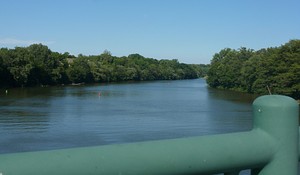 The banks of the Genesee River, between the UR River Campus and Plymouth-Exchange, as seen from the Ford Street Bridge.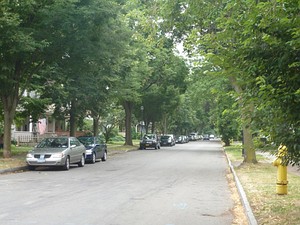 Meigs Street, between Park and East. Rochester is blessed with a large number of trees, with many a roadway and sidewalk shaded by a green canopy.
History
Where the city is now was once a forest so dense that early settlers even used trees to build roads. Though paved today, Plank Road and East Henrietta Road were once wooden highways, as evidenced by the former's name. The first buildings in Rochesterville were, of course, log cabins.
During the War of 1812 the trees actually saved our fledgling village from total destruction by the British. After pillaging and razing Buffalo and Lewiston, the British docked in Lake Ontario at the mouth of the Genesee River. Lacking adequate reinforcements, the Americans marched in circles in and out of the thick woods to give the illusion of large numbers. Unable to see for sure how many troops there were, the British decided against landing and sailed to the east three days later. And thus Rochesterville was spared. It was around this time that the first sawmills were established at the falls on the Genesee River and finished lumber became available.
The first public trees were planted in the 1830s on Washington Street by prominent flour miller Hervey Ely. Extensive planting took place throughout the ensuing decades, further spurred by the rise of Rochester's famous nurseries such as Ellwanger and Barry. George Ellwanger and Patrick Barry scoured Europe for best trees they could find, for both their business and their city. To them Rochester owes its many grand European beeches. The city's nurseries influenced the types of trees planted, with many catalogs advertising certain species as suitable for parks and streets. These included maples, elms, poplars, linden, larch, horse chestnut, and locust. Many of these can still be found throughout Rochester and reflected in names like Linden Street and Chestnut Street.
Meanwhile, Oxford Street was developed in the 1880s by H. E. Hooker, owner of Hooker Brothers Nursery. The magnolias lining its grass median have been faithfully blooming each spring ever since.
By the 1890s, the first annual report of the Parks Commission notes the efforts undertaken by residents to plant trees in front of their homes. The Parks Commission was subsequently tasked with the trees' care and began planting additional trees in 1899. They were succeeded by the Department of Parks in 1915.
In March 1991 a large ice storm killed over 14,000 trees, which were slowly replaced over a four-year period. This led to the development of a tree-planting plan that emphasized arboreal diversity to lessen the impact of a similar event in the future. Each street received its own individualized plan in order to maintain a variety of visual appeals and neighborhood characteristics.1
Trees Today
Rochester is still very much an urban jungle. Since 1981 we have been named a Tree City USA 2 every year by the Arbor Foundation. This means we have a tree department, a tree care ordinance, a comprehensive community forestry program, and an Arbor Day observance and proclamation. Healthy trees bring many benefits to city living by softening artificial concrete environments and delighting the eye with their many forms and textures. Most importantly, they trap particulate pollutants that can damage human lungs and absorb CO2 and other dangerous gasses, replenishing the atmosphere with oxygen in return. They also lessen the effects of the urban "heat-island" effect with their shade and absorption of water, which helps relieve humidity. 3 4
Rochester's public trees are maintained by the
Forestry Department, which includes a Tree Team program to encourage the care of young trees.
In 2011 the University of Rochester joined the Arbor Day Foundation's Tree Campus USA. Less than 100 colleges and universities nationwide have earned this honor. UR is the sixth member from New York State. 5
Good Places to See Trees
This also includes just about any residential neighborhood.
See Also
Comments:
Note: You must be logged in to add comments