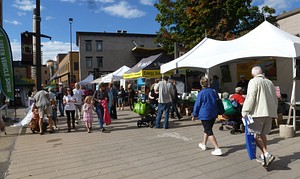 The Greentopia Festival, presented by Monroe Community College, was Rochester and the Finger Lakes' celebration of the green movement. The interactive festival was designed to exhibit what the region is doing to help the environment and explore healthier ways of living as individuals and as a community. Businesses and organizations showcased their products and programs designed to promote sustainability.

Everything at the festival that could be recycled was recycled, including plastic utensils, napkins, and food scraps. Incentives were provided to attendees arriving in green modes of transportation.

Greentopia was first held as a two-day festival in the High Falls District in 2011. For their second year they have expanded considerably to include a film festival, art exhibits, and a conference on innovation.
The last festival appears to have been held in 2015. Greentopia the organization now does other events.
From the Website

Greentopia 2012 is a week-long celebration of inspiration through art, music, organic and locally grown food and beverages, ideas and activism. The expanded event will contain four programmatic aspects, which include Greentopia | INNOVATION, Greentopia | FILM, Greentopia | MUSIC and Greentopia | ECOFEST. In its first year the event drew between 18-20,000 people to the historic High Falls district. Through how-to workshops and cutting-edge films, visitors learned about big green ideas and how to apply them creatively in everyday life. There are special family activities, a community recycled art installation, mouthwatering organic and local food and beverages, and all kinds of live music.

Past Eco-Fest Exhibitors and Vendors (Select)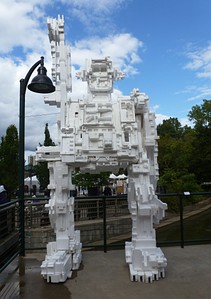 Art installation made out of Styrofoam packaging.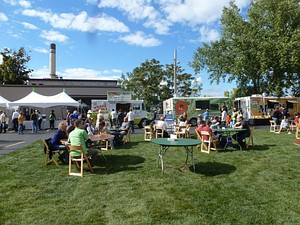 Food court
Comments:
Note: You must be logged in to add comments
---
2016-06-15 11:39:49 I believe the festival is gone now —Damiankumor
---
2016-06-16 07:41:17 I think there's still a much-diminished gathering. From what I'm told, they got taken to the cleaners by an unscrupulous organizer. Also, apparently this festival was BS in the first place. My friend was a vendor and he witnessed two volunteers throwing out an entire unopened carton of bottled water. (And what was an eco-fest even doing with bottled water in the first place?) He said the festival management didn't care when he told them. —EileenF
---
2016-10-12 15:37:42 That's too bad. I went a couple of years back and it was a nice little event. —DE