Upper Monroe is a Rochester neighborhood centered on the portion of Monroe Avenue on the other side of I-490 from the Monroe Village section. In terms of character, Upper Monroe is quite distinct from Monroe Village, being quieter and generally more upscale, especially as you move closer to Cobbs Hill Park. Upper Monroe is also much more residential, with housing options ranging from single family homes to duplexes, multiple rental units and a few larger buildings. That combined with the heavily wooded Pinnacle Hill gives the neighborhood a much more suburban feel than you would normally find in the city. Housing prices are lower than the Park Avenue area, which is just a short walk away.
In 2015 Upper Monroe was a
Critic's Pick for "Best under-the-radar-neighborhood" in City Newspaper's annual Best of Rochester awards. Leah Stacy described Upper Monroe as "a natural progression for young couples or even families who want to move beyond renting in the trendy Park Ave or South Wedge areas. . . Cobbs Hill is within walking distance. The Culver Road Armory boasts high-end shopping and eateries — with another expansion in the works. Street parking is always available. Single-family homes are affordable and sit on tree-lined lots. The city's largest community garden, Wide Water Gardens, is located between Rosedale and Hinsdale streets. Upper Monroe? More like Upper Fun-roe."
Despite their differing character, both Monroe Village and Upper Monroe come together every year for two annual festivals: the Show on Monroe in the summer and Monroe Village Harvest Fest in the fall.
The west side of Cobbs Hill Park is the Cobbs Hill Neighborhood. Monroe Avenue continues into Brighton and then Pittsford.
Horticulture
Much of the residential streets to the south of Monroe Avenue were once under the cultivation of the
Crosman Seed Company. The company moved to East Rochester in 1924, but the brick building that originally housed the company still stands on the south side of Monroe Avenue between Crosman Terrace and Laburnum Crescent. Today, the neighborhood association honors its history by hosting a plant sale each spring at
New Life Presbyterian Church. Upper Mount Hope also contains Rochester's largest community garden, the Wide Water Gardens at Rosedale and Hinsdale Streets.
Culver Road Armory
The Culver Road Armory, a neighborhood centerpiece, was recently decommissioned. As of 2012, it is currently in the process of being converted to a mixed-use development containing apartments, shops, offices, and an art gallery. The
Rochester Broadway Theatre League has plans to open performing arts complex there.
Establishments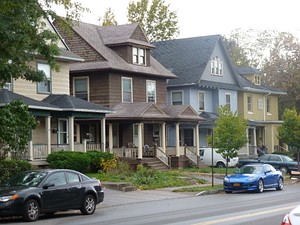 Homes along Monroe.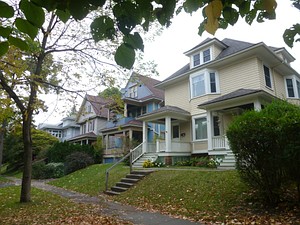 Establishments - Culver Road Armory
Links
Comments:
Note: You must be logged in to add comments