South Plymouth Ave, looking towards downtown
Plymouth-Exchange, or PLEX for short, is a neighborhood centered on the parallel roadways of South Plymouth Avenue and Exchange Street. It is a largely residential area where University of Rochester students and employees mingle with working-class families.
Note that PLEX is often lumped in with the adjacent 19th Ward, which is larger and more well-known. Brooks Landing forms a busy, active border between PLEX, the 19th Ward, and Genesee-Jefferson. The northeastern border of PLEX includes the Ford St and South Plymouth Ave Traffic Roundabout where the two streets intersect. PLEX can be reached from Mount Hope Avenue and the South Wedge by crossing the Ford Street Bridge and going left. Going right is Corn Hill.
Running along the southeastern border of PLEX is the Genesee River Trail, between Exchange St. and the Genesee River. Entrances to the trail are located at Flint and Violetta Streets. The geography of PLEX is also notable for the hill on South Plymouth that offers some very nice views of the downtown skyline.
Both rent and real estate are extremely cheap. House prices are well within the five digits, sometimes as low as $25,000 for small ones.
Development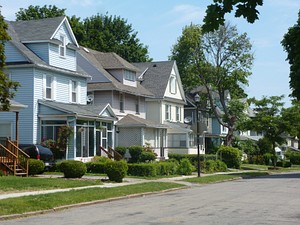 One of the neighborhood's more attractive streets, noted for its many homeowners. (June 2012)
In recent years PLEX has experienced a surge of redevelopment, including new businesses,
new housing at Carlson Commons and Plymouth Manor, and the University of Rochester's Brooks Landing Project, particularly Riverview Apartments.
In January 2012 UR
announced that it was expanding the Brooks Landing Project to include yet more student housing. The new dormitory, located on Plymouth Ave (on the border between PLEX and the 19th Ward), is expected to be eleven stories high and home to 145-170 upperclassmen, in addition to the 400 already living in Riverview. A restaurant open to the public will occupy the first floor.
On June 16, 2012 a
Riverfront Design Charette was held for PLEX residents to brainstorm with UR officials and community planners from the city. The most common requests included a well-stocked grocery store, a laundromat, a possible ice cream parlor, greater walkability, new green spaces, and the sprucing up School No. 19, which is currently bland and foreboding. Riverview Place, a dead-end street known for its tiny cottages, received a fair amount of attention as a possible candidate for an historic district.
The biggest concern was the
brownfield surrounded by Riverview Place, Exchange Street, Flint Street, and the Genesee River, where the entrance to the Genesee Valley Trail is located. It was the site of a New York Standard Oil refinery until the 1930s and is still contaminated. The City of Rochester states that it is presently working out a plan for clean-up with Exxon Mobile, the successor company to New York Standard Oil, but no deal has yet been reached. Another problem is the junk yard and several abandoned warehouses there. Suggestions for new uses included loft apartments, a gym, a large grocery store, and an outdoor sporting center and bike shop to tie in with the Genesee Valley trail.
Preliminary long-range plans based on input from the charette were released by the city in November 2012. They may be viewed
here.
In July 2012 UR opened the
Erie Lackawanna pedestrian bridge extending from the Genesee River Trail behind Exchange Street (near the Flint Street entrance) directly to Wilson Boulevard on the River Campus. (The first pedestrian bridge was the one at Brooks Landing, which opened in 1991.) This allows students living in Riverview Apartments quicker access to the River Campus and provide the UR community an easy way to reach downtown via bicycle. (Note: UR officials advise against using this portion of the Genesee River Trail at night, due to its isolation and lack of lighting.)
Most recently, in February 2014, neighbors and residents of PLEX released the PLEX Community and Multiversity Project for Urban Sustainability.
According to City Newspaper:
The project would build on the strengths of the Gandhi Institute, which is viewed by neighborhood leaders as an anchor for future development. The institute has a garden that is used by students from the nearby School 19 for summer projects, says John Curran, of the PLEX neighborhood association.

The C.A.M.P.U.S. plan looks at expanding on that concept by developing an aquaponics project to provide jobs in the neighborhood and skills training for young people, Curran says.

PLEX would also like to take fuller advantage of the neighborhood's proximity to the University of Rochester — a pedestrian bridge connecting the neighborhood to the university opened last year. Curran says it's too early to talk specifics, but the idea is to have the university become more involved in School 19. UR students already do remedial reading programs at the school, he says.
A Bad Reputation
Like the neighboring 19th Ward, PLEX suffers from a bad reputation due to its history and generally low-income demographics. There was a brief spike of muggings at Brooks Landing in 2007, but increased police patrols and a strong UR security presence attempt to address the issue. There are worse areas of the city, although reasonable caution should be exerted, especially at night and in the streets closer to the Genesee-Jefferson Neighborhood, which is very much a problem area. Jefferson Avenue has some issues as well.
PLEX may still appear intimidating to those unused to urban grit, but closer acquaintance reveals a strong sense of community pride and increasing signs of revitalization. Since they opened in Fall 2008, the Riverview Apartments have seen patronage of UR students, as have other off-campus living options in the immediate area.
For Students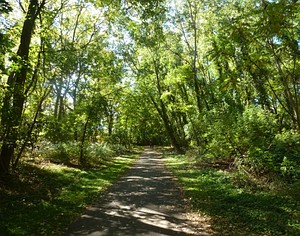 View of the Genesee River Trail as it runs behind Exchange Street.
Both Plymouth-Exchange and the 19th Ward contain large numbers of college students from the University of Rochester, MCC, and RIT. The number of UR students in particular has been increasing, thanks to the aforementioned construction by UR at Brooks Landing (see Development above). The free
Gold Line shuttle stops at both Brooks Landing and Riverview Apartments, while the RGRTA buses
18/19 and 18X/19X travel along South Plymouth and make periodic stops at Rush Rhees Library and Strong Memorial Hospital. Cost for those is $1 each way.
Please bear in mind that you will likely be living in a residential neighborhood with families and working adults, as well as homeowners who have made significant investment in the neighborhood. Please keep the exterior premises neat and refrain from loud late-night partying. As a student, you are representing your school, so always be polite and respectful when interacting with your neighbors.
Although most students have a rewarding experience in off-campus living, break-ins have been a problem due to carelessness in security. Before you leave, always lock your windows and doors and engage the burglar alarm, if your building has one. Do not leave valuables or other important possessions in your car. And again, do not use the Genesee River Trail or the Erie-Lackawanna Bridge at night.
For bicycles, see the Safety and Security section of the biking page.
Located in PLEX
Companies
Food and Retail
Ray Daniels Liquor Store - Jefferson Ave, right off S. Plymouth
Services
Worship
Other
Links
Comments:
Note: You must be logged in to add comments
---
2007-05-19 23:43:30 In my opinion, in 5 or 10 years, this neighborhood will be the next South Wedge with people saying, aw darn, where was I a few years ago when that real estate was dirt cheap? —JoannaLicata

---
2012-03-07 22:26:06 It's been five years since your comment. PLEX has not attained Wedge levels of trendiness yet, but it's slowly moving its way along. The Gandhi Institute just moved into an old crackhouse. UR has also done a lot thanks to the Brooks Landing project. So we've got cool places like Ant Hill Co-op, people like the Daves, and more and more UR students which also brings an increased security presence. So we're getting there. I'd definitely stick around. —EileenF
---
2012-03-16 10:20:14 It's missing the easy highway access like the other trendy areas have. —DamianKumor