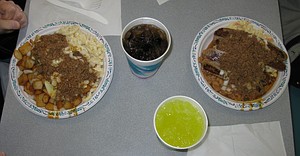 Nick Tahou's Jan 2010, BradMandell A Garbage Plate is a true Rochester delicacy. It is a disorganized combination of either cheeseburger, hamburger, Italian sausages, steak, chicken, white or red hots, a grilled cheese sandwich, fried fish, or eggs, served on top of one or two of the following: home fries, fries, beans, and mac salad. A plate is always made to order. Then, the plate is adorned with optional mustard, onions and Rochester's version of hot sauce. Some restaurants will charge for extra helpings of hot sauce, and the hot sauce varies widely in flavor and spiciness. A plate is usually served with a side of white bread and butter, though some restaurants charge extra for bread. It is said that the purpose of the bread is to soak up the grease left after you've eaten the garbage plate.
Also, some restaurants offer multiple meat plates. For example, you can choose two, three, or four meats to top your plate.
The original (Trademarked1) Garbage Plate is from Nick Tahou's but you can get a plate from tons of places. Even Horizons at the Lodge at Woodcliff, an upscale suburban hotel, has added a knockoff to their menu. It is called the Plat De Refuse, available to diners at a price of $15.75 per plate. The burger is made from elk and topped by Vermont Cheddar, the hot dog bison, the macaroni flecked with grape tomatoes, the beans homemade, and the hot sauce is actually a wild game chili.
Plates of Rochester is a site where comprehensive reviews of Garbage Plates at various locations are hosted.
Places to get a Garbage Plate
City of Rochester
A plate from the former Gitsis Texas Hots (by Flickr user andrewc
license info)
Regional
Elsewhere
Links
Nutrition Facts
Nutrition Facts1
Total Fat
3%
- Saturated Fat 0g
0%
-Trans Fat 0g
-Polyunsaturated Fat 0.5g
-Monosaturated Fat 0.5g
Cholesterol 0mg
0%
Sodium 210mg
9%
Potassium 200mg
6%
Total Carbohydrate 22g
7%
-Dietary Fiber 3g
11%
-Soluble Fiber 1g
-Sugars 1g
-Other Carbohydrate 18g
Protein 3g
Scott Stelick of
Cornell_University compilation -
Dietary Analysis of the Garbage Plate - an unofficial nutritional analysis, if you dare. (
Mirrored on Vallie.com)

1This is actually the nutrition information for Cheerios, but we hope it made you feel better in some small way.
Comments:
Note: You must be logged in to add comments
---
2006-01-04 23:51:43 Is that garbage plate spoiled? Look really nasty. I love plates and that one just looks harsh. —MichaelComet
---
2006-06-08 16:56:02 Yeah, that picture was bad. Replaced it with a CC Lic pic from Flickr for now. The Plate is from Rochester and we should represent it properly! —RickUrwin
---
2006-06-25 20:56:16 Eastridge Diner's plate gets my vote. It's all about the mac salad... —ChrisConchelos
---
2007-01-10 19:59:31 Some interesting trivia: Just watched an episode of "Unwrapped" on Food Network, where the theme centered around "funny foods"... and Nick Tahou's and the garbage plate were featured. After watching the guys at Nick's make one, I now have a huge craving... :) —CatherineConnolly
---
2007-03-29 12:23:19 I had a plate yesterday at Bay Hots in webster. Good stuff. —KimBee
---
2007-04-10 08:21:45 Just tried the Cheeseburger Plate at Steve T's Hots and Potatoes. BIG disappointment. Very wet on the bottom, not sure if the hot sauce is too watery or the mac salad is. Biggest let down was the lack of flavor. Whimpy's Burger Basket on Buffalo Rd. has a very good plate. Sorry Steve, Nick would be disappointed. —ScottPieken
---
2007-04-14 13:31:18 the klassy kat calls their plates "kitty litter plates"? now that's nasty! —GrahamSaathoff
---
2007-11-26 12:22:15 If a garbage plate only has .5 grams of fat I will eat my shoes. —DarrenKemp
---
2008-01-17 11:08:30 In my opinion Henrietta Hots has the best plate from the ones I've tried. —JoeLee
---
2008-01-19 02:07:49 it'd be a gram of fat, .5g +.5g=1g. They must have done it without the hot sauce, I imagine my double or triple sauce plates have a lot more fat than that. —JohnJoseph
---
2008-07-15 08:01:25 The new place in Pittsford called Hungry's has a damn good plate...i love their hot sauce. As well as Charlie's makes a pretty good plate.
But my vote is all about Hungry's in Pittsford (where Village Hots used to be). —Piper

---
2008-07-20 14:44:13 Red hot plate, mac salad homefry, with extra EVERYTHING.
Psst... Hank's Ice Cream & Roast Beef Sandwiches. —ZachSmalt

---
2008-07-21 17:46:43 My personal favorite is definitely Mark's (Texas Hots) plates ... when living on Rowley (which ends at Monroe, roughly near Mark's), we always called it the 'Mark's Texas Hot-obahn'. Heh, we thought we were clever. —BrendonTroy
---
2008-08-21 20:49:13 "Ah, supper," said Rincewind, as realization dawned. "This is one of those late-night, after-the-pub foods, right? And what kind of meat is in it? No, forget I asked, it's a stupid question. I know this sort of food. If you have to ask 'What kind of meat is in it?', you're too sober." — Terry Pratchett, The Last Continent —Users/RyanTucker
---
2008-11-07 14:18:20 Now why in the world would we use an inferior Mark's plate for the Garbage Plates home page? —MattDana
---
2008-12-30 19:31:40 Gotta find some other old biker guys to talk about Nick's. In the late 60's and 70's after a night of drinking and bike riding we would end up at Nick's for a bite to cut the alcohol.
It was fun hanging outside Nick's talking trash with the Ladies Of The Night and watching the dealers hustling. Food on the grill that was getting old and ready for the garbage could be had by the heaping plate for cheap.
Cheap, no choices and whatever was left. That's the Nick's garbage plate I remember.
Then the cops chased the ladies away and the dealers moved on and the bikers got tickets for loud mufflers. The Garbage Plate got a capital G and P and became something it never was.
I do miss those days. —HenriettaRob

---
2010-01-16 13:06:55 My wife and I took my brother and his wife from Tampa, FL to see the "original" Nick Tahou's. It was an experience. At first we thought we were in the wrong place, the area is quite depressed. But, the visit was well worth the effort. There was just a bit of the "Soup Nazi" flavor of a Seinfeld episode, the food was greasy, but hey, we understood this was not 2-Vine. Reminded me of a lot of the places I used to frequent back in the 50's and 60's. Had the pleasure of meeting Jim Allen, a local Jazz photographer exhibiting in the new Canandaigua Bank off Monroe Ave. He was a former Rochester School system principal who remembers the heyday of Nick's when jazz greats frequented Nick's late at night. Sometimes, a visit to times past and realizing our loss is a worthy reminder. —BradMandell
---
2011-08-28 20:32:17 1. Tahous 2. Gitsis 3. Charlie's on Empire 4. Hooligan's East Side 5. Tom Wahl "junker" plate —JoeBernardino
---
2012-03-16 22:10:27 Theere is NO WAY that nutritional info could be right. There must be at LEAST 75% of your daily fat intake and sodium as well (and that's only if you tell them to go easy on the hot sauce)! 3g protein? Probably more like 20+. Also, I question the use of the term 'delicacy'. More like a 'food meme' than anything.
BTW, those old enough to have actually KNOWN Nick Tahou know that the ORIGINAL plate is on a bed of half potatoes, and half BEANS. Anything else is a travesty. Also, I swear that they tasted better at 3 a.m., and the 'floor show' (hookers, junkies, old guys from the blues club down the street) only added to the 'ambiance'. Add at least 1 person passed-out either in a booth or on the floor, and you've got yourself the ultimate Nick Tahou's experience. Damn, I wish I could still eat like that..... —Alex-C

---
2012-05-11 17:43:12 Honestly, the best version of a garbage plate I've had is a Doodle Dumpster from Nicky Doodle's in the Utica/Rome area. They're definitely worth adding to the list! —BriannaH
---
2013-07-21 22:34:55 Some of my best garbage plate experiences include Culver Hots, Marvin Mozzeroni's, and my all time favorite, Sticky Lips. —sub619