Introduction
Park Avenue is a small yet lively tributary that runs west to east, starting at Alexander Street and going through Colby Street where it then takes a quick sharp turn and terminates at East Avenue. (Note that Park and East mostly run parallel. Park runs parallel to Monroe Avenue as well.) Other notable roads Park intersects with are Meigs Street, South Goodman Street, Oxford Street, and Culver Road.
Park Avenue forms the backbone of Park Central and Park-Meigs, which are two Rochester's best-known neighborhoods for strolling and shopping in an urban environment. We have decided to cover both neighborhoods on this page, due to popular usage of "Park Avenue" to simply refer to the entire area.
Traveling east from Meigs to Culver you'll find an eclectic mix of residential and commercial properties, including restaurants, bars, retail, and salons. The commercial density is greatest from the intersection of Edgerton Street to Culver. From Culver to Colby is the ABC Streets Neighborhood, which is quiet and residential.
The Park Avenue Summer Art Festival is one of the city's largest art festivals. It takes place every year during the first weekend of August. Another popular event is the Park Avenue Holiday Open House, held the first Thursday of each December. This is a great time to explore the many places to eat, drink, shop, or get a new hairstyle on the Avenue.
Not to be confused with Driving Park Avenue.
History
Park Avenue itself was first laid out in 1852 but did not assume its current form until 1875, when Park Avenue, Crescent Street, and Bates Street merged to create the Park Avenue we know today. It was initially a service street for the wealthy residents of East Avenue, lined with hardware stores, grocers, dress shops, and laundries. The neighborhood's blue collar roots can still be seen in the smaller homes closer to Alexander Street.
The area eventually attracted more affluent residents who couldn't afford East Avenue. Park Avenue subsequently became one of downtown's earliest suburbs, steadily growing in population and prosperity. Many grand homes were built during this era.1
Between the Great Depression and the 1950s, however, both East and Park Avenues began a period of decline. The advent of the automobile encouraged people to leave the cities and created noise and parking problems for those who remained. Many of the mansions and larger homes were broken up into apartments, prompting the formation of the Park Avenue Neighborhood Association in 1969 to focus on codes, preservation, and revival. The Park Avenue Summer Art Festival was founded in 1976, a time when Park Avenue was considered by many to be a "bad neighborhood." Needless to say, that time has long passed.2 3
Living in Park Ave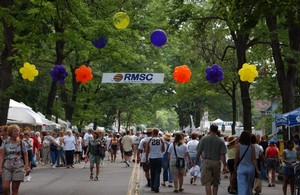 The crowd at the Park Avenue Summer Art Festival
One drawback to this neighborhood are its high rents. Though some have expressed concern about a petty crime factor (mostly car break-ins), city crime maps actually indicate that the area around Park Avenue is one of the safest parts of Rochester.
Park Avenue caters primarily to college or young professional tastes and lacks the diversity found in other city neighborhoods. From Culver Road to Alexander Street, adults aged 22-29 make up between 35 and 50% of the residents on any given block.4 Only 5% of Park Avenue households are families with children. Although whites are only 44% of Rochester's population, they make up 88% of Park Avenue residents.5
Park Avenue is conveniently located within easy walking and biking distance of other Rochester hotspots. North is the East Avenue Historic District and the Neighborhood of the Arts. A few blocks south is the Monroe Village portion of Monroe Avenue, another active area of the city for restaurants, bars, and shops. West of Park Ave is the happening nightlife of the East End, while the South Wedge is about a five-minute bike ride. Parts of Park Ave, Monroe Village, and the East End are considered to form the Park-Meigs Neighborhood.
Rochester landmarks within easy walking distance include the George Eastman House, Memorial Art Gallery, Rochester Museum and Science Center, and Village Gate. The Public Market is less than a mile away up Goodman Street. The Rochester Public Library has a branch close by on Monroe Avenue, with the Monroe Family YMCA right next door. The East Avenue Wegmans is a quick bike ride; or take the convenient #7 bus line that runs up and down Park. There is also a PriceRite on University Avenue.
Overall, its great location, vintage charm, trendy dining scene, walkability, and all-around cool factor won Park Avenue the "Best Neighborhood" award in City Newspaper's Best of Rochester 2013 poll.6
Apartment Info
The neighborhood is famous for its curb appeal. Most homes were built between 1890 and 1930 and exhibit incredibly diverse architecture, including various Victorian styles, the American Foursquare, the bungalow, neo-Classical, Italianate, and even the odd Art Deco or Mediterranean. Six new Tudor-style townhouses called Barrington on the Park were completed in 2015 and start at $500,000. Owner-occupied homes otherwise tend to be in the ABC Streets section.
Still, some 81% of Park Avenue-area residents are renters7, which gives the neighborhood many options when it comes to apartments. Studios and one- to three-bedroom units are plentiful. Most of the housing stock is former mansions converted to multi-family dwellings. These often boast luxurious historical details such as hardwood floors, wood trim, stained glass windows, grand staircases, columns, porches, and even towers. There are a few complete houses for rent, although they tend to be quite pricey.
There are also a few townhouses and vintage buildings such as the Barrington, the Carlton, Colby-Park, the Congressional, the Lido Building, and Parkwin. Contemporary complexes such as Parklawn are available too.
Depending on size and updates, most rents range from about $550 to upwards $2500.
Parks and Gardens
The area is home to several small parks as well as some wonderful gardens. Morrison Park marks the entrance to the ABC Streets, while the Massaro Sculpture Garden, privately owned and maintained, is very much an outdoor art exhibit. The Park Avenue Green, located on Park Ave between Westminister Road and Barrington Street, provides a nice respite from strolling and is decorated every year for Christmas. A larger green space, located near the Goodman Street intersection, is owned by the Rochester Museum and Science Center and is popular with dog owners. Goodwin Park, located at the end of Sibley Place off East Avenue, has a playground for children and an entrance on Park Avenue.
Cobbs Hill Park is within walking distance up Culver Road.
Trees are plentiful, both on the Avenue itself and along the residential streets. Both Oxford Street and Arnold Park are divided by tree-lined malls.
For UR students
You can bike to both the University of Rochester River Campus and the Eastman School of Music. The latter is much closer and can be walked to in about twenty to forty-five minutes, depending on where you are in the Park Ave area. The
Orange Line shuttlebus is available free to UR students and employees, with stops at East and Alexander, East and Barrington, and at Park and Culver.
Amenities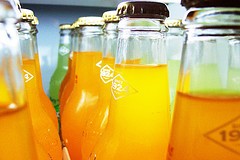 Shop Window
Park Avenue is especially well-known for its strong dining scene. Your options include bakeries, gelato, pizza, subs and sandwiches, second- and third-wave coffee, a gastropub, friendly bars, and vegan, Japanese, Lebanese, Thai, Mexican, French, and Italian cuisine. Outdoor seating lines the sidewalks during the warmer months and the Avenue is always bustling. A high concentration of salons contributes to an unusually attractive populace.
A small selection of local shops rounds out the Avenue's diverse business district.
Unlike the nearby South Wedge and NOTA, Park Avenue does have a few chains. There is a CVS, a 7-Eleven, a Bank of America, and a HAIRZOO, on the other hand, are both locally based.
Food and Drink
Retail
Salons and Spas
Services
Services - Real Estate
Worship
See also: East Avenue Historic District
Other
Awards
Links
Comments:
Note: You must be logged in to add comments
---
2013-12-03 04:47:31 It's interesting here that the negatives comments about living in the Park Ave area supersede the positive ones, while it is completely the opposite for the South Wedge neighborhood page. The Southwedge definitely has more crime than the Park Ave neighborhood. Yes, it is improving, by the content on the two pages on this website misrepresent the safety standard in the two areas, here. In Park Ave, you'll see people raiding for returnables every once and a while, and asking you for money fairly often, but beyond that, there isn't much else from my personal experience. The people who I've talked to in the SouthWedge, however, often mention theft and burglaries. I'm not claiming that Park Ave isn't without it's negatives or that Southwedge isn't getting better, but I have a feeling that the same person wrote the Park Ave and SouthWedge pages, and have some clear biases. —emu5088
---
2013-12-03 07:55:42 Both pages were written by multiple people. This is a user-generated site. I've personally lived in the Monroe-Park-East area for three years without incident; however, there was just an armed robbery near Roam Cafe a couple weeks ago that was never reported in the news. A friend of mine who owns a business on Park also just received an email from the Merchants Association notifying its members of two recent burglaries. So it does happen and people should always be aware regardless of where they are. —EileenF