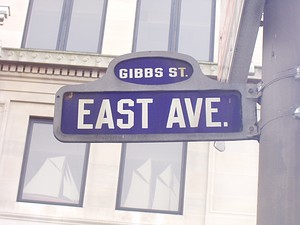 Street sign
Overview
East Avenue runs from Rochester's center, southeast out of the city, and through Brighton before it ends up at Nazareth College. Its urban portion forms the core of three neighborhoods: the lively East End nightlife district downtown, the East Avenue Historic District of beautiful Victorian homes, and the largely commercial Culver/University/East.
East Avenue is also known as New York State Route 96, which follows East Avenue from downtown until it enters Pittsford as Main Street just past Nazareth College. As it exits the city at the Brighton town line, Route 96 passes through the Can of Worms and connects with the western terminus of Route 441 and Elmwood Avenue, near I-490. The road parallels I-490 and branches at a "y" intersection with Fairport Road (Route 31F) before it heads into Pittsford. See Route 96 for details and information beyond East Avenue.
Like nearby Monroe Avenue, East Avenue is altogether a vibrant, attractive street neatly divided between the bustling city and the affluent suburbs.
Sections
East End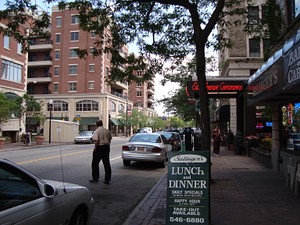 Urban street scene (Aug. 2011)
Part of the downtown East End district, the center of Rochester's performing arts and nightlife. Extending from East Main Street to Alexander, important intersections include Chestnut Street, Gibbs Street, and Scio Street. From Gibbs Street to Swan Street, East Avenue is part of the Eastman Historic District. Continuing east, East Avenue then passes over the former Inner Loop, dividing the neighborhood between the Upper and Lower East Ends.
The St. Patrick's Day Parade day parade is held here annually and continues onto East Main.
East Avenue Historic District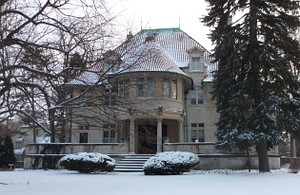 Beginning east of Alexander Street, the East Avenue Historic District is one of city's most beautiful areas, and also its wealthiest. This stretch of East is known for its perfectly preserved mansions, luxury apartment buildings, and many houses of worship. Intersections here include Prince Street, Sibley Place, Meigs Street, Arnold Park, South Goodman, Oxford Street, Berkeley Street, Culver Road, and Winton Road.
The beautiful Third Presbyterian Church is on the corner of East and Meigs.
Culver/University/East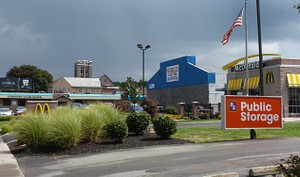 Area around Wegmans.
The historic district ends at Probert Street. The following are located on a commercial strip between Probert Street and the border with Brighton and are part of the CUE Neighborhood.

Brighton
The suburban Brighton portion of East Avenue begins after the Can of Worms, the local nickname for the snarl of Interstates 490 and 590. It is very similar in character to the East Avenue Historic District, only much more residential and spread out. Two beautiful neighborhoods bordered by East Avenue are Houston Barnard Tract and the Houston Barnard Subdivision. Intersects with Penfield Road and Elmwood Avenue.
East Avenue here provides a more bike-friendly alternative to Monroe Avenue, which is roughly parallel up until Clover Street (Route 65).
Pittsford
Begins east of Clover Street. Very similar to the Brighton portion in terms of character. Intersects with Route 441, Route 31F, Route 153, Route 31, Route 252, and Route 64. To access the Pittsford portion of Monroe by bicycle, turn right down Clover and utilize the Pittsford Trail System, which runs behind the strip malls that line Monroe.
Comments:
Note: You must be logged in to add comments